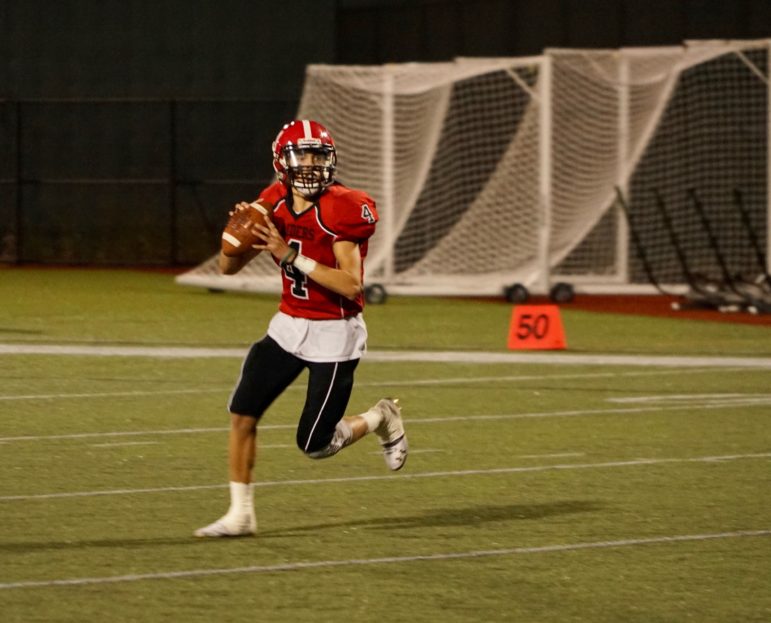 The Watertown High School football team may have missed the tournament, but the Raiders have found their winning ways. The team heads into the Belmont game on a three game winning streak and with a chance to finish with a winning record.
On Friday, Watertown traveled to Weston and won handily, 31-7. Four Raiders scored touchdowns in the victory. David Manoukian scored on a one-yard run in the first quarter, and Mason Andrade scored on a 91-yard dash in the second.
Joe Griffin caught a 24-yard touchdown pass from quarterback Brennan Cook before halftime. In the third quarter Cook got his second passing touchdown when he hit Will Dolan on a 31-yard pass.
The previous week, Cook had three touchdown passes in a 21-14 win over Hamilton-Wenham at Victory Field. Dolan caught two touchdowns and Manoukian caught another.
The winning streak began with a 21-19 win at Triton. Watertown improved to 5-5.
Cross Country
The Watertown cross country team competed in the MIAA Div. 5 Eastern Championship earlier this month.
The Raiders' girls team was led by Laksmhi Thangaraj, who finished 70th with a time of 22:09.99 over the 5K course at the Wrentham Developmental Center.
The other girls competing at the Div. 5 Meet were junior Leah D'Amico, senior Delanie Dunn, sophomore Meredith Greene and freshman Ella MacDonald.
Senior Kai Landry had the highest finish for the boys, getting 78th with a time of 18:52.08.
Other Raiders competing were junior Chris Gannon, sophomore Giancarlo Nunez, junior Kapriel Cinar, and freshman Marcos Portz.