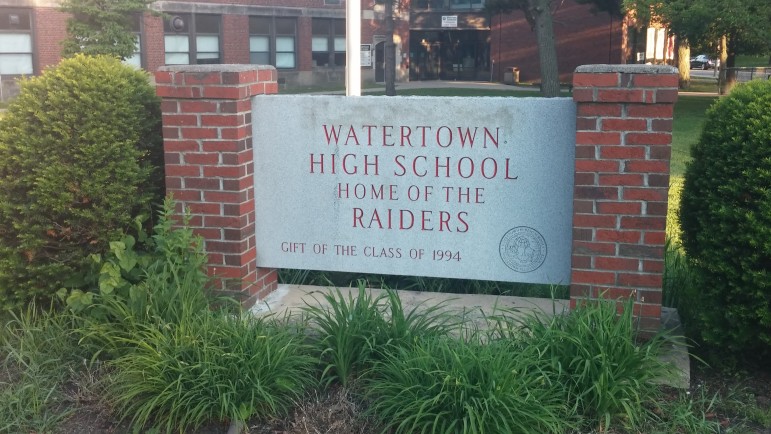 Watertown High School may be getting technical education programs for students interested in engineering and medical assisting, but first the district must get approval from State officials.
The vocational technical programs would be part of the Mass. Department of Elementary and Secondary Education (DESE) Chapter 74 program.
Laura Alderson Rotondo, the district's Career Technical Education (CTE) coordinator, said the programs not just include classes, but relationships are formed between the school and people who practice the profession locally, as well as with local colleges.
The high school currently has some engineering classes, but will need to offer more, Rotondo said. The state requires 900 hours of classes in the subject. There are no medical assisting classes.
Other subjects were looked at, Rotondo said, including television and radio broadcast. WHS already has a number of courses taught in the Watertown Cable Access studio located in the school's basement. However, that industry does not have the same amount of jobs in the area as engineering or medical assisting.
"Engineering is one of the fastest growing industries in the area," Rotondo said. "We as educators need to prepare students to be part of the industry or we will not fill all the jobs. Same with medical assisting."
Rotondo said may be another possible subject area in which the high school could have a Chapter 74 program.
"We also may consider offering an early childhood program," she said. "We have not looked into that but we could look into it."
Student Interest
Interest has been expressed by students in engineering and medical assisting. Rotondo said a survey was done to gauge the interest of middle and high schoolers in the two possible Chapter 74 programs. Of 44 eighth-graders, 17 said their first choice would be engineering and eight said it would be their second choice. For medical assisting 15 said it would be their top choice and nine said it would be their second choice. The others said they would not be interested in the subject.
At the high school, 115 students responded, and 50 said medical assisting would be their first choice, and 38 said engineering would be their first choice. Thirty-two said engineering would be their second choice, and 30 said medical assisting would be their second choice.
Rotondo said if those numbers sign up that would form a good core for a program.
"We would look at having a cohort of 15 students," Rotondo said. "There would be 15 in each grade."
WHS Not Becoming a Voc School
The discussion of starting Chapter 74 programs at WHS came about when school officials looked at vocational and technical ed options available to students from Watertown, said Superintendent Dede Galdston. She said that the high school would become more of a comprehensive high school, but she added that WHS is not going to become a Voc Tech.
"This does not mean it will be a vocational technical high school in any way shape or form," said Galdston, who added that students would still be able to attend vocational schools such as Minuteman High School.
Part of the application was to see whether the program is offered by any schools within 10 miles, and whether those schools object, Rotondo said. None offered a medical assisting program, and only two offer engineering, Medford and Cambridge. Neither objected.
Work Ahead
The first step toward approval — submitting Part A of the application — is ready to go, Rotondo said, and Part B would be due in March. The question is when the school would like to start the program.
Galdston said she it may be too quick to prepare to start the program in September 2020. The district would have the opportunity to delay the start by a year, or to submit Part B next year.
There is another consideration, Galdston said. In order to design the high school to include facilities and equipment for the technical programs, Galdston said, the School Committee would have to approve having the program by December 2019.
School Committee Vice Chair Kendra Foley said wondered how much it would cost to set up the program.
Galdston said if the program is approved by the state, Watertown would be eligible for grants to help pay for the equipment needed to run the programs. Rotondo said the instructors must be certified as vocational teachers.
"We have engineering classes now, but I am not sure if the engineering teachers or others would be eligible to become certified vocational teachers," said Rotondo.
Rotondo reached out to people in the area in the industries and has found seven engineers interested in being advisors for the program, and four in medical assisting. The school also needs a partner in higher education, and Rotondo said MassBay Community College said it would support the program.
Town Council President Mark Sideris, who also sits on the School Committee, liked what he heard.
"It is a great time to be looking at this with the new high school being designed," Sideris said. "Based on the information I think we should be moving in this direction."