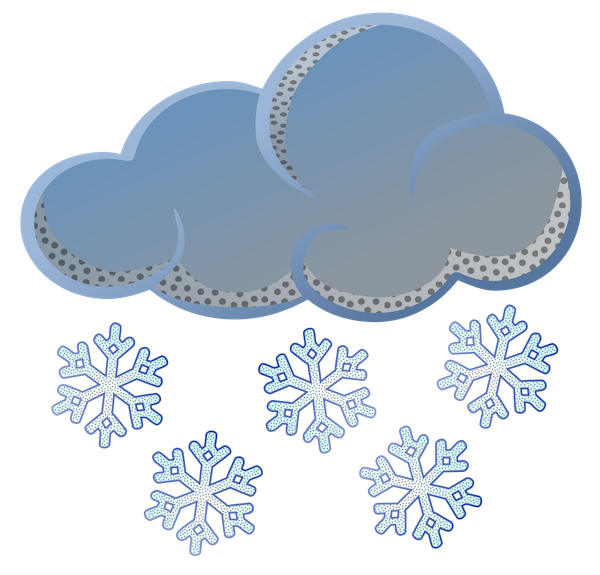 A storm that will stretch from Sunday into Tuesday could drop as much as six inches of snow on the Watertown area, and make travel tough for people returning from Thanksgiving trips. At the same time, the winter parking ban begins in Watertown.
A Winter Storm Watch has been issued by the National Weather Service from 11 a.m. on Sunday to 7 a.m. on Tuesday. Watertown is in the area forecast by WCVB Channel 5 to get 3-6 inches of snow, but areas of northern Massachusetts and New Hampshire could get more than a foot. The Cape, on the other hand, will get an inch or less.
Heavy snow is expected to hit the region beginning Sunday evening, and snow will fall through Monday and finally leave the area after dawn on Tuesday. Winds will gust up to 25 mph.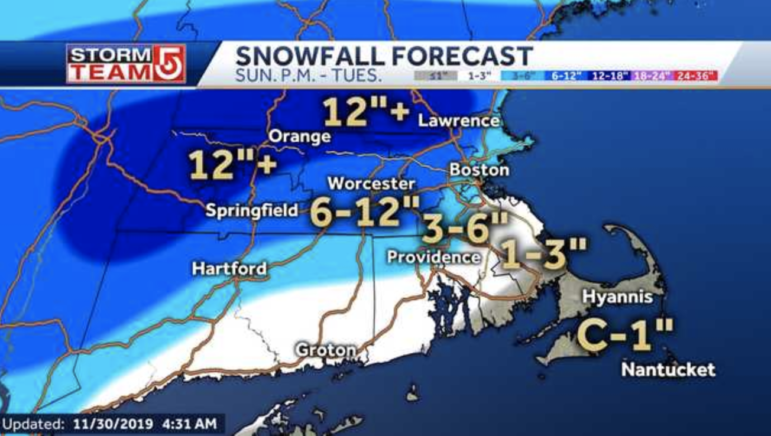 The overnight on-street parking ban in Watertown begins Sunday night. Find out more information here.
The storm could make for some tricky driving conditions, and state officials warned drivers to keep an eye on the conditions.
MassDOT sent out the following advisory:
The Massachusetts Department of Transportation (MassDOT) is advising the public that the National Weather Service is forecasting a mix of heavy snow, freezing rain and strong wind gusts across the state beginning during the afternoon hours on Sunday, December 1. The storm is developing from west to east and is anticipated to continue throughout the day on Monday, December 2.
"Anyone traveling this weekend is advised to closely monitor the forecast," said MassDOT Highway Administrator Jonathan Gulliver. "We encourage motorist traveling home from the Thanksgiving holiday to leave early and leave enough time to safely get to their destination."
At this time, there is no travel ban in Massachusetts for any classification of vehicles, however, all drivers and commercial vehicle company owners should check the forecast and pay attention to any weekend announcements on public information channels.
MassDOT's ice and snow operations will be deployed throughout the Commonwealth as conditions necessitate. Highway Districts always conduct preparation activities in advance of new weather systems and are able to pretreat roadways with brine and Magnesium Chloride when necessary. In the most severe storms, MassDOT's Highway Division is able to utilize up to 700 personnel to perform snow and ice removal operations on more than 15,000 lane miles of roadway throughout the Commonwealth. This winter, MassDOT will have approximately 3,900 pieces of state and vendor equipment available throughout the duration of winter storms using over 150 depots and storage locations. This includes over 1,400 plow and spreader combos, 2,100 plows, and 460 front-end loaders.
For the most up-to-date information on transportation impacts, please follow on Twitter: @MassDOT @MBTA @MBTA_CR, and @MassRMV.
For updates on road and traffic conditions in Massachusetts, drivers can:
Dial 511 before heading out onto the roadways and select a route to hear real-time conditions.
Visit www.mass511.com, a website which provides real-time traffic and incident advisory information, access to traffic cameras, and allows users to subscribe to text and email alerts for traffic conditions.
Download MassDOT's GoTime mobile app and view real-time traffic conditions before setting out on the road.