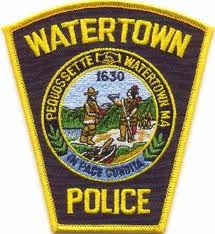 A total of 10 motor vehicle break-ins that took place over two nights were reported to Watertown Police.
In all cases, the vehicles were not secured, Watertown Police Lt. James O'Connor. Residents can take a simple step to prevent these crimes.
"Lock your doors," he said.
The first set of break-ins took place overnight from Nov. 18 to the 19th, and others took place on the evening of Nov. 21 into the 22nd.
Police received a report at 8:27 a.m. on Nov. 19 of a car that was broken into on Channing Road. Taken from the Honda CRV was $100 in cash, four credit cards and gift cards to Starbucks, Dunkin' Donuts and TJ Maxx.
Also on the 19th, a Hovey Street resident reported a Volkswagen had been broken into while parked in a driveway. A credit card was taken. Shortly afterward, a report of a break-in on Hilltop Road was reported, in which $220 in cash was taken from the Toyota Camry.
Another break-in took place on Gertrude Street when a Mazda was rummaged through, but nothing appeared to be missing.
At 7:01 p.m. on Nov. 19 police received a report of a Toyota SUV that had been broken into. It was parked in a Westminster Avenue driveway and $5 was taken.
On Nov. 22, a Hosmer Street resident reported $5 in cash missing from a Toyota RAV4, and the contents of the glove compartment were strewn across the seat.
Later that day, a Dartmouth Street resident reported a break-in. Missing from the Toyota Camry was $40 in cash, two Dick's Sporting Goods gift cards, three Starbucks gift cards and a Ralphies gift card.
A Pierce Road resident reported a Mercedes had been broken into sometime overnight from Nov. 21 to 22. Two pairs of Ray-Ban sunglasses and a portable vacuum cleaner were taken.
That same night, two motor vehicles parked on Lloyd Road were broken into. Four dollars in change was taken from each vehicle: a Toyota RAV4 and a Toyota Pickup.