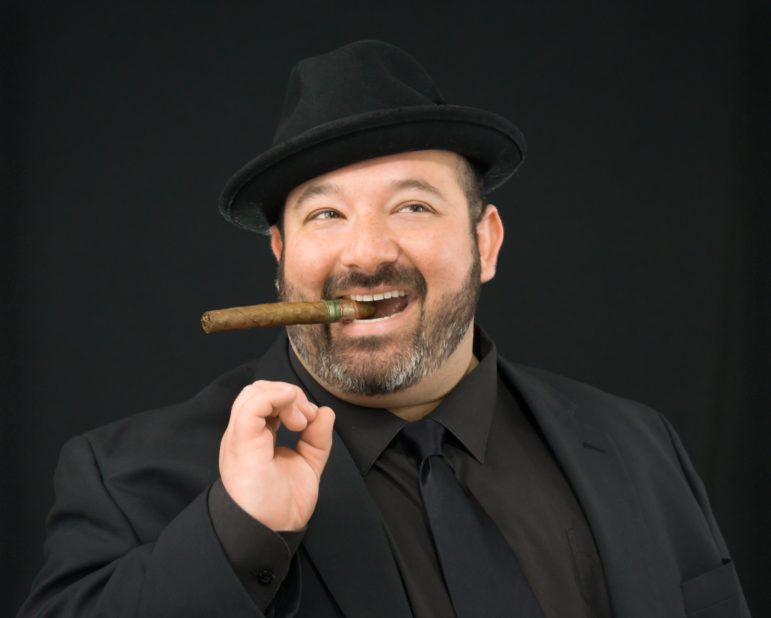 Andy Papas has starred on stages across the country, but the actor and singer will be making his debut in the town where his family has made a name in a different arena.
Papas will play Mr. Bumble in the New Rep's production of Oliver! The play started its run Monday, and will be on the Mosesian Center for the Arts' MainStage through the end of December.
Papas grew up in Winchester, but his father, grandfather and uncle are from Watertown and were famed for their accomplishments on the football field.
"My family is legendary in Watertown," Papas said. "People know 'Mr. Nick,' my grandfather. He taught at Watertown High for 35 years, and my dad is in the (Watertown High School Athletic) Hall of Fame. He is also a founding member of '0-9 Club,' founded by the 1968 football team that went 0-9." 
His father Nick Jr. and one of his uncles went on to coach high school football, his father at BB&N.
Papas got his bachelors degree from the University of Michigan's School of Music, Theatre & Dance, and got a masters in voice from the University of Houston.
Now Papas lives in Billerica with his husband. He has played roles in operas and musicals from coast to coast, but few have been near home.
"Despite the fact I have been based in Boston for the better part of the last 10 years, I don't do many principal roles in town," Papas said. "At least 75 percent of my career has been in the opera world — basically all around country."
Local theater and opera fans may have seen Papas with the ensemble of the Boston Lyric Opera and with the Boston Youth Symphony Orchestra's opera productions.
He has been in productions in Florida, California, Washington state, around the Midwest — including St. Louis and Wisconsin — and most recently he performed in a production of Barber of Seville in Anchorage, Alaska.
"I don't have quite the name and face recognition in town as I do in other towns," Papas said. "I am pleased be performing with New Rep in my father's hometown. Also, to be performing for Michael Bobbitt. It is his first year running New Rep — he's the director (of Oliver!)."
While Papas is used to singing on stage, he has not done as much choreography.
"Many opera singers are not so choreographically inclined. They are doing other things: balancing language, more with the musical side of things," Papas said. "In musical theater you are doing it all. You need extra brain space to think about where specific things need to happen or have the ability to finesse. I love it. It is great use other part of your brain!"
While musical theater may not be his primary focus, Papas has some experience. He grew up doing musicals in Winchester, and he also did a lot of musical theater in college.
"I performed with many people at University of Michigan who now are stars," Papas said. "I performed with people who are not only in leading roles on Broadway, but also writers."
Papas did a production of Pippin with Benj Pasek and Justin Paul, who have gone on to write the music for La La Land and The Greatest Showman.
While he is not a triple threat, Papas said he was able to demonstration he could hit the routine for Bobbitt. However, he admitted he did not give his best performance during the dance part of the audition.
"I did combo handful of times (with the group of male hopefuls) and really nailed it," Papas said. "When I had to do it for real, I did it and kind of blew it. I guess Michael knew I could follow the combination." 
His role in Oliver!, and the show as a whole, is quite dark, Papas said. His character, Mr. Bumble, is the first person who sells Oliver as a commodity.
"There are kids in the show, but it is not like Mathilda and some of the others kids' shows," Papas said. "We live in dark times, so to speak, so it is not terrible for people to see what life can really be like sometimes, or what life is like in that time period in London."
The turnaround between shows has been a bit short for Papas, who returned from Alaska on Nov. 9, and began rehearsals on Nov. 11. The kids in the show started a week earlier, he added.
Oliver! runs through Dec. 29, with shows on Thursdays, Fridays, Saturdays and Sundays, plus Wednesday, Dec. 18. Click here for tickets.