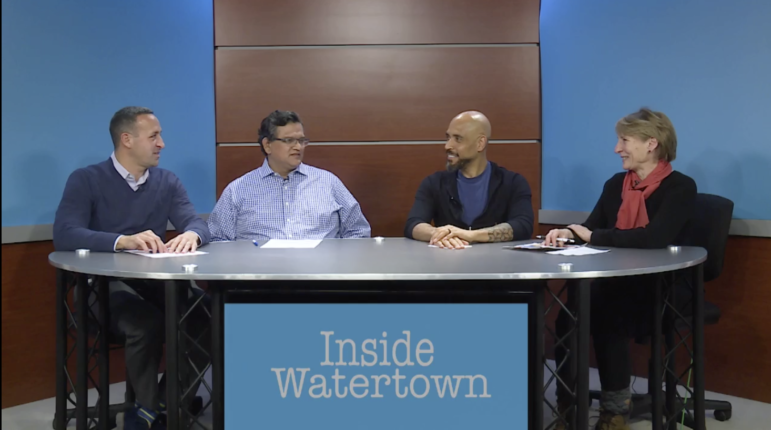 Two people who have helped bring theater productions to Watertown were featured on the most recent episode of Watertown Cable's Inside Watertown.
New Repertory Theatre Artistic Director Michael Bobbitt and Roberta Miller, executive director of the Mosesian Center of the Arts, joined co-hosts Charlie Breitrose and Bob Airasian for the show, which is now airing on Watertown Cable.
Bobbitt, who recently joined New Rep, spoke about his role and the play he is directing, Oliver!, which will be at the Mosesian Center for the Arts through Dec. 29.
Miller talked about the many artistic endeavors undertaken by the Mosesian Center from the Arts, from stage to visual arts to music, and of course, the annual New Year's Day family arts day.
Inside Watertown will air on Watertown Cable's Public Channel (Comcast Channel 9, RCN Channel 13) at the following days and times:
Sundays at 1:00 and 8:00 p.m.
Mondays at 8:00 a.m., 1:00 p.m. and 9:00 p.m.
Tuesdays at 2:00 p.m. and 9:00 p.m.
Wednesdays at 2:30 p.m. and 9:00 p.m.
Thursdays at 1:00 p.m.
Fridays at 8:00 a.m. and 9:00 p.m.
Saturdays at 1:00 p.m., and 8:00 p.m.
The episode can also be viewed on Watertown Cable's website by clicking here.