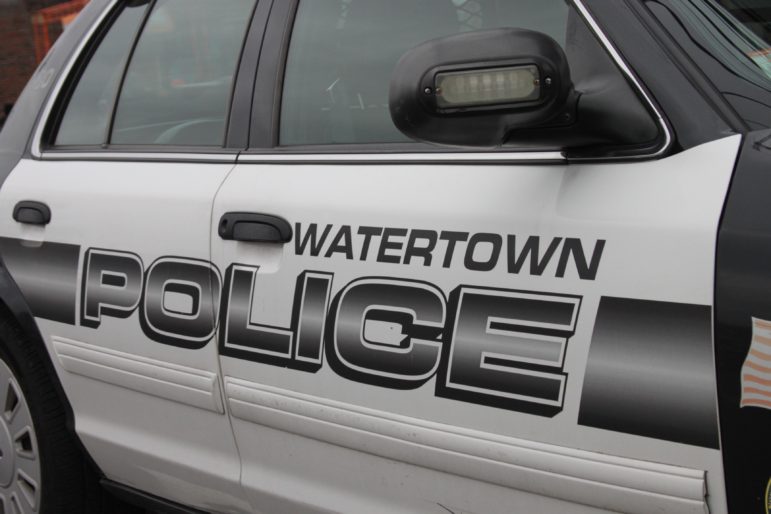 The following information was provided by the Watertown Police Department.
Arrests
Dec. 11, 10:23 a.m.: An officer spotted a man driving on North Beacon Street who was known by police to have a revoked license. The vehicle was stopped and police confirmed that his license was revoked. The 53-year-old Belmont man was arrested on a charge of driving with a revoked license.
Dec. 15, 4:03 p.m.: Police received a report of a shoplifter at Marshalls. Security had seen her taking items off the shelf and hiding them in her clothing. When police checked the woman's record, they found that she was wanted on an arrest warrant. The store chose not to press charges on the shoplifting, but the 31-year-old homeless woman was arrested on the warrant from Boston District Court for trespassing.
Police made one domestic arrest during the week. Watertown Police do not release the names of those involved in, or details of, domestic incidents.
Incidents
Dec. 10, 11:19 a.m.: A Watertown woman reported that she had been scammed by someone she "met" on Facebook. In February, she had accepted a friend request from someone saying he was a soldier in the U.S. Army serving overseas. They communicated over Facebook for the next 10 months and got close. The man, who was known as Lucas Nelson on Facebook, asked her periodically to send him money, and she wired him a total of $9,900. The man said he would pay back, and that they would get married. When he asked once more for her to wire him more money she said no, and the man threatened to have her arrested. The woman realized it was a scam, contacted her bank and had her account closed. Police have no more information about the suspect.
Dec. 11, 7:05 p.m.: A man from Norseman Avenue reported that a package had been stolen. The package containing three Google Pixel phones had been confirmed delivered on Dec. 5, but the man could not find it. The phones were worth $500.
Dec. 12, 10:44 a.m.: A Boston woman who works for a company in Watertown received an email from someone she thought was one of the partners of the company. She was told to purchase five Steam Wallet gift cards from Best Buy for $100 each, and send the redemption codes to the partner. She did so, and when she received another email asking her to purchase more cards she realized it was a scam. She was able to return one of the cards, but lost the money for the others. The woman also notified her company's human resources department to alert people to the scam.
Dec. 12, 3:51 p.m.: A man had been at 7-Eleven on Mt. Auburn St. on Dec. 5 and left his wallet on the counter. He went back and spoke to the cashier, who returned the wallet. When the man looked inside it was missing three credit cards and his driver's license. Four days later he realized that someone had charged $2,500 on his three credit cards.
Dec. 12, 5:02 p.m.: A Newton woman reported that her car had been broken into while parked in the Arsenal on the Charles garage. She had parked in a disabled spot and someone took her handicap placard off the rearview mirror, but left the parking pass for Northeastern University. Nothing else was taken, and the woman believes the car may have been left unlocked.
Dec. 12, 6:53 p.m.: Packages were taken from a home on Waverley Avenue. A Watertown woman reported that two packages were taken on Dec. 10, one containing $90 worth of skincare products and one containing $130 worth of hair products.
Dec. 13, 5 a.m.: A contractor working at the construction site at 80 Elm Street reported that tools had been stolen from the site. The skeleton of the building, which will be a self-storage facility, has been built, along with some of the storage units. The tools were locked in a storage locker on the fourth floor of the building overnight. It appeared someone tried unsuccessfully to cut through the lock, so the person or person pried open the garage-door style door and took $1,700 worth of Milwaukee tools. An identical theft was reported on the night of Dec. 15 to 16, when another set of tools were stolen.
Dec. 13, 11:28 a.m.: A package had been delivered to an apartment building on Dec. 10 and left in a communal area. The recipient saw the package, but did not bring it up because it contained an unassembled book case and it was too heavy for her to carry up. Two days later she realized it was gone. The bookshelf was valued at $229.
Dec. 14, 8:02 p.m.: A Waltham man stopped at Stop & Shop on Pleasant Street on Dec. 13 at 6 p.m. and when he got home he realized his laptop was missing. He told police he suspects it was taken when he was at Stop & Shop, but said he made some other stops that day. He believes the car was left unlocked. The 13-inch MacBook Pro is valued at $1,300.