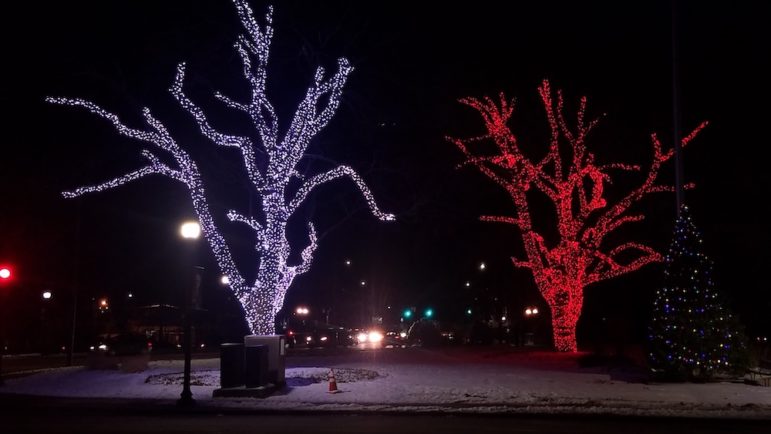 The lights on the trees in Watertown Square have gone high tech, and will be lit for more than just the holidays.
Residents may have noticed the lights around the trees on the Watertown Delta shine not only brighter, but in different colors. This is the result of the new light system installed by the Department of Public Works, said Jesse Myott, the DPW's Director of Administration and Finance.
For years, the lights on the trees in the Watertown Delta were all white. That changed this year. The old lights were more like the ones people have in their homes, but the new ones have LED bulbs with the capability of shining many different colors, and in different patterns.
"When we replaced the lights, the superintendent (Gerald Mee) wanted something more in the Delta, with it being the center piece in Watertown Square," Myott said. "It is a permanent installation, which is neat, because it can be used all year 'round."
The lights can be changed using an app on a smartphone or tablet, Myott said. The system is the same one used by Stone Zoo for its ZooLights display, however, Myott said he does not know of any other nearby municipal users.
"I believe we are the first town with it installed. If not the first, we are one of the first in Massachusetts," Myott said.
These days, the trees are lit Christmas colors of white, red and green.
"Traditionally the Town stayed with white (lights) but the system has given us the option of different colors, and the superintendent is letting us try different colors," Myott said. "For the most part, people are enjoying the colors."
As the year goes on, the lights will be different colors.
"For Breast Cancer Awareness we can make it pink and for autism we can make it the appropriate color," Myott said.
The trees are solid colors right now, but the app allows for patterns and other features, Myott said.
"We are mapping it out right now," he said.