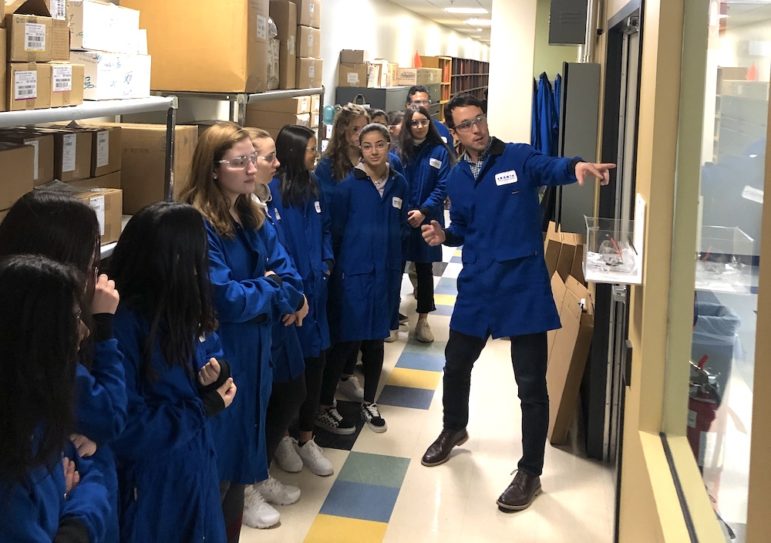 About two-dozen Watertown AP biology students took part in what is becoming a tradition for Watertown High School when they got a look inside a real biotech lab that is working on cures and vaccinations for diseases, including HIV and hepatitis.
The group of WHS students took the field trip to Enanta Pharmaceuticals Inc. on Arsenal Street earlier this month for what is known at the company as a Lunch & Learn. The group of mostly juniors and seniors got to see the different phases of developing a drug, and talk to people who working on the cures. Last March, the WHS AP chemistry classes took the tour of Enanta.
On the tour of Enanta, the students met scientists working in the medicinal chemistry lab, where researchers try to develop new pharmaceuticals.
They also visited a drug metabolism and pharmacokinetic lab. This is where scientists research how effective a chemical compound will be when it reaches its target.
They also saw a biology and virology lab, where researchers study the diseases which they are trying to cure.
AP Biology teacher Amanda Makosky said the visit to Enanta brings what they are studying in class to life.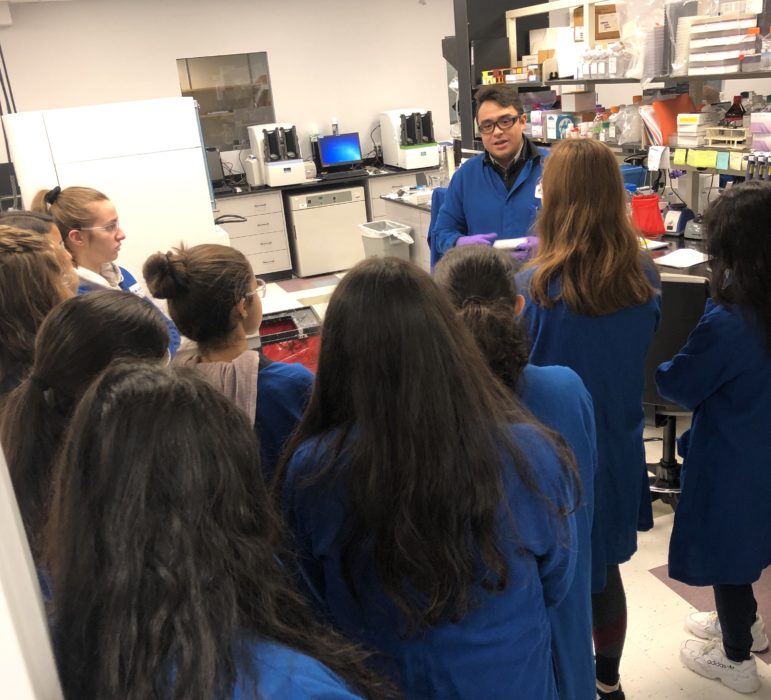 "It is a nice opportunity to see what they are doing in class translates to the real world," Makosky said. "It can be challenge because students are so focused on academics and being in the school environment."
After the tour the WHS students got to meet some of the people working at Enanta, and heard about the road they took to get to the company, and what inspired them. Some said they knew from the time they were in high school that they wanted to work as a research scientist, but many others said they did not know until college, or even after college.
The Enanta employees encouraged students to take a variety of classes to find out what they like. If they become interested in a certain scientific area, try to get an internship or job working in that field to see if that is the kind of work they would like to do.
Also, their professors and others at their schools are good resources for students trying to decide what direction they want to go. They can often help guide them to internships, graduate school or to jobs.
Enanta CEO Jay Luly said Enanta started inviting science classes from WHS to visit the company's headquarters on Arsenal Street as a way to give back to the community.
"I put a challenge out to the company a few years ago to do this — any way we can give back to the community," Luly said. "There are lots of ways Fidelity and other companies can give back. We can't do that from the monetary perspective, but we can help people think about careers and what they want to study."
Enanta was founded more than 20 years ago, and has been in Watertown since the early 2000s. The company now employs 135 people, Luly said. Most of the workers are highly qualified scientists, but not everyone knew when they were in high school that they wanted to become pharmaceutical drug researchers.
"Somewhere in their lives they were touched by somebody, who helped them discover what they were interested in," Luly said.
Some of the Watertown students already have plans to go into a science related field, including: biochemistry, nursing, pharmacy, forensic science, marine science and psychology.
Luly said high school is a key time for students because they are just starting to think about college, and what profession they may want to get into.
Enanta also invites Watertown students to work as interns so they can get some experience in a lab.
"We hire a lot of our interns back in," Luly said.
Luly said he hopes encouraging students to think about a career in science will help Enanta and other companies in the future.
"The United States is beginning to lag behind in (research and development) and innovation," Luly said. "If we are going to continue to be competitive globally we need to build the next generation of scientists and innovators of the future. We can start locally."