The people who brought the teachings of Martin Luther King Jr. to the Watertown schools and the community came together, and were honored during the the 20th annual Watertown Unity Breakfast on Monday.
The annual celebration on Martin Luther King Jr. Day has been put on by the World in Watertown for two decades, and at the 2020 breakfast the local efforts to teach the principles of Kingian Non-violence in town were at the forefront. The keynote speaker was one of those who trained Watertown teachers, students and police about applying King's non-violence teachings today, and the Unity Award went to six students who spread MLK's teachings to Watertown High School.
Watertown has become known as a center of using and spreading the teachings of MLK. Several years ago, teachers at Watertown Middle School taught their students about King's Principles of Non-violence. Before she became a Spanish teacher at WMS, Ruth Henry worked with students to put together a rap to performed a rap at the Unity Breakfast based on King's teachings.
Kingian Non-violence became a formalized program in 2016, when Dr. Bernard Lafayette and others came to train Watertown teachers, students and police officers about how to use the Kingian principles in conflict resolution. One of the trainers, Jonathan "Globe" Lewis, returned to Watertown Monday as the keynote speaker for the Unity Breakfast.
Lewis noted that this was the 20th annual Unity Breakfast and was held on Jan. 20, 2020.
"A good friend of mine pointed out — Ruth Henry — she joked about 'When do you think we will get that 20/20 vision,'" Lewis said. "Because looking back we've learned the lessons, we've seen many examples of how things shouldn't be or how things have gotten a little bit better, but when will our values actually reflect to all of our practices in life?"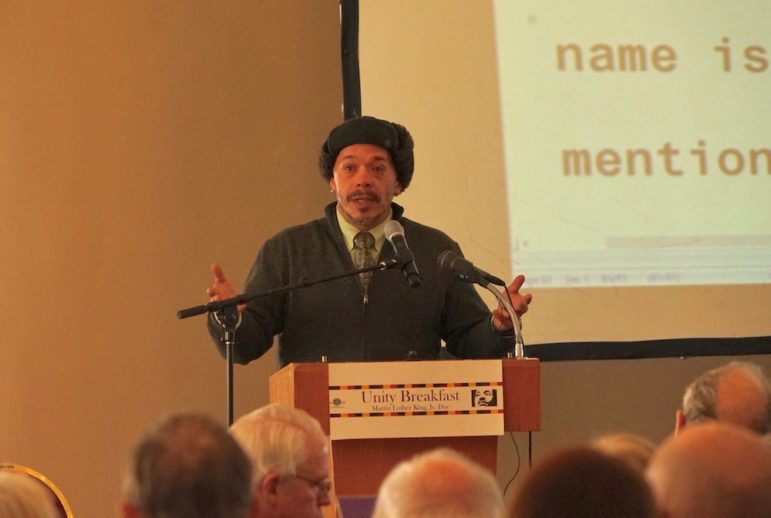 In his speech, Lewis talked about how when students have disagreements and conflicts at school, they are usually taught to "resolve and to move on, don't rock the boat, agree to disagree." He argued they should be taught about coming to a reconciliation where everyone understands where each other is coming from, and try to build on that. That was one of MLK's goals, Lewis said.
"His last conversation with Dr. Bernard Lafayette was about internationalizing and institutionalizing non-violence education for our youth around the world," Lewis said.
He pointed to Watertown as an example of a community embracing Kingian Principles.
"I want to thank you very much for helping me and helping Ruth make good on Dr. Lafayette's promise to Dr. King and Coretta Scott King to continue this information and to train with integrity so that today's children — today's leaders — have what they need to transform our world to what we want it to be," Lewis said.
The honorary host of the 2020 Unity Breakfast, Dede Galdston talked about how much she has learned about Kingian Non-violence and restorative circles since becoming superintendent of the Watertown's Public Schools. She recalled that three years ago on Monday she submitted her application for position she now holds. As she researched Watertown she read a Boston Globe story about the Kingian Non-violence program in the Watertown schools.
"I had actually never heard of the program, which isn't really a surprise since we are one of the only school districts, perhaps the only district, in the country to embrace this approach to conflict resolution and and character development systemwide," Galdston said. "We would like to spread the word to other school districts as well."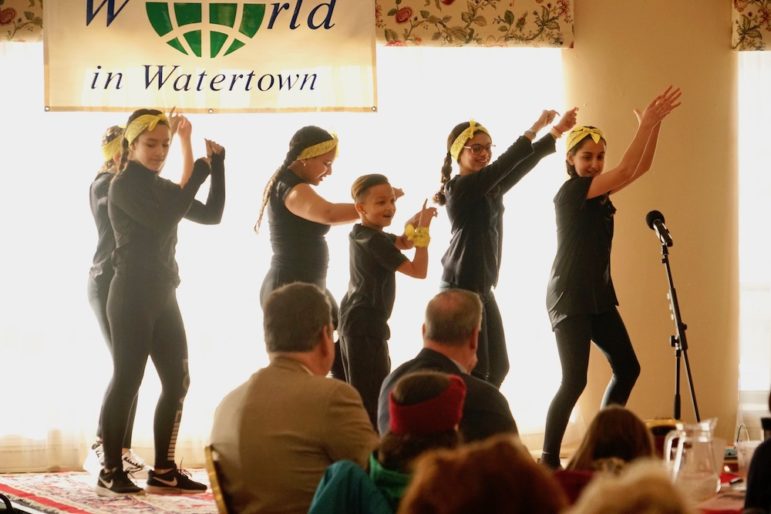 On a trip to Atlanta, she and her son, Caleb, visited the Martin Luther King Jr. National Historic Park. She saw some familiar words near the reflection pool next to MLK's tomb.
"At the end of the pool, the six principles of (Kingian) Non-violence are etched in the walls of the stairs leading out of the park," Galdston said. "It wasn't until I came to Watertown that I became fully aware of King's Principles of Non-violence: have courage, be kind, don't hate – solve, love yourself, stay the course, and trust."
Now Dr. King's teachings now are being used as part of the district's goals and programs to ensure equal opportunity and experiences for all children in the Watertown Public Schools, Galdston said. Over the past three years, school officials have created an equity program which combines Kingian Non-Violence, social and emotional learning and restorative circles.
Through Ruth Henry and others, the Kingian Principles and restorative circles have become well established at the Middle School, but they did had not made it to Watertown High School in a formal way. That changed this school year, due to the efforts of a small group of students who wanted to share their knowledge with students at WHS.
Six students — Catherine Fabian, Claire Fabian, Eva Henry, Shivani Sharma, Tino Themelis, and Fred Laboissiere — were honored for their work by receiving the 2020 Unity Award.
"Today we celebrate the fruits of the labors, by recognizing a group fo six extraordinary young people, all former students of Ruth, who now attend Watertown High," said Angela Robinson, a member of the Unity Award Committee.
The students asked Assistant Principal Annemarie Boudreau if they could bring restorative circles to the high school. Boudreau said they could work with Adjustment Councilor Teddy DiSciscio over the summer to redesign the ninth-grade advisory curriculum to include restorative circles.
"As the students told us, circles are a place to express emotion in a space where you can be honest feel trust and learn to listen well. You feel empathy for each other and you don't need to be scared. There is time to process everyone's story," Robinson said.
Over the summer, four facilitators trained 30 students and 15 teachers about the restorative circle protocol, and the program began this fall. The topics covered in advisory, which meets once each week, include freshman orientation, importance of values, current events, and social media and online authenticity, Robinson said, with others being planned. Next year the program will expand to the 10th grade.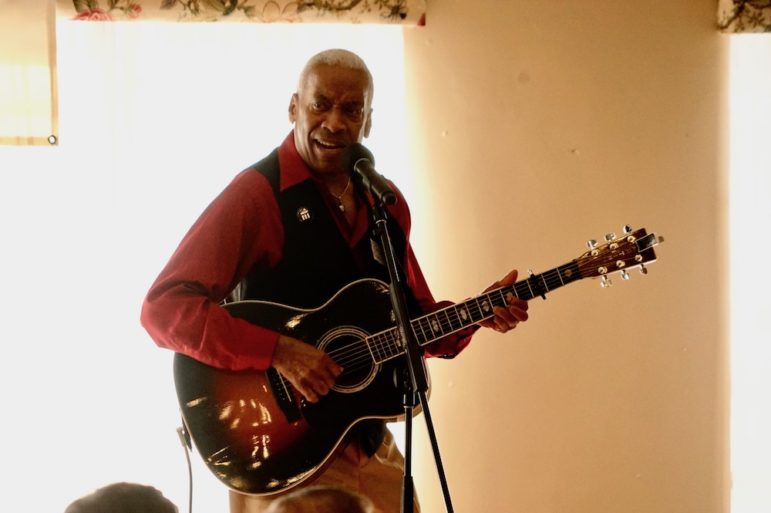 The program caught the attention of state officials, who invited Galdston along with the students to make a presentation about Kingnian Non-violence and restorative circles at a statewide education conference, said retired Watertown Police office Tony Physic. He was one of the first officers in town to take the Kingian training and also serves on the Unity Award committee.
The students said they were honored to receive the Unity Award, and said it "serves as symbol of the power of youth voices in our community," said Claire Fabian, one of the award winners. They emphasized that they are not the only students who worked to spread Kingian Non-violence to the high school and in the community.
The students thanked the World in Watertown's Will Twombly, Chuck Dickinson, Physic and Robinson for their time and encouragement, and Boudreau and DiSciscio for taking time out of their summer to help them.
A special thanks was given to Ingrid Wolfson, the chair of the Kingian Non-violence Coordinating Committee and Ruth Henry.
Henry's daughter Eva, another award winner, said: "My mother Ruth Henry has given herself completely to support this cause and the people in it. Her creative ideas; resolve to push through challenges; and her doubtless belief in us, in what we do; result for us is to find importance for what we do. Thanks to her perseverance and dedication to Kingian Non-violence, the torch is being passed down to the next generation."
Essay Contest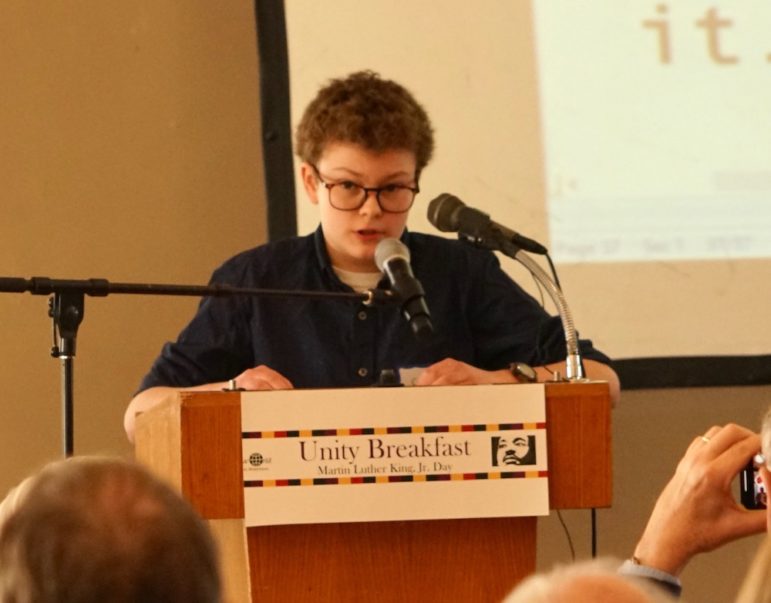 In addition to the speakers, the winners of the Unity Breakfast Student Essay Contest read their pieces. They were selected from about 80 essays at the Middle School and and 170 at the High School, said Paul Moreton, who coordinated the essay contest for World in Watertown. He is stepping down after many years coordinating on the contest.
The Middle School winner, eighth-grader Sid Hackett wrote about what it was like as a students of Jewish faith at WMS when several swastikas were found drawn in black pen on the walls of the boy's bathroom at the Middle School. At first he was mad at the person who drew the anti-semitic symbols, but then his view changed. He linked his reaction to the Kingian Principle to attack the forces of evil, not persons doing evil. He said he does not think the student who did it knew what the symbol meant, and hoped that the person learned from the mistake.
Tenth-grader Victoria Pires won the high school contest. She wrote about her experience, and the those of other women she knows, and how they often feel scared and threatened. She was approached by a car full of men who commented that they liked how she looked in her shorts as she walked to the Victory Field track, which made her scared to walk alone to the track. She also spoke of a young woman she knows who was sexually assaulted by a boy she was in a relationship with. In part of her essay, Pires wrote: "Women's safety has to be taken more seriously and not seen as an inconvenience. Society should be taught that women's bodies are not objects and should not be treated as such. The justice system needs to support they vow to protect."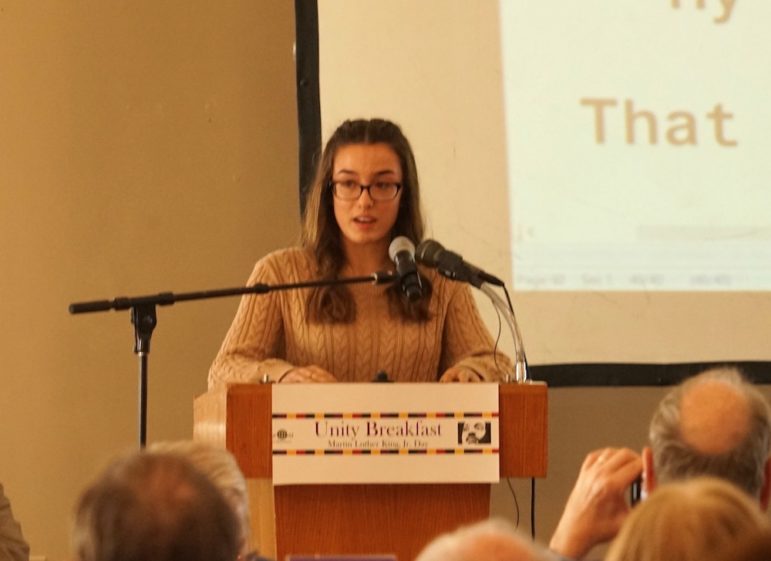 Record Crowd
The 20th annual Unity Breakfast drew what is believed to be the biggest crowd yet. Hundreds of people flocked to the Hellenic Cultural Center, with more than 400 people inside, and some estimating as many as 500 people.
They enjoyed a breakfast provided by the Deluxe Town Diner before the program began. In between speakers, those at the breakfast were entertained by the Legacy Juniors Hip Hop Team from the Watertown Boys & Girls Club, an a capella group from the WHS — the Watertones, and singer songwriter Reggie Harris.