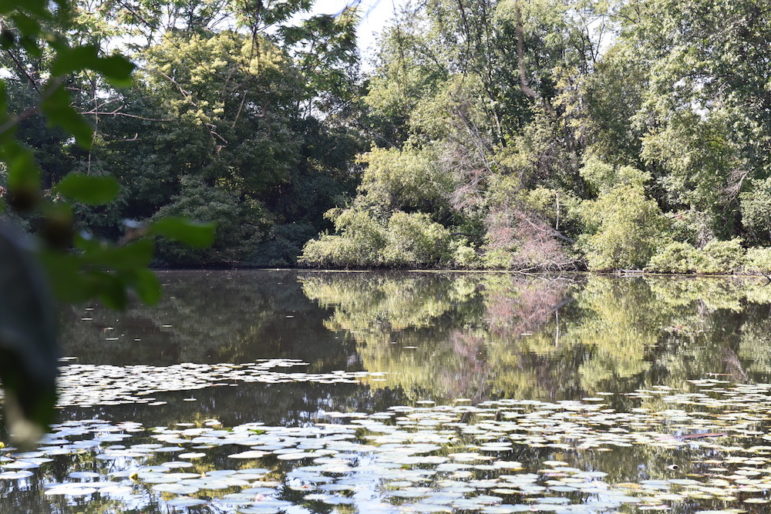 With "water" such a prominent part of the name of the town, one might expect it to be flush with wetlands. The Charles River, of course, is Watertown's most significant body of water, but there are several others that are not as visible.
Some can be seen from roadways around town, if you know where to look, others are tucked into the woods, and a number are surrounded by graves. Leo Martin, chair of the Town Conservation Commission recently took Watertown News on a tour of the town's wetlands.
One of the commission's main functions is protecting these bodies of water of water, Martin said. They have jurisdiction over land within 200 feet of a body of water that may flood, such as the bank of the Charles River or a stream, and within 50 feet of a pond, Martin said.
This means any proposed building project within that area must come before the Conservation Commission to be reviewed and get permission to proceed. Some buildings have been built right next to some of the wetlands, but that was done before the Massachusetts Wetlands Protection Act passed in 1963.
Martin notes that the Conservation Commission currently has one open seat. Any Watertown resident interested in learning more and applying to sit on the Commission, can email Laurel Schwab, Conservation Agent, at lschwab@watertown-ma.gov.
Potential CPA Project
Tucked back between Pleasant Street and Waltham Street are a couple of Watertown's ponds. One, Walker's Pond, is the largest pond in Watertown, Martin said. The body of water which is familiar to Martin, who grew up not far away on the Westside of town.
"As kids we would walk up to the edge of the pond, put our skates on and go skating," Martin said.
The pond is now lined with trees, but that was not always the case. It sits on land that used to be owned by Raytheon.
"They cut the trees and brush and used to test radar there," Martin said.
An abandoned building from the Raytheon days can be seen near the southeast portion of Walker's Pond, along with an unused parking area. About 75 percent of the pond sits in Watertown, with the rest in Waltham. There are also two other smaller ponds in the area, with one visible behind a fence south of the Bell Watertown property and the other surrounded by trees just west of Walker's Pond.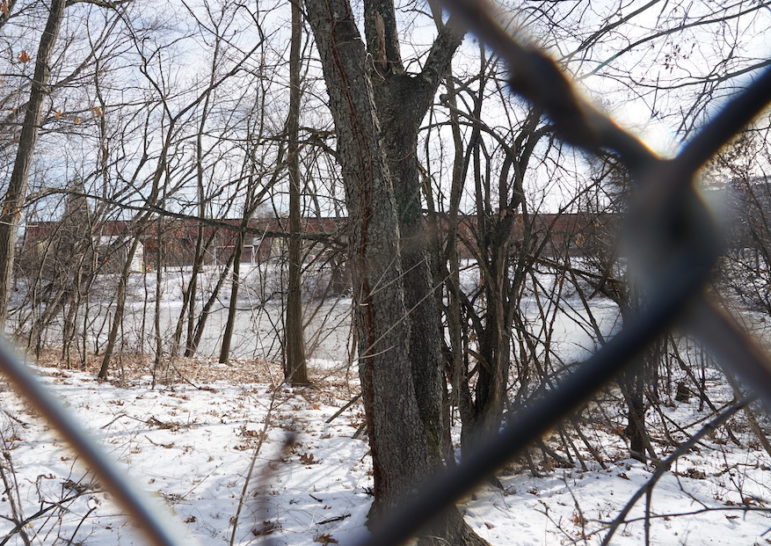 The land remains privately owned, but Martin said he could see it as a place for the Town to spend its Community Preservation Act (CPA) funds. In 2016, Watertown passed the CPA, and added a 2 percent property tax surcharge. This raises about $2 million a year to be used on three areas: affordable housing, historic preservation and open space/outdoor recreation.
"A dream I have is maybe the town could buy the property," Martin said. "There are very few spots like this."
The pond became polluted, so it is not safe for swimming, Martin said, but he said he could see other recreation uses, such as putting a path around it. It would also provide habitat for birds and other species living near wetlands.
Nearby is one of Watertown's few remaining streams, and those are only short portions of the original length.
"There's an old stream in the Gore Estate property," Martin said.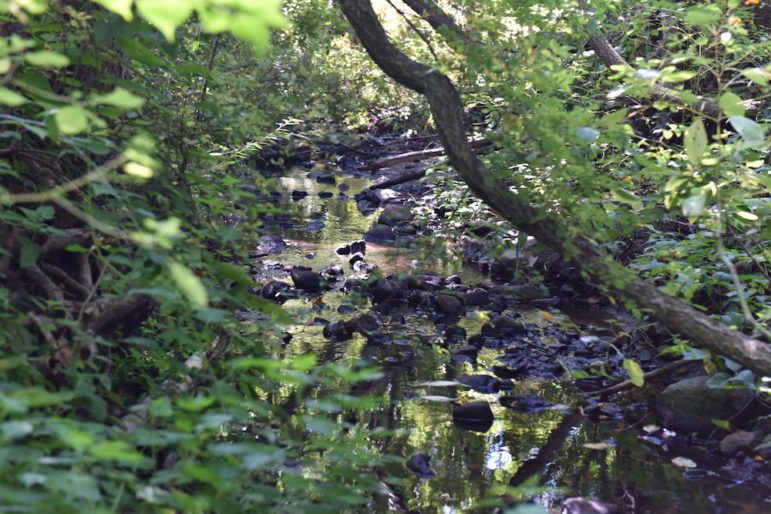 Other streams have been covered over and put into underground conduits which lead to the Charles River, Martin said
The small stream still above ground can be seen from Waltham Street among a line of trees. It sits across from the Bell Watertown apartment complex (at Woodview Way).
"We have little jurisdiction over it, because it is considered agricultural land, and under the Wetlands Protection Act we don't have jurisdiction," Martin said. "It used to be a golf course."
Not far from Watertown Square sits a pond on the campus of Perkins School for the Blind. The school has constructed a dock for students at the school to learn about environments around bodies of water, Martin said.
Eastside Ponds
Another set of wetlands are grouped together on Watertown's Eastside. Driving along Coolidge Avenue, a little east of the UPS facility, is Sawins Pond.
"There used to be hotel there and it used to be used as a skating area for guests," Martin said.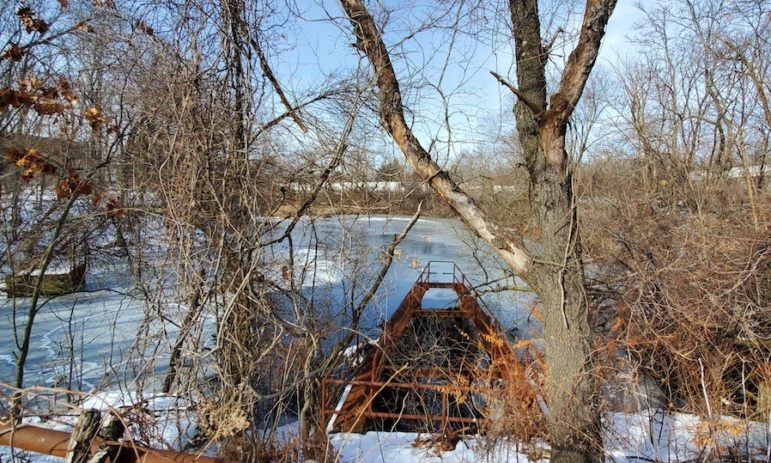 The level of the pond is controlled by a dam that is made up of stop logs — planks of wood stacked on top of each other. The dam can be seen from the roadway.
Water flowing out of from the pond goes along Sawins Brook, another one of Watertown's streams. After the pond, heads south and can be seen near the corner of Greenough Boulevard and Arsenal Street as it flows toward the Charles River.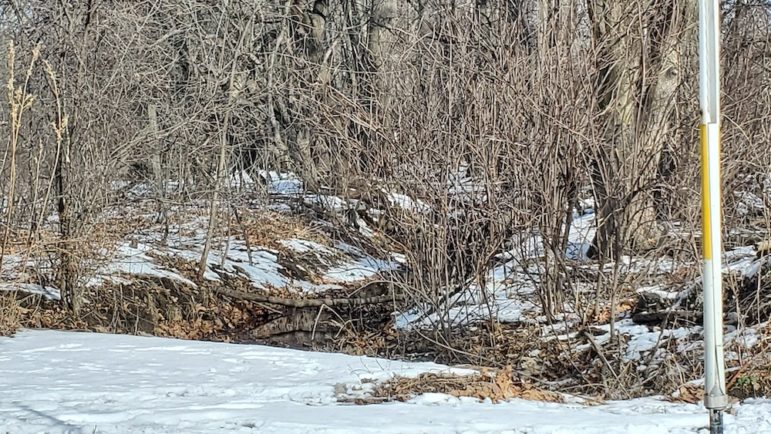 Another body of water is Williams Pond, which looks more like a stream. It sits east of the Target parking between Elm and Arlington streets.
Three more ponds are located on the far east end of town, in the Mount Auburn Cemetery. While the cemetery has an address in Cambridge, most of its land sits in Watertown.