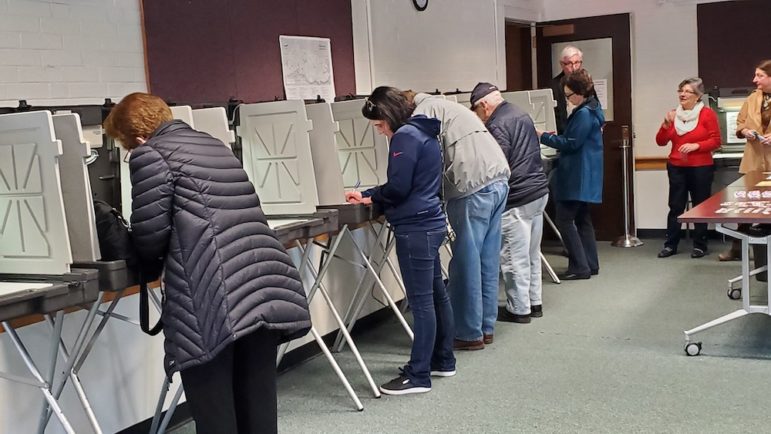 The Massachusetts Presidential Primary has begun, and voters in Watertown began casting their votes on Monday.
Election day is March 3, 2020, but the early voting period runs from Feb. 24 to Feb. 28. As of 1 p.m. Monday, Watertown Town Clerk John Flynn said that about 100 people had come in to Town Hall to cast their vote, and he expects more on other days.
"Looking at 2018 and 2016, it seemed like the first day is the quietest," Flynn said.
Voters can come to Town Hall, 149 Main St., Watertown, and go to the Clerk's office on the bottom floor to get their ballot.
"They have to fill out the envelope stating their name, address, signature," Flynn said. "They must also state, under the penalty of perjury, that they will not show up at the poling place in March looking to vote."
Ballots may be cast from 8:30 a.m. to 5 p.m. on Monday, Wednesday, Thursday and Friday. On Tuesday, voting starts at 8:30 a.m. and is extended until 7 p.m.
Early voting has proven popular in Watertown on the two previous occasions. In 2018 about 4,000 people voted early in the election for governor, and in 2016 about 7,000 early voters showed up for the Presidential Election, according to Flynn.
This is the first time that early voting has been allowed for a primary in Massachusetts. It will be allowed again for the Nov. 3, 2020, General Election. For that election, there will be 11 days of early voting, Flynn said.
The Ballots
The Democratic ballot has 15 names on it, including all eight people officially still in the race for the Democratic nomination. It includes one candidate not on the ballot for the states who will hold primaries and caucuses prior to March 3, as well as several candidates who have suspended their campaigns.
The order on the ballot for the Dems are (Candidates still in race in bold):
Deval Patrick, former Massachusetts Governor
Amy Klobuchar, Minnesota Senator
Elizabeth Warren, Massachusetts Senator
Michael Bennet, Colorado Senator
Michael Bloomberg, former New York Mayor
Tulsi Gabbard, Hawaii Congresswoman
Corey Booker, New Jersey Senator
Julian Castro, former U.S. Secretary of Housing and Urban Development (HUD)
Tom Steyer, businessman
Bernie Sanders, Vermont Senator
Joe Biden, former Vice President
John Delaney, former Maryland Congressman
Andrew Yang, businessman
Pete Buttigieg, former South Bend, Ind., mayor
Marianne Williamson, author
Republicans also have a choice to make for their Presidential candidate. Four names appear on the ballot, including one who has suspended his campaign, in this order (Candidates still in race in bold):
William Weld, former Massachusetts Governor
Joe Walsh, Illinois Congressman
Donald Trump, U.S. President
Roque "Rocky" De La Fuente, businessman
Two other parties have ballots in the presidential primary. There are four people running for the Green Rainbow Party nomination, and 10 people are running for the Libertarian Party presidential nomination.
Voters will find other offices on the ballot: state party committee man and woman, and town party committee members. The local GOP and Dems have candidates for state party committee man and committee woman, but they are running unopposed. The Green Rainbow and Libertarian parties do not have any candidates for these positions.
As for the Town Committees for the Democrats and Republicans, there are dozens of names on each list and voters can select all of them (there is even a box for vote for the whole group). The Libertarian and Green Rainbow parties do not have anyone running for town committees.
See the sample ballots for the four parties by clicking here: https://www.watertown-ma.gov/947/Specimen-Ballot