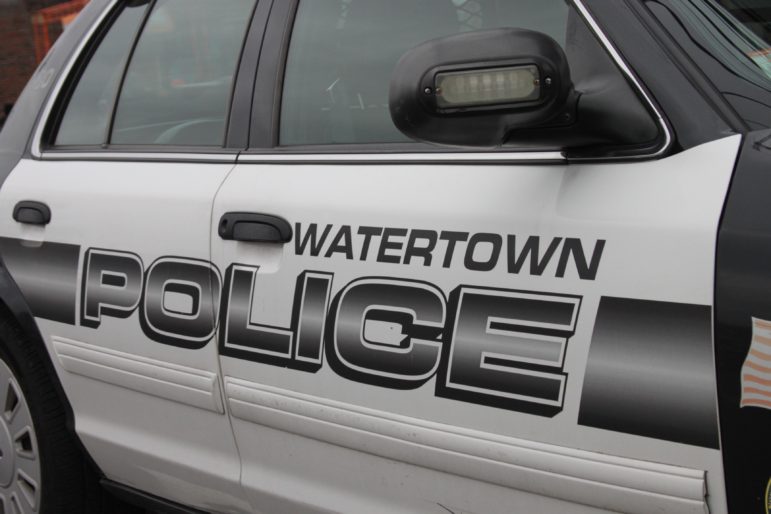 The following information was provided by the Watertown Police Department.
Arrests
March 2, 7:11 p.m.: A driver went up on the curb on Nichols Avenue at Bigelow Avenue and when police arrived the woman behind the wheel appeared to be passed out. The vehicle was facing the wrong way, and the motor was running. Officers had to bang on the window to wake the driver. The woman admitted to drinking before driving, and police found five empty 50 ml bottles of Smirnoff pineapple vodka on the front passenger seat. The 33-year-old Malden woman failed field sobriety tests and was arrested on charges of driving under the influence of alcohol and negligent operation of a motor vehicle.
March 7, 3:24 a.m.: Police pulled over a vehicle on Main Street near Spring Street and the passenger did not have a seatbelt on. When police identified the man they discovered he had an active arrest warrant. The 22-year-old Braintree man was arrested on a warrant from Quincy District Court for assault and battery with a dangerous weapon. The driver was cited for an inspection sticker violation.
March 7, 1:51 p.m.: Police were alerted that a man who works at Newlywed Foods on Grove Street was wanted on a probation warrant from the Suffolk Superior Court. Police located the 49-year-old Chelsea man there and arrested him on the warrant.
March 8, 3:36 a.m.: An accident occurred Worcester Street, and the driver fled the scene. Police located a vehicle on Lowell Street matching the description of the one in the accident. The driver was parking, and when he saw police he exited the car with the motor running. Police stopped him and detected an odor of alcohol on his breath. The man admitted to being involved in the accident and said he left the scene because no one was around. He also did not have a license. The 24-year-old Watertown man failed field sobriety tests and was arrested on charges of driving under the influence of alcohol, leaving the scene of an accident involving property damage and unlicensed operation of a motor vehicle.
Incidents
March 2, 4:31 p.m.: A Westland Road resident said she believes someone broke into her home. She was gone from 6:30 a.m. to 4:30 p.m., and when she returned she noticed a shade on a front window was pulled up when had not been before. Also, the storm window was left open. One of the bedrooms was rummaged through and a blue box containing jewelry was missing. About $1,800 worth of items were taken.
March 3, 4:45 p.m: A home that was bring prepared to be sold was broken into. The woman's father had passed away and she noticed that a medium sized safe located in a bedroom closet was missing. It contained savings bonds. The last time she saw the safe was in mid-January.
March 4, 9:48 a.m.: A Watertown man purchased a 2019 Mercedes A220 sedan from a man in Rhode Island, and when he tried to register it the RMV informed him the vehicle was reported stolen. The man purchased it from a person on the OfferUp website for $11,500. He was told the vehicle had been stolen from Hertz rental cars from Norwood. Watertown Police alerted authorities in Norwood that the car had been recovered, and Providence Police were also contacted because the sale had taken place there.
March 4, 11:27 a.m.: A woman went to shop at Stop & Shop on Watertown Street and parked next to a grey minivan which had a man seated in the driver's seat. After shopping the woman returned and the van was still there. She loaded her groceries into the vehicle and looked over at the van and saw that the man inside was exposing his genitals. She called police and they arrived and found the man still in the van. The 36-year-old Greenfield man was summonsed to Waltham District Court for indecent exposure.
March 4, 6:21 p.m.: CVS employees spotted a woman shoplifting, but she left before police could get there. The woman was seen taking items off the shelf and then left without playing. The items included a weighted blanket worth $89.99 and a gift bag worth $5.49. CVS was able to identify the woman from previous purchases at the store. Police found she had a warrant for her arrest from Cambridge District Court, and requested another warrant on a shoplifting charge for the 48-year-old woman whose last known address was in Watertown.
March 4, 7:46 p.m.: A resident reported that she had been scammed. She was contacted via LinkedIn about an employment opportunity where she would be paid $300 per store to evaluate customer service and sales performance at local stores, plus $50 in gas. She received a check for $7,032.42, which was deposited into her bank. She shopped at two stores in Cambridge, where she spent a total of $6,000, and one store in Watertown where she spent $350. Later, she was contacted by her bank which said the check she had received did not clear. She gave the phone number and email which she had been communicating with the person about the job to police. After investigating, it appeared the number and email had been spoofs of the real ones.
March 6, 10:05 a.m.: A Mt. Auburn Street resident saw a man walk onto her porch and take a pair of sneakers off a show rack. She called out to the man and he fled. The pair of grey Adidas shoes were worth $250. The suspect is identified as an African-American man, around 16 or 17 years old, 5-foot-8, with short hair, waring a black stocking cap, a black hooded sweatshirt and grey pants.
March 7, 9:55 p.m.: Target security spotted three people in the electronics section take a Playstation4 controller off the shelf, conceal it and waked past the register without paying. Security confronted the men, and they ran out of the store toward Arsenal Street. The suspects were described as African-American males, age 18-22.
March 9, 7:17 p.m.: A Brighton man reported that he had items taken from a locker at Boston Sports Club. He went to work out on March 8 at about 1 p.m. and when he returned to the locker room at 3 p.m. he found his wallet was taken from the unlocked locker. The wallet contained credit cards, a driver's license and a health insurance card.