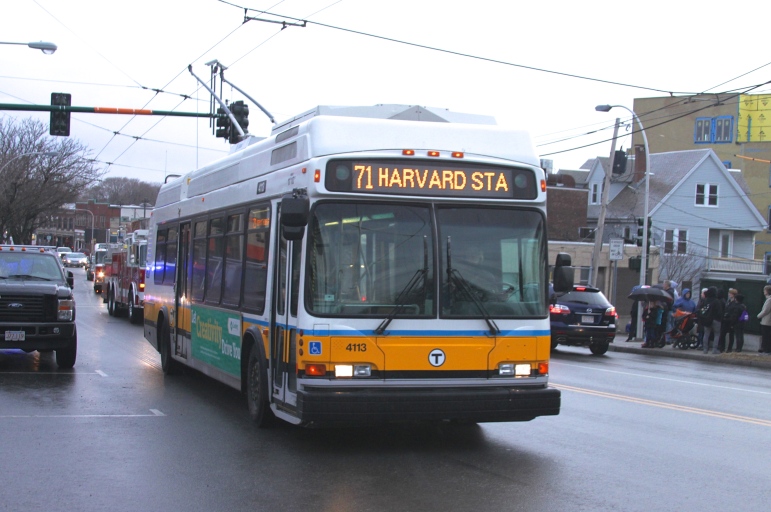 The MBTA announced Monday that beginning March 17, service will be cut back in an effort to reduce the risk of spreading COVID-19, also called the Coronavirus.
Most buses and trains will be running on a Saturday schedule, and the 504 express bus from Watertown Yard will also be impacted (click here to see the schedule). The T will also be cleaning vehicles and stations, according to the announcement.
The MBTA released the following announcement:
Reduced Service for March 17, 2020
Updated Monday, March 16, 2020, 2:49 PM
At the start of service on Tuesday,March 17, 2020, trains and buses will run with reduced service to support efforts to slow the spread of COVID-19. In addition, we haveincreased cleaning and sanitationat stations and on vehicles.
Service changes will help riders and employees avoid large crowds and allow for social distancing. These decisions are based on guidance from public health professionals and theMassachusetts Department of Public Health(DPH).
Planned Service Levels
Bus and Silver Line
Saturday service formost routes.
Routes7,501, and504will run modified weekday service.
Routes325,326,351,352, and354will run regular weekday service.
Subway
Saturday service onall lines.
Commuter Rail
Reduced service onall lines.
Ferry
No service.Use trip plannerto find an alternate route.
The RIDE
There are no planned service changes. To cancel or reschedule your trip, callThe Ride Access Center (TRAC).
Stay Informed
This page will be regularly updated with service information. You can also get up-to-date notices from:
Protecting Your Health
What We're Doing
We are continuing to take necessary steps to protect the health and safety of riders and MBTA employees with increased cleaning and sanitation at stations and on vehicles.
This includes:
Cleaning and disinfecting vehicles:All MBTA fleet vehicles (buses, trolleys, subway cars, Commuter Rail coaches, ferries, and RIDE vehicles) are being disinfected on a daily basis.
Cleaning and disinfecting MBTA property:All business locations, including the RIDE Eligibility Center and CharlieCard store, are being disinfected every 24 hours. All high-contact areas at subway stations (handrails, fare gates, and fare vending machines) are being cleaned every 4 hours.
More sanitation equipment:Hand sanitizing dispensers, disinfectant wipes, and cleaning sprays will be deployed at MBTA facilities and stations throughout the system.
What You Can Do
Weencourage all riders to:
Wash hands often with soap and warm water for at least 20 seconds
Cover coughs and sneezes
Stay home if sick
Avoid touching eyes, nose, and mouth
Clean areas that are frequently touched with sanitizing spray or wipes