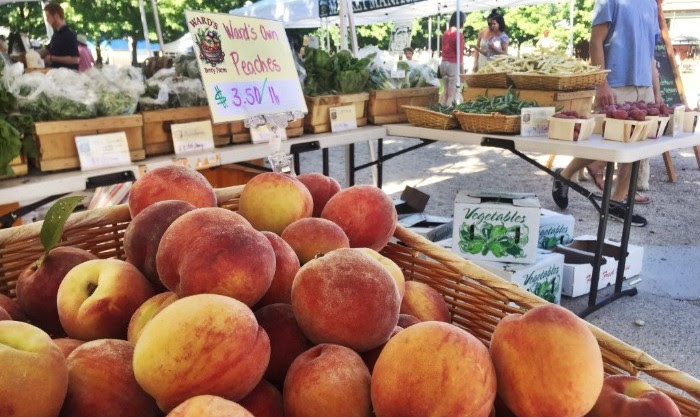 Residents can support the vendors who appear at the Watertown Farmers Market even before the season begins in June, and organizers say that the market plans to open on schedule in June.
While the COVID-19 outbreak has closed many businesses, Stephanie Venizelos, manager of the Watertown Farmers Market, said that the market will be opening in June.
"Farmers markets have been declared an essential business, like grocery stores," Venizelos said. "We are planning for a safe market that adheres to all the guidelines."
If social distancing requirements remain in place, the layout and operation of the market may be different from previous years. The market may create a one-way flow to prevent people from bunching and offer pre-ordering, Venizelos said. There will be hand washing stations and sanitizers.
"We will be very equipped for a safe shopping experience," Venizelos said. 
People wanting to get products from the market's vendors before the season begins have a few options.
Some vendors offer products for sale for pick up or delivery locally, Venizelos said.
"We are trying to let our customers know that our vendors do bus all year round, and we want to support them," Venizelos said.
Some of the vendors that offer pick-up or delivery ordering are:
Dizin Fruttiberri offers ice cream, preserves and hummus from its store on Mt. Auburn Street. The store is offering pick-up orders only. See more information here.
Locally-based Chrissy's Crumble offers granola and cookies from its website, or on Amazon. Find out more here.
Get no-contact deliveries of fish from Hooked Fish Shop. See details here. And meats and eggs are available for delivery from Lilac Hedge Farm, view their website here.
Other vendors include QuickSilver Baking Co., Sa's Homestyle Sauce, Tex Mex Eats and B-Organic. See more information about the Farmers Market and SNAP and HIP benefits in the announcement sent out by the Farmers Market below:
Watertown Farmers' Market
Wednesdays 2:30 – 6:30 p.m., June – October, Rain or Shine
Saltonstall Park – Corner of Main St. & Whites Ave. (next to Town Hall, 149 Main St.)
We hope you are staying safe and well during this challenging time.
The WFM is dedicated to providing access to healthy, local, and affordable foods, supporting local agriculture, promoting healthy behaviors, and connecting people to community resources. Find information HERE about community needs and offers along with general resources, and HERE  for wellness tips & health resources.
We look forward to opening the market and seeing all of our vendors and supporters this summer! As you may know, the state has categorized farmers' markets, stands, and CSA's, as an "Essential Service" to the public, similar to grocery stores. Our planning for the 2020 season continues to be guided by local and state government, to ensure a safe and convenient shopping experience. Keep a look out for updates.
In the meantime, please stay well and safe – and find information below on how to buy your favorites from some our vendors who are open for pick-up, doing on-line sales and/or deliveries! 
For our SNAP/HIP customers: Click the link below for MA Food Delivery, which is processing SNAP & HIP for eligible customers and providing FREE delivery! Let us know if you have any questions HERE.
Shop Locally To Support Your Favorite Vendors
Local farmers and food producers are coming up with creative ways to ensure healthy, local food can still safely reach members of the community. Whether that be through setting up delivery or pick-up services, making changes to retail location operations, or partnering with other local businesses, our farmers and vendors still have plenty of delicious food to continue to nourish our bodies. We encourage you to support small businesses in a time they need it most, while still being cautious, safe, and making decisions that are best for you and your family.
Chrissy's Crumble Purchase your favorite wicked good no-grain-ola or cookies online through their website. Use code 15NOW to get 15% off. Additionally, find their granola on Amazon Prime. 
Dizin Fruttiberri Dizin Fruttiberri on Mt. Auburn is offering pre-packaged items including ice cream, jam, hummus, and yogurt. Call ahead if desired to place your order. Pick-up only.
Hooked Fish Shop Get FREE delivery of Red's Best fish (and Boston Smoked Fish) through Red's Best Fish Share. Order a la carte or setup a weekly plan.  Their delivery process is contactless: they leave the fish at your desired location in a stay-cold freezer bag with an ice pack and send you a text message for confirmation. Additionally, Hooked Fish Shop is participating in Bow Market's Safe Supply Outdoor Grocery Store scheduled for Saturday this week. More dates TBD. Registration Required. More information can be found HERE.
Lilac Hedge Farm Lilac Hedge Farm offers beef, pork, chicken, lamb, specialty sausages and cuts, prepared foods, local produce, local seafood and local cheese for pick-up or home delivery. Visit their website to order. Pick-up spots are in Holden and Berlin. Order by Sunday evening for Tuesday delivery in Worcester County, Order by Monday evening for Wednesday delivery in Middlesex County or Order by Tuesday evening for delivery to Norfolk, Plymouth, Essex and Suffolk County on Thursday.
QuickSilver Baking Co. Order QuickSilver's sweet and savory rugelach online and delivered straight to your door within 20 miles of Waltham. 
Sa's Homestyle Sauce Orders can be delivered directly to customers. Send a message to them via facebook, sashomestyle@gmail.com, or call/text: 508-397-0961 to place orders.
Tex Mex Eats Order frozen tamales delivered to your door! Fill out the order form here. They have all 3 flavors of tamales available in their frozen packs — traditional pork, vegetarian bean and cheese, and farmers vegan. Frozen packs come with 4 tamales grouped by flavor for $16 each. To order delivery, there is a minimum of 4 packs and delivery fees apply.
B-Organic Cathy's produce bags help keep your fruit and veggies fresh and crisp which means less trips to the grocery store. Delivery orders can be placed through her website.
Using SNAP & HIP Benefits
The following online farmers markets are able to honor SNAP and HIP when you order online, and then pay with your EBT card at pick up. 
MassFoodDelivery 
(Currently services all of MA besides South Central & Cape Cod)
VeggieGo 
(Select Delivery Locations)
Additionally, use the Mass Grown Map to find farmers markets, CSA's, and farm stands open who are currently accepting HIP. Be sure to select "HIP" under nutrition programs when performing any searches. With changes occurring daily, always check the organizers website for confirmation of hours open.