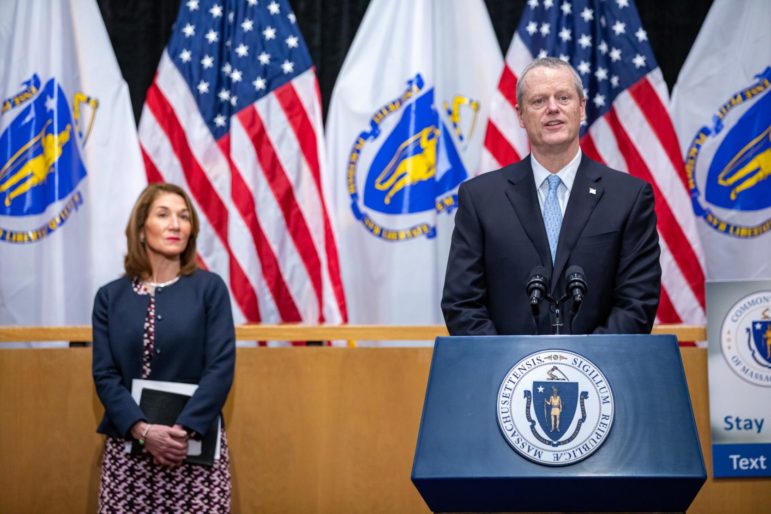 All Massachusetts residents must cover their faces in public places as part of the effort to stop the spread of COVID-19. The requirement applies when people while they are outdoors and are unable to social distance, and all the time in indoor spaces such as stores.
Gov. Charlie Baker announced the order Friday afternoon, and it takes effect on May 6. The exceptions include children under the age of 2 and those who have medical conditions that prevent them from wearing a face covering.
"This order applies to all workers and customers of businesses and other or open to the public," Baker said. "The public is required to wear face coverings at all times in grocery sties, retail stores and on public transportation."
The face coverings can be homemade or those commercially available, Baker said, but he discouraged people from using medical-grade masks so that they are available to medical workers and first responders.
Baker said the order is part of the larger effort by the state to prevent the spread of COVID-19, including social distancing in public and the stay-at-home advisory. He noted that Massachusetts reportedly has one of the highest if not the highest rate of compliance with such orders compared to other states.
"This order builds on that same idea that everyone doing a small thing all the time can go a long way to improving everyone else's ability to avoid the virus," Baker said. "When folks are out in public places where they cannot social distance, like in stores and public transportation everyone needs to wear face covering for your own safety."
Several cities and towns have passed similar measures, Baker said, as well as some businesses. Watertown passed an even more restrictive emergency order Thursday, which requires people age 5 and older to wear face coverings even while outside, at all times. Those violating the order could face a $500 fine.
Other area communities that have passed face covering requirements include Belmont, Cambridge, Somerville, Arlington and Brookline, according to NBC 10. Waltham issued an order that anyone older than 5 must wear a covering at all times in pubic places.
Baker said that wearing face coverings will likely be a part of life in Massachusetts for an extended period, even as the state relaxes restrictions.
"We view this as commonsense important way on a statewide basis to establish for the longterm a set of standards for what we would call the new normal," Baker said.