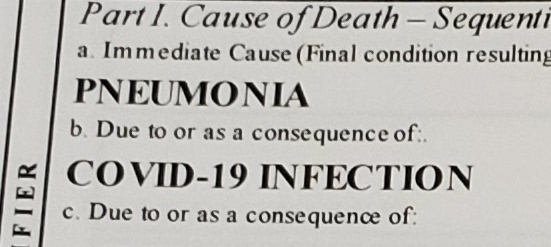 Like many aspects of COVID-19, figuring out the exact number of deaths related to virus in Watertown is complicated and confusing. This is just one issue the Town of Watertown is facing, along with trying to trace contacts of people with active cases of the Coronavirus.
The officially confirmed number of fatalities in Watertown, as of May 5, is 17 residents — up from 12 the previous day. When looking at the death certificates in the Town Clerk's Office, as of May 4, 18 people who live in Watertown, or whose last known address was in Town had COVID-19 as one of the causes of death. The town has 286 confirmed cases of the virus, with 157 of them still active, according to the Town's COVID-19 webpage.
Before a COVID-19 death is confirmed and added to the town's official count, Watertown's Public Health Nurse Wil VanDinter has to confirm whether someone who died actually tested positive for COVID-19, and whether the person lived in Watertown at the time of their death. He gets reports from the state's infectious disease surveillance, reporting and control system.
The list, however, is just where the work begins for VanDinter.
"The number (of COVID-19 cases) from the state is a raw number before any investigation starts," VanDinter said.
Where someone lives can be a complicated question. If someone is living in a nursing home when they pass away, VanDinter said, they officially are counted in the community where the facility is located. Sometimes the death certificate lists an out-of-date address, which slows investigations because a record will not be sent to Watertown until the other community discovers they do not live in their jurisdiction.
"A person may die in Cambridge, but they discover they do not live in Cambridge, but actually lives in Watertown," VanDinter said. "Then they send it to Watertown."
VanDinter said he could not release the ages of residents who died from COVID-19 due to privacy protections in HIPAA (the Health Insurance Portability and Accountability Act of 1996).
"Their identity could be traced using other documents," VanDinter said.
He did say that most of the deaths were people over the age of 65. The death certificates in the Clerk's Office indicate that 14 of 18 COVID-19 related deaths were people in their 80s and 90s, while two were under the age of 70. However, nine of those people lived in nursing homes, only one of which was located in Watertown.
Since the surge of Coronavirus cases started in Watertown, VanDinter said he receives calls reporting new cases all times of day and night.
"It's non-stop," he said, noting that he had recently got a call after 11 p.m.
Much of his day is spent trying to trace the contacts of anyone in town who has tested positive. He even has people helping reach out, but the effort has been frustrating.
"It would help if people cooperated with contacts investigation," VanDinter said. "Half of people don't even answer the phone number provided to us."
He said the caller's phone number will likely come up as "Town of Watertown," or "Watertown Health Department."
When VanDinter or his assistants reach someone who tested positive for COVID-19, they will ask them who they have been in contact with. Then the tracers will reach out to the contacts so that they can alert them and those people can self-quarantine for 14 days.
"It is important if you get a call from us for people to answer," VanDinter said. "It is the only way we can keep the curve flattened."
People who feel sick and think they may have been infected by COVID-19 should contact their primary doctor, VanDinter said. Those who do not have a doctor can go to an urgent care facility such as AFC Urgent Care, which has locations on Arsenal Street in Watertown and Main Street in Waltham.