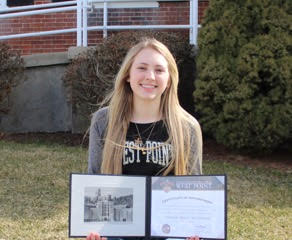 This fall, high school senior Hannah MacDonald will begin her career at campus that few people from Watertown have ever attended. It's not Harvard, or Yale or another prestigious college. She will be a cadet at the United States Military Academy at West Point.
Gaining entry into West Point, or any of the military academies, is no simple feat, and MacDonald had to qualify in ways that those admitted to other institutions of higher learning do not have to worry about.
"You have to be accepted academically, physically, medically and Congressionally," said MacDonald, who attends Lexington Christian Academy.
Along with being toward the top of your high school class, successful academy applicants also have to be able to pass a physical fitness test to show you can deal with the physical rigor of the military. The test includes pull ups, push sups, running and sit ups.
She also passed medical tests, and had to get a recommendation from her members of congress.
"There will be a couple hundred kids in Mass., for example, who apply for Elizabeth Warren, Ed Markey and Katherine Clark, well, Katherine Clark is my specific congressional representative. Of that number they can only take a small amount of those kids to nominate them for the academy," said MacDonald. "Luckily, I was able to get nominated by both my congresswoman, Katherine Clark, and Sen. Ed Markey."
She still had to be accepted, and West Point admits a class of 1,100 cadets from around the country. Less than 15 percent of applicants are admitted.
When the last Watertown resident to attend West Point is unclear. Bob Erickson, Watertown's Veterans Agent from the mid-1990s to 2011, said he does not remember anyone attending the academy during his time. Town Clerk John Flynn said he does not recall anyone in his time as clerk, which is nearly a quarter century.
Erickson recalls a West Point grad who lived in Watertown, Bud Croft, but he did not grow up here. The last person who went to the Military Academy from town that he remembers is William Dickerson.
"I graduated (from Watertown High School) in '66, and he graduated in '64 or '65," Erickson said. "He went to West Point and went to Vietnam. I think he was a captain. He became a doctor."
Both of MacDonald grandfathers served in the military — Joe (Sandy) MacDonald in the Air National Guard (1967-1974) and Richard McCarthy in the Navy (1957-1961) — but she said that she does not consider her family to have a military tradition.
MacDonald knew from an early age, however, that she was interested a career of service.
"I grew up doing martial arts, and I also grew up Christian and I think having that background I just wanted to have a career serving others," MacDonald said.
Her father Brian, who runs the MacDonald Academy of Martial Arts in Watertown Square with his wife Tara, remembers as early as fifth grade Hannah wanted to join the CIA.
Both of his children have pursued honorable passions, Brian said. His son Joseph is studying to be in the ministry at the Boston Bible College.
"Of course it makes me proud," Brian said.
He added that he believes his daughter's martial arts background (she's a black belt) gave her a leg up, not only physically but mentally and because of the self discipline required.
For a while, MacDonald focused on the FBI and attended a program in New England, and then the summer before her junior year she attended the FBI Youth Leadership Program in Quantico, Va.
"It was there that I found out about the Service Academies. I actually didn't know it was a thing for a while, until I was there and a lot of the students were super interested and one of the instructors said I should look into it," MacDonald said. "After leaving I said, 'Oh, this is what I want to do.' After that I went full force toward the academies."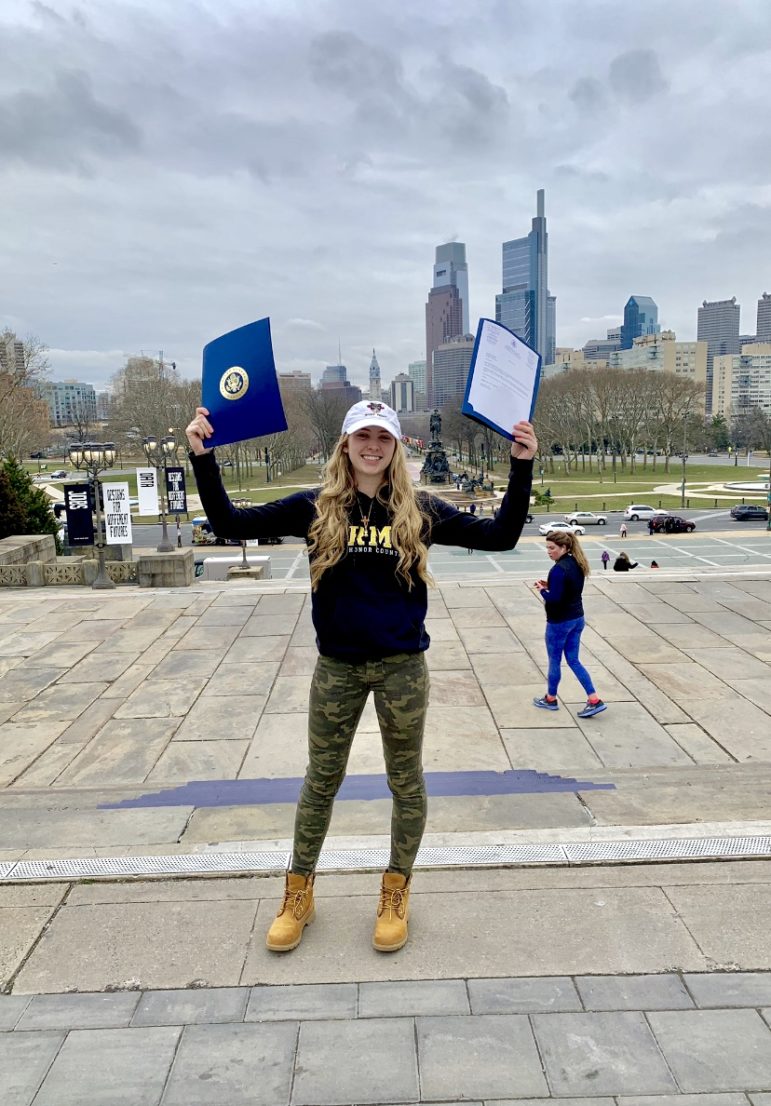 MacDonald also applied to the Naval Academy and the Air Force Academy, but said that West Point was her first choice.
"I was able to go to the Naval Academy summer seminar where I spent a week there, seeing what it would be like to be a Midshipman," MacDonald said. "It was a fantastic experience. I don't know why, but it was just one of those things where I was like, 'This is what I want to do, but not here.'"
Two of her friends from the FBI Academy are attending academies, one Navy and one Air Force.
West Point fit her better, MacDonald said. Partly because she thought she would succeed more academically at West Point, and also because she believes the Army is a better branch for her. 
During her junior year, MacDonald and her dad visited the campus at West Point, N.Y.
"I just fell in love with everything about it," she said. "I have always been sort of different at my school. I love discipline and regiment and getting up early and, oddly, being stressed. I just found everyone there loves that, too, and it was just like I'd found my people."
Getting in is just the start of the hard work for first year cadets, who are also called plebes. MacDonald is scheduled to report to West Point at the end of June for plebe summer, also known as "beast summer."
"That's your big transition between civilian life and military life," she said. "They are basically just breaking you down and rebuilding you back up. You spend the summer just getting into that military environment. You are on base and in the woods, and they are training you to become soldiers. That is your entire summer."
MacDonald hopes that the COVID-19 outbreak won't delay the start of her training. She was supposed to spend a weekend at West Point in April, but that got cancelled due to the Coronavirus.
"I have no idea what anything is going to look like now, but I guess time will tell," MacDonald said. "My class has all been in communication via social media platforms, and we all really hope we can complete our training on time and together!"
In the meantime, MacDonald has been preparing for plebe summer by working out: running, swimming and practicing shooting with her father (when allowed by social distancing orders).
"I've heard from everyone, the best way for women to gain respect is to just be there physically with the rest of the cadets, especially in beast summer," MacDonald said. "If you are falling behind in runs and workouts you'll lose respect that quickly."
Once the fall starts, it just gets more intense for the plebes.
"It's a very regimented schedule. You are sometimes up in the morning doing PT (physical training), depending on where you stood during the summer and the school year," MacDonald said. "You go to breakfast, go to classes, you have military obligation during the day.
"Every cadet there has to be an athlete. Whether you are in a varsity sport or a club sport you have to do a sport. So that usually takes up two hours of your day. After dinner, you usually have more military obligations and lots of homework. So, there is not a lot of free time."
MacDonald said she enjoys writing, and may major in English, but she is not sure what military specialty she will pursue.
"They spend a lot of time through your four year showing you what branches you can go into and sort of tailor what is best for you," MacDonald said. "I honestly don't know. I mean, I'll go where ever they need me, but I think they will do a good job seeing where my talents are, and where that fits in with what the military needs."
"I think longterm I'd like to be a civil affairs officer, but I know you can't branch directly in to that. You have to have to kind of work your way up to that."
She will have time after the academy to do that in the Army.
"Because the government pays for your college, you give them back five years in active duty, sometimes it's six, and then I think it's another three in the reserves," MacDonald said.