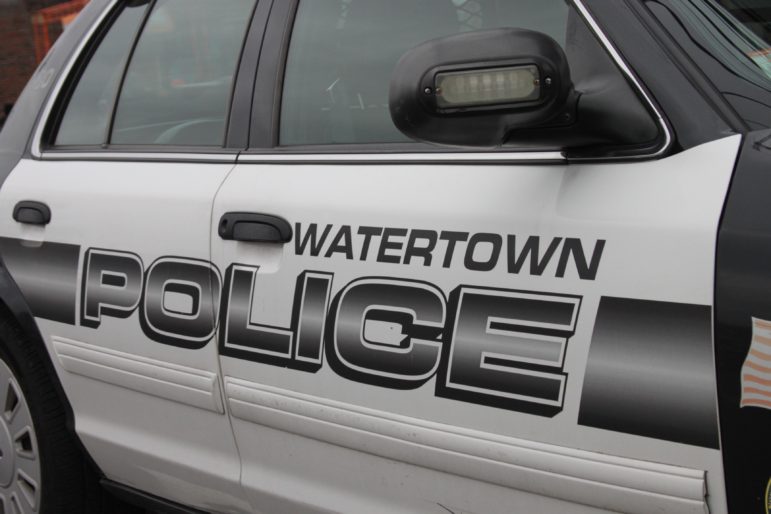 The following information was provided by the Watertown Police Department.
Arrests
April 28, 7:16 p.m.: A Toyota pickup struck a parked car in the parking lot of Stop & Shop on Pleasant Street, which pushed the car into another parked vehicle. A caller reported the accident to police and said the driver may be intoxicated. Officers found the driver still in his vehicle and knocked several times before the driver responded. He appeared to be in a daze and showed signs of impairment. The man had a strong odor of alcohol on his breath, and he did not remember the accident. He was unsteady on his feet and struggled to keep his balance or answer simple questions. He was evaluated by medics and taken to hospital with minor injuries. The 49-year-old Waltham man was arrested on a charge of driving under the influence of alcohol — a second offense.
May 1, 8:53 p.m.: An officer driving on Main Street spotted a black GMC SUV heading east near Pilgrim Road and it was traveling on three wheels. Belmont Police had put out an alert for a possible intoxicated driver operating a vehicle on three wheels. After stopping the car, the officer asked the operator what happened. The driver said he ran over some nails, and that he must have hit a pothole. The man thought he was in Jamaica Plain, not Watertown. During the conversation with police, he admitted to consuming alcohol before driving. The driver also showed signs of impairment, including an odor of alcohol coming from his breath. He failed four field sobriety tests. The driver, identified as Cesar A. Rodriguez Ramirez, 26, of Brighton, was placed under arrest. Police found that he had two prior OUI convictions and his license was suspended for the OUI. He faces charges of driving under the influence of alcohol — a third offense OUI (a felony), negligent operation of a motor vehicle, and driving with a license license suspended for an OUI.
Incidents
April 27, 6:48 p.m.: A Spring Street resident said a package was delivered to her house at 12:19 p.m. but when she checked at 1:19 p.m. it was gone. The package was confirmed delivered by UPS and it contained three beer root plants valued at $135.
April 28, 6:38 p.m.: A Watertown man receive notification from his credit card company about unusual activity. He learned that someone had opened a personal loan of $17,001. He worked with the credit card company's fraud department. No money had been lost. 
April 30, 10:48 p.m.: A package was stolen from an apartment building on Coolidge Avenue. The resident said he expected to receive a package containing prescription medication and was informed on April 24 that the Post Office had delivered his package. However, when he checked the mailroom in his building he could not find his medication, which cost $25.