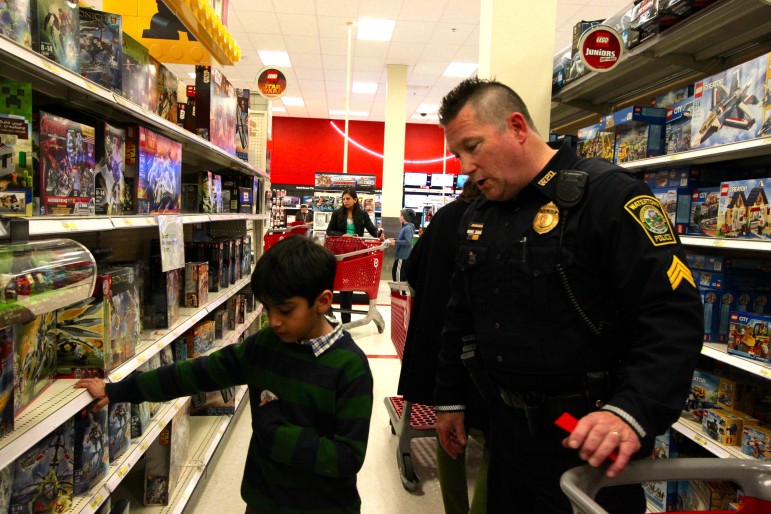 When asked about the highlights of his career with the Watertown Police Department, Sgt. John MacLellan did not point to the night that he tangled with Boston Marathon Bombers, but rather being able to help people. But he added that a higher power was looking out for him that fateful night.
MacLellan was supposed wrap up his 30 years with the Watertown Police surrounded by cheers and waving flags as he led the WPD in the annual Memorial Day Parade. With the restrictions put in place due to the Coronavirus, however, the parade has been cancelled. Instead he will be honored by his colleagues at a celebration at the Police Station on Tuesday.
Community Policing, where officers build relationships and trust with residents, has been a focus of MacLellan's work. That has allowed him to get to know people in Town and work on some interesting projects.
"I've been very lucky. I have done a lot of great things: the motor cycle unit, I started a weight lifting program at WHS and worked with kids for 10 years," MacLellan said.
Through the Cops and Kids Weight Lifting programs, MacLellan often worked with kids struggling with disciplinary issues at school. He welcomed them and the program gave the students an outlet for some of their energy.
"It was such a good program," he said.
He has spent his entire career on the night shift, which he preferred. Twelve years ago MacLellan became a sergeant, but for much of his career he was content being a patrol officer.
"The reason for not taking test is I loved being patrolman. I really loved the job," MacLellan said. "I loved helping people — I do to this day. I thought I would lose that being a supervisor."
When he got the promotion, he found that he could continue his doing Community Policing work, and also mentor younger officers, who start their careers on the night shift.
"Once I became supervisor, I realized I could expand Community Policing, and I could push younger officers and other officers toward Community Policing," he said.
Working nights also means dealing with some of the more complicated situations and cases, he said.
"Police work at night, no doubt, there's definitely a lot of the crime happens at night," MacLellan said. "We are trying to prevent it and not leave for guys in morning to handle."
Just recently, with just seven shifts left in his career, MacLellan and other officers had to bring a suspect under control who had entered someone else's home and appeared to be under the influence of more than one substance.
"That was scary," MacLellan said.
The Shootout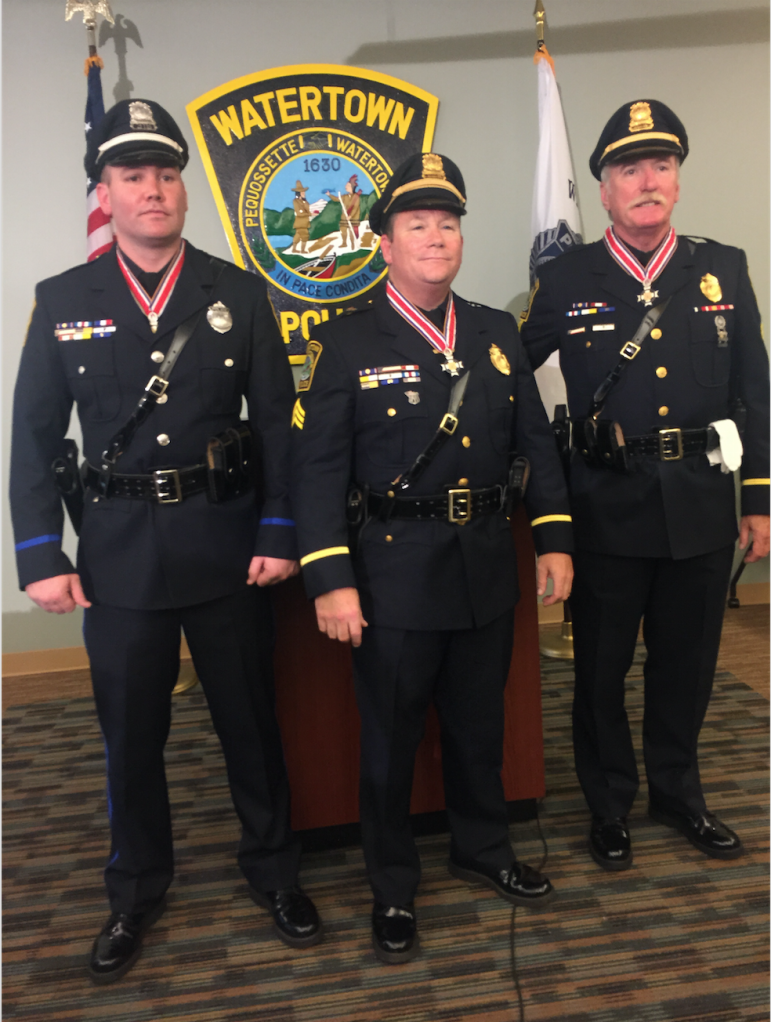 That incident pales in comparison to the night of April 19, 2013 when MacLellan was the second officer to arrive at the intersection of Dexter Avenue and Laurel Street, where the two Boston Marathon Bombers were firing at a fellow officer.
"We had people watching over us that night," MacLellan said. "God was watching me that night. He was on my shoulder."
MacLellan is still proud of how the Watertown Police, a relatively small department, handled such an intense situation. It has become the thing of legend.
"Of course, that's the most memorable for everybody. No one will ever forget that. They made movies about that," MacLellan said. "But the thing people don't get out of it, we are a small Police Department. Those guys, (Officer) Joey Reynolds, a young guy, he saved my life.
"And (Sgt. Jeff) Pugiliese, who comes in and tactically looks at things and says 'I think I can get closer.' These guys did an unbelievable job, and not just for a small town, not just for a large town, not just for a SWAT team. They were unbelievable."
MacLellan credits Reynolds' quick thinking under fire for the incident ending without any police officers being killed. The Tsarnaev brothers were shooting at the windshield of Reynolds' cruiser, with him inside, when MacLellan pulled up.
"I thought, my God he's dead! Then his reverse lights go on, and he started coming back at me," MacLellan said. " He just ducked beneath dashboard and was waiting to hit a tree or me. Then he got out next to me and we started laying down bullets."
Had Reynolds not gotten himself out of the situation, MacLellan believes Reynolds would likely have been killed, whether he got out of the car or stayed put.
"Then I would have to get involved," MacLellan said. "If they wounded us, what happens to next wave of officers who came in?" It would be a whole different movie, with dead cops."
The other Watertown officers arrives about 3-4 minutes after the call went out from MacLellan and Reynolds. Police from neighboring towns arrived a few minutes later, and they just kept coming.
"The out of town guys, we don't get to thank them enough," MacLellan said. "We are calling and saying these guys are throwing bombs and shooting at us, and they came! I think every cop in the state tried to get there."
When he thinks back to that night, when one suspect was captured and the other was wounded (and found in the famous boat the next day), MacLellan said he is amazed how it turned out.
"To be supervisor that night, and everything go that good — wow, how did I get so lucky?" MacLellan said. "Run that situation again 100 times, a cop is dead every time. We got so lucky."
Farewell
Being able to retire at age 55 is "the American Dream," MacLellan said. He doesn't see himself getting a full-time job after hanging up the badge. MacLellan plans to take it easy.
"I'm a gardener, so the next four or five months I will be out in the garden," MacLellan said. "I am going to travel. Do a lot of volunteering with the church, the Catholic Church — St. Pat's and Sacred Heart. I will continue doing that. I will try to keep in the loop and keep helping people in Town."
His career went by in a flash.
"It felt like five years," MacLellan said. "I remember guys telling me that when got on. Put away some money. You will be staring at 30 years and say what happened? They were exactly right."
He had looked forward to marching on the streets of Watertown during his last day.
"It's disappointing because it's great for the kids and great for the Town," He said. "I don't think I've ever missed the Memorial Day Parade. It is a big part of being part of the Town."
What concerns him most, these days, is the COVID-19 outbreak.
"I am disappointed not to be in the parade, but I would give everything up, I would start my career again tomorrow, if could end this virus, get everyone back to normal, everyone back to work," MacLellan said. "If I had that power, I'd do it in a second."