The Watertown High School Class of 2020's big celebrations have been muted by the COVID-19 outbreak, but the PTSO tried to lift their spirits by giving each senior a bag full of gifts.
The grads received the gift bags this week when they picked up their caps and gowns. Graduation was originally scheduled for Friday, June 5, but the pandemic prevented that from taking place. Instead, the school will hold a drive-up graduation ceremony on June 20.
Another tradition that the Class of 2020 will miss out on is the All-Night Graduation Party, put on by the PTSO. Looking for something that could take the place of the party, the PTSO put together Gift Bags for each student, said Vicky Sax from the WHS PTSO.
"The Graduate Gift Bag was made possible by some very generous donors:
Watertown Savings Bank gave funding for a $25 American Express Gift Card for every grad, The Frank J. Capaldi Scholarship Fund donated a $25 Amazon gift card for every grad, Watertown's newest movie theater — The Majestic 7 — donated a free admission pass to every grad." Sax said.
"Also, with the support of Tufts Health Plan, The Watertown Rotary Club and numerous other local businesses, families and friends, the PTSO was able to provide each grad a $50 Visa gift card."
The WHS administration donated swag for the bag, including facemarks, pens and lip balm. Along with that, the students got a copy of the proclamation passed by the Town Council declaring June 5, 2020 as "Watertown High School Class of 2020 Day," and an announcement and a printed booklet with memories and words of advice for the Class of 2020 from Watertown Public Schools educators, which were sponsored by BLING and Alpha Graphics.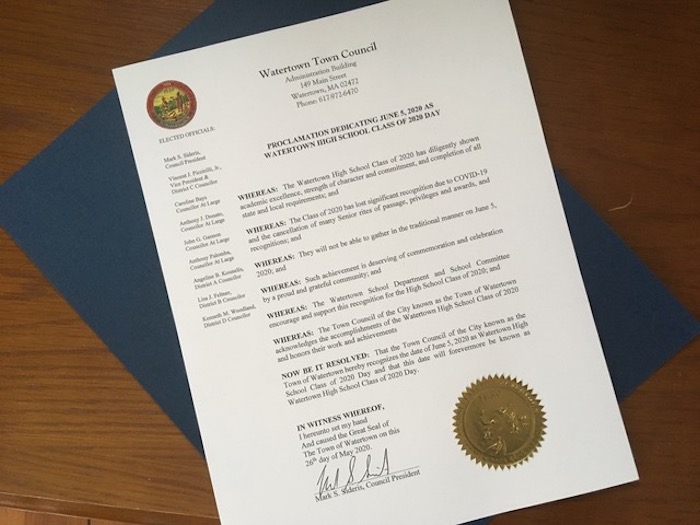 Sax was not at the school when the spirit bags were handed out, but they got some good reviews from students on Facebook, through texts and by word of mouth.
"The parent of one grad reported that their son said he thought the gift bags were 'sick,'" Sax said. "Thats a compliment."
The list of donors and volunteers can be seen below:
Class 2020 Congrats Letter V5 Hires by Charlie Breitrose on Scribd