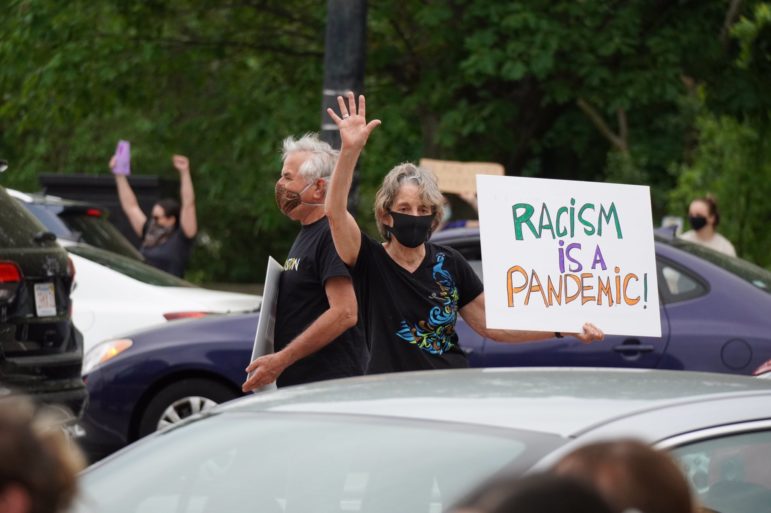 For the second week in a row, hundreds showed up in Watertown Square to remember George Floyd and protest against racial inequity. Tuesday's event included a march to the Square, and also chalk drawings which became the focus of some disagreements.
Also Tuesday, Town Council President Mark Sideris read a statement during the Town Council meeting supporting the protest, but adding that he did not support efforts to defund or cut funding to the Watertown Police Department.
The Vigil
For the second week in a row, hundreds of people showed up at the vigil for organized by Watertown Citizens for Black Lives, a part of the Watertown Citizens for Peace, Justice and the Environment. Tyler Kemp-Benedict, speaking on behalf of the group, said the turnout was similar to last week, which had an estimated 400-500 people.
A march organized by some Watertown youths went down Waverley Avenue and then turned on Main Street before ending up in Watertown Square.
Once again, those at the vigil took a knee for 8 minutes and 46 seconds, the time that the officer in Minneapolis kneeled on Floyd, Kemp-Benedict said. The Watertown Citizens for Black Lives have held a vigil on the second Tuesday of the month, and Kemp-Benedict said they plan to continue to do so.
pic.twitter.com/4AVCWiH0QH — #FreeBobiWine 🇺🇬🇺🇸 (@HillaryTaylorVI) June 10, 2020
Before the vigil began, some of those who showed up early to the Watertown Square Delta and used chalk to draw out the names of Floyd and others killed in similar incidents. They also included messages such as "Black Lives Matter," and "Defund the Police."
Also on hand was an older man who wore a ski mask only showing his eyes. According to reports from the scene, he brought a mop and bucket of water and began wiping away the names, and the "Black" from Black Lives Matter and the "De" from Defund the Police. People there for the protest objected and asked why he was doing it. The man told them that he was offended by the messages and cited his First Amendment rights. The vigil attendees said they, too, have First Amendment rights. The incident even made the WHDH Channel 7 news.
Kemp-Benedict noted that Watertown Citizens for Black Lives was not involved in making the chalk drawings, and added that the group believes everyone has the right to free speech.
Caroline Bays, a Town Councilor and member of the Progressive Watertown group, said that she may not agree with the man erasing the chalk, but respects his rights.
"Everyone has the right to express their opinion – including him," Bays said. "We all have freedom of speech. He has the right to his views, even if I object to them, and I have the right to mine, even if he disapproves of them. The true test of a democracy is allowing people who disagree with you to voice their views."
Early on Tuesday, some messages left in chalk on the Delta upset Peter Centola, Watertown's Recreation Director, who spoke at the Town Council meeting on his own behalf. He said someone has written anti-police message including "F- the Police" and pictures of pigs. Photos from the scene also showed the messages "Kill Police" and "ACAB" (all cops are bastards) on signal boxes and the sidewalk.
Centola said he does not oppose Black Lives Matter or the protesters right to hold their event. But, while they did not single out Watertown Police, the messages bothered Centola, he said, and he thought it was inappropriate because it was on public property.
"I do understand the right to protest and understand it is emotional," Centola said during Public Forum at the Town Council meeting. "It was nice to see people out protesting in a peaceful way, but some of the things, the chalk writings, that I saw were despicable, unnecessary and very untrue."
Council President Reads Statement
During Tuesday night's Town Council meeting, Sideris gave the following statement, and said he wrote it — and said he did not run it by other Councilors before presenting it– but believes that others on the Council agree:
"The whole Council is deeply saddened by the tragic death of George Floyd. The impact of this event and many others against people of color should have no place in our lives. Many of us were proud to stand in Watertown Square last Tuesday and this evening [June 9] in peaceful protest against this type of behavior. I personally will continue to do this when I can.
"As public officials we have to look at our individual roles and look at ways our town can examine and determine how to best proceed and make sure this type of event doesn't happen in Watertown. We need to listen to the concerns of residents, ask the difficult questions and take appropriate actions.
"Here in Watertown, I believe we have a well-trained, caring and compassionate police department. We can't take actions like defunding the police budget when we don't have the same problems that other cities and towns across the country may have.
"These are my opinions. I do think we have a very good police department here, an excellent department. The police chief has done a number of things to reach out to members of this community and put out a number of statements on a number of issues, that I think that will go us a long way."
Sideris also added a quote from Dr. Martin Luther King Jr. from 1956.
"Human progress is neither automatic nor inevitable. Every step toward the goal of justice requires sacrifice, suffering, struggles and a tireless exertion and passionate concern of dedicated individuals."
Sideris added: "I think that speaks to everyone in this community, and I think everyone is dedicated to the same goals. We are all in this together. We are all working, going to try to work to make sure this type of thing doesn't happen in Watertown."