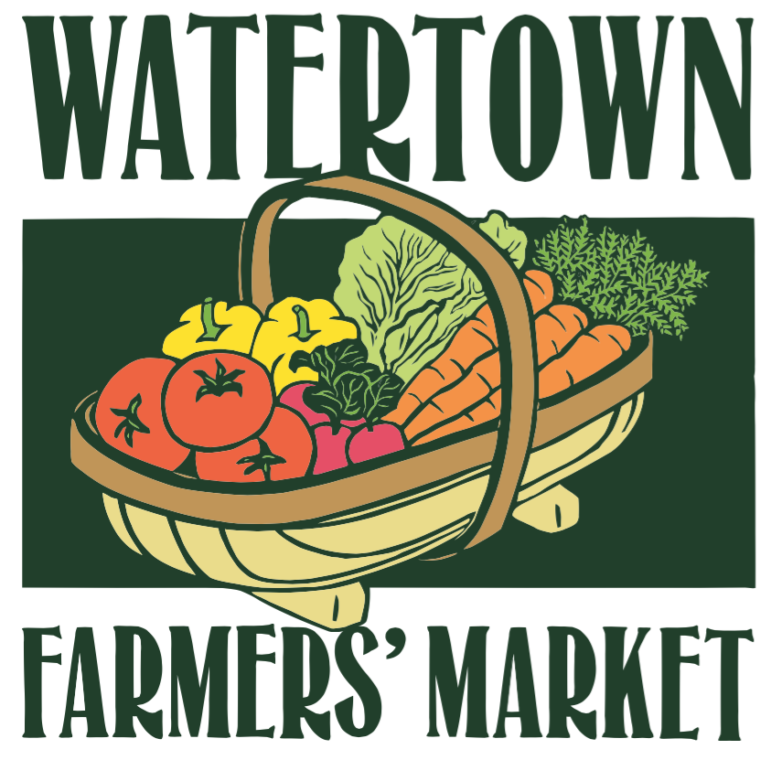 The start of the Watertown Farmers Market is around the corner and shoppers have some new options to choose from this year, which will be offering baked goods, bagels, produce, tahini and more.
The first farmers market will take place on Wednesday, June 17, from 2:30-6:30 p.m. in Saltonstall Park, at the corner of Main Street and Whites Avenue, next to Town Hall (149 Main St.). The Market will run rough Oct. 14, and — to begin with, at least — will operate with social distancing measures (see farther below).
The managers of the Farmers Market sent out the following statement"
The start of the season has been challenging for many small farms and businesses from loss of staff and the need to make changes to business operations with new safety precautions in place. Due to these challenges and the need to cut down on total vendor spaces at the market to create safe physical distancing, some vendors are not able to join us this year. We may look to add additional vendors as the season goes on. Prior to each market, we will share in the newsletter who will be attending the upcoming week.
New Vendors
Clear Flour Bakers is a family owned bakery that produces Traditional European bread and pastry. Using simple ingredients – flour, water, salt and yeast – they scratch mix and hand shape long fermented doughs for stone hearth baking.
OMG Bagels is a local artisan bakery selling New York style bagels, challah, and English muffins. After taking a one year break from the market, we are excited to have them back this season. Their bagels are a customer favorite.
Red Fire Farm (CSA and preorder pickup only)
Red Fire Farm grows certified organic produce, fruit, garden plants and flowers on 85 acres in Granby and Montague, MA to share with the community through their CSA farm shares and farm markets. Farmers Ryan and Sarah Voiland and the Red Fire crew work to provide the highest quality, freshest food for the four seasons of the year! See below for information to become a member of their Summer CSA.
Sweet Tahini Co. is a local food company focused on east Mediterranean flavors and cooking methods. Their line of handcrafted tahini goods is made with the most nutritious Mediterranean pantry staples and present authentic tastes, aromas, and creative blends. They host cooking and dining events, sharing Israeli food and culture and providing their guests the tools they need to bring Mediterranean flavors into their own kitchen.
Urban growers Lisa Evans and Tim Smith specialize in growing highly nutritious microgreens and edible flowers using organic and sustainable growing practices. Microgreens are tender, edible seedlings of vegetables and herbs grown to the cotyledons (seed leaves) or first true leaf stages. Their new 4600 square foot greenhouse is in the Hyde Park neighborhood of Boston, Massachusetts where they are using predominantly natural sunlight for growing.
Vendors
All vendors will be attending weekly unless other wise marked.
Farm Produce
Red Fire Farm (preorders & CSA pickup only)
We Grow Microgreens (biweekly)
Meat/Poultry/Fish
Hooked Fish Shop (Red's Best & Boston Smoked Fish)
Baked Goods
Fournos Authentic Greek Pastries (biweekly)
Specialty Vendors
Sa's Homestyle Sauce (biweekly)
Sweet Tahini (biweekly)
Farmers Market Offering CSA Share Pickups
Red Fire Farm Limited CSA Shares Available for Pickup at the Market Red Fire Farm is now accepting signups for their new CSA pickup location at the Watertown Farmers' Market! Purchase a CSA from Red Fire Farm and receive a weekly share of the farm's certified organic harvest. To request a signup form, please email thefarmers@redfirefarm.com by Wednesday, June 10 to begin picking up at the market on Opening Day. Space is limited, so act fast to reserve a spot for a summer of delicious, organic produce! For more information, view their CSA Q&A.
Social Distancing Rules
Thank you in advance for your support and cooperation in following our new rules and operations during Covid-19. Please help us ensure a safe and healthy environment for everyone by adhering to the rules below.
Customer Rules for Safer Shopping:
1. Please do not come to the market if you are sick.
2. Wear a mask or face covering over your mouth and nose at all times.
3. Wash or sanitize hands frequently, including when entering the market.
4. Follow social distancing and look for ground markings – Stay 6 ft. apart.
5. Designate one family member to attend, if possible.
6. Please leave your furry friends at home (no pets allowed in the market).
7. Touchless shopping only: Do not handle products until payment is complete.
8. Vendors are not allowed to handle your reusable bags.