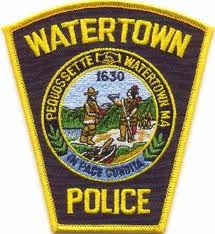 How the Watertown Police Department's budget is used, and whether there are other ways the money could be spent became a major topic of discussions of Wednesday night's Fiscal Year 2021 Town Budget Hearing.
The WPD budget was just one of many departmental budgets discussed during the hearing, but it garnered the interested of Councilors and members of the public, many of whom wanted to see a portion spent on mental health services provided by the town instead. The meeting was held remotely over Zoom.
The Police Department's budget of $10.3 million makes up 6.76 percent of the Town's operating budget. The WPD has 70 police officers (including 52 patrol officers), nine dispatchers and four civilian employees, as well as the school crossing guards.
Councilors Questions
Since 2011, the WPD has also had a mental health clinician, said Police Chief Michael Lawn. The person works 40 hours a week, and in each of the past two years she has had more than 300 mental health diversions. The clinician works with police on situations involving a mental health issue, opioids and family issues, Lawn said.
Councilor Tony Palomba asked whether the WPD could use another clinician.
Lawn said, "Any help we can get is more that we can serve the community. The individual we have now works 40 hours, and stretches across two shifts. With all the issues and calls for mental illness and opioid issues in the community, the more help the better it is going to be."
The position is paid for through a grant, which Lawn said the WPD has applied for again this year. Councilor Caroline Bays asked whether the clinician should be made part of the Town's operating budget. Town Council President Mark Sideris said the Council could make a budget priority to request that the Town Manager make the position a priority if the grant funding is lost.
Councilor Angeline Kounelis noted that for many years the Watertown Police had requested funding to have a detective who would work overnight, and asked if that position had been created and if not, whether it was still wanted. Lawn said the position does not exist and that he would still like to see it happen.
Councilor Lisa Feltner said she appreciated the Police Department's efforts to build trust in the community, but noted that it must be difficult with people being distrustful or even fearful of police. Protests around the country, and in Watertown have called for changes in the way police operate in the wake of the death of George Floyd in Minneapolis and other recent incidents involving police.
Councilor Caroline Bays asked about how officers are trained in deescalating a situation. Lawn said the WPD follows the President's Task Force on 21st Century Policing (created during the Obama Administration), and one of the main focuses of that program is deescalation.
"We've trained our officers in deescalation. We have done anti-bias training," Lawn said. "Our officer in the Police Department go through deescalation and anti-bias training as part of their in-service training each year. With recent events, you're going see an increase in that training."
Palomba said he has been contacted by multiple residents asking whether the Watertown Police have purchased any former military equipment to be used by the department. Lawn said that no military equipment has been bought by the WPD since he has been chief, starting in 2016. Before that, Lawn said, he believes the WPD did make some purchases.
Calls for Diverting Funds
During the hearing several residents asked for the Council to take 10 percent of the Watertown Police budget, about $1.03 million, and move it to the Health Department to hire 10 mental health professionals.
Sarah Pardo said that she believes having someone specializing in mental health issues respond to certain incidents would be more appropriate than the Police.
Pardo said she would like to see people have "the option to see social work, therapist or licensed clinician, instead of an armed police officer that has some training in mental health answering their call. A mental health professional not only can help the immediate situation, but can tap them into a network of resources and provide long term services, if necessary."
Zoe Grodsky said she too would to see a reprioritization of funding in her hometown's budget, and wanted to see other issues dealt with.
"We need to invest in the health and wellbeing of Watertown. That looks like moving money to increase community services," Grodsky said. "Watertown needs to take a stand to support marginalized populations and addressing systematic racism." 
Resident AnnMarie Cloonan said she would not like to see the Police Department's budget cut, but rather increased by 10 percent. She added that she thinks mental health issues should not fall under their list of duties.
"I strongly believe in what our police stand for and how police protect the community at all levels," Cloonan said. "I work directly with medical and  mental health providers and I believe we could take advantage of partnerships that could serve the community. I do not believe in putting public health into the Police Department. They are already overwhelmed with protecting the community in different levels."
Resident Casey Halle, 24, who grew up in town, said that she believes that Watertown needs to change, or it will risk losing people like her.
"In the next five years I plan to own a home, and I would like to eventually raise a family in Watertown. However, I don't feel confident in doing so if the emergency response in town isn't more holistic, involving clinicians, mental health counselors, and the like," Halle said. "I know that there are many others my age who feel the same way. and would not want to move back home if things continue the way they do."
The Council did not respond to the comments made by the public. They will meet on Monday, June 29 at 6 p.m. to have a public hearing and vote on the Fiscal Year 2021 budget.
Budget documents can be seen here: https://www.watertown-ma.gov/DocumentCenter/Index/1752