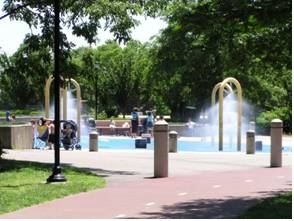 The turf area at Victory Field and the spray pads in two Watertown parks, two of the last Recreation facilities to remain closed during the pandemic, will reopen on Saturday, July 11.
Town Manager Michael Driscoll announced the openings in his latest COVID-19 Update (read the whole update here).
The Victory Field Turf, which is located in the football/baseball area of the complex, will will be open from 8 a.m. to 10 p.m.
The spray pads, located at Arsenal and Filippello parks, will be open from 10 a.m. to 7 p.m. There will be a limit of eight people at a time on the spray pad at Arsenal Park, according to Driscoll's update, and 15 at once at the one in Filippello Park
Watertown's recreational facilities and activities' rules and regulations will be guided by the Governor's Phase III reopening plan, which began on July 6th, Driscoll wrote. This includes staying at least six feet apart, and wearing a face covering over the nose and mouth. To see more details about the state's guidelines click here.
The Town Manager's update also included the latest COVID-19 figures for the Town. As of July 10, Watertown has 426 positive cases of COVID-19, and 399 have recovered. There have been 23 COVID-19 related deaths in Watertown.