Inside a building tucked behind a retail building and next to a hotel, sits a bright, modern showroom with glass cases displaying products that has not been available in Watertown previously — marijuana and related items.
Watertown's first medical marijuana dispensary will open for business on Tuesday, July 28 at 10 a.m. Alex Hardy, Chief Operating Officer of Natural Selections, said the facility is prepared to welcome patients.
"We are 100 percent ready to rock and roll," Hardy said, standing in the retail area of the dispensary at 23 Elm St.
The dispensary is located in a building in the back of the property on Elm Street, just off Arsenal Street (and near the Residence Inn by Marriott). During discussions at the Town Council, Planning and Zoning Boards, the issue of parking was raised. The facility has dozens of spaces in the back part of the property. Security was also a big concern. The site will be monitored 24-hours a day.
The company has also applied to offer adult-use marijuana from the dispensary on Elm Street, but needs to get approval from the state's Cannabis Control Commission before it can open.
Natural Selections will offer its products to people who have a medical marijuana ID card issued by the the state. To get certified, people must visit a doctor who is registered with the Massachusetts Medical Use of Marijuana Program. The physician must certify that a patient suffers from a qualifying condition.
While Massachusetts residents now have the opportunity to buy adult-use (or recreational) marijuana, Hardy said, there remains a market for medical cannabis. Massachusetts has around 70,000 people who have received Medical Marijuana ID cards. The number has grown during the COVID-19 pandemic, with about 4,000 people registering as patients during the outbreak.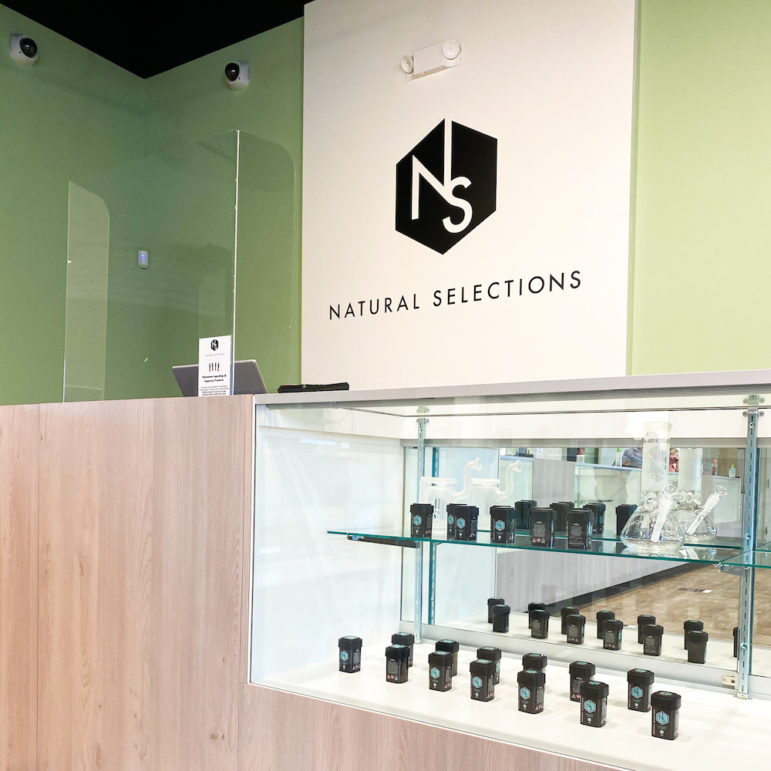 The list of conditions that qualify for medical marijuana use is quite long, said Tyler Vines, director of retail for Natural Selections. Glaucoma, cancer, PTSD, chronic pain and anxiety are some of the conditions covered, she said.
Medical patients have access to products that recreational customers cannot purchase, such as higher doses.
"Adult-use can get up to 100 milligrams, 5 milligrams per dose. We have medical products of up to 1,000 milligrams — 100 milligrams per dose," Vines said.
Also, medical patients do not pay the taxes on the products, Hardy said, which can be up to 30 percent for adult-use cannabis.
The staff at Natural Selections will work with patients to get the dosing right for their condition, said Caitlyn Woodward-Samson, general manager of the dispensary. A semi-private area has been set aside for patients to meet with staff.
"New patients are required to be put in the system. Then they are able to come into the sales floor and consult with a patient care advisor," Woodward-Samson said. "We want to make sure you are well versed and feel good about what you purchase here."
Some patients use microdosing, Woodward-Samson said, in which they start with a small amount of the product, and gradually increase the dosage until it works for their condition or ailment.
Natural Selections grows and processes most of the products it will sell in the Watertown facility, Hardy said. Plus, they will add quality products from other companies.
The dispensary will offer a dozen varieties of cannabis flower (the leafy buds), as well as edibles, tincture (drops), vape cartridges and transdermal patches, Woodward-Samson said. Also, lotions made from cannabis for aches and pains, but does not get into the blood stream so it will not make you high.
The dispensary will also have both THC and CBD products. CBD does not give the high feeling.