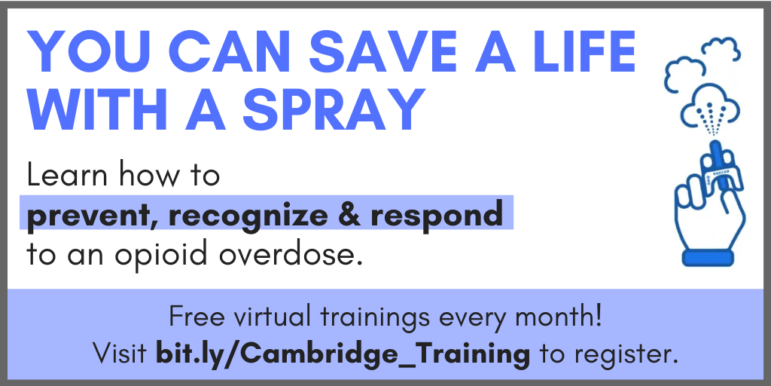 Wayside Youth & Family Network shared the announcement that free training on how to use the anti-overdose medication Nalaxone will be offered in August.
The training on how to use the Nalaxone (also known by the commercial name Narcan) nasal spray will be offered online, an is being run by the Cambridge Public Health Department.
Read the event announcement below:
Are you worried about overdoses happening where you work or live? Wondering how you can help prevent an overdose?Come and learn skills that could save lives. The Cambridge Public Health Department offers free overdose prevention and response trainings on a monthly basis to the community and free on-site trainings for groups by appointment.
This comprehensive 1.5-hour training includes:
Up-to-date information about the opioid crisis in Cambridge.
How to distinguish between overdose and non-emergency situations, such as drunkenness.
What to do if you see someone in trouble.
How to accessnaloxone (Narcan™),the overdose reversal medication.
To learn more, please contact Tali Schiller at the Cambridge Public Health Department atnaschiller@challiance.org.
Click here to see a schedule of the trainings, and to register.