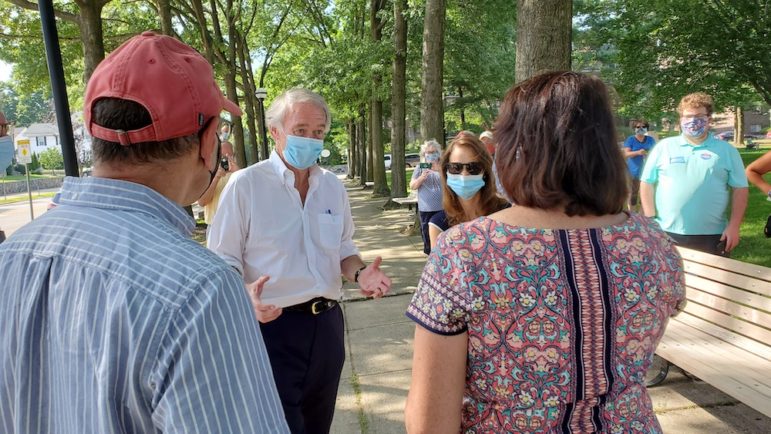 Even as people face a pandemic, U.S. Sen. Edward Markey said another epidemic continues to threaten the health of people in Watertown, Massachusetts and across the nation: opioid addiction.
The Democrat attracted to a few dozen supporters (and a couple detractors passing by on Main Street) to a campaign event at a balmy Saltonstall Park on Monday afternoon.
Markey recalled how in 2014 he was in Taunton to address a Martin Luther King Jr. Day event and when he asked the Town Manager what the biggest problem in town was, he was told that they were having a rash over overdoses. He learned later that the jump in ODs was due to the introduction of Fentanyl into heroin and other opioids.
"Ultimately, the highest number overdose deaths in Massachusetts still comes from Fentanyl," Markey said.
Deaths from opioid overdoses remains a problem, said Middlesex Sheriff Peter Koutoujian, who introduced Markey.
"Every year, 50,000 people die from from overdoses," Koutoujian said.
He noted that the event was taking place across the street from St. Patrick's Church, where Watertown Overcoming Addiction holds a candlelight vigil every year where family and friends read the names of their loved ones who were lost to substance use disorder.
Markey said he has worked with Koutoujian and Middlesex District Attorney Marian Ryan to find ways to address the opioid crisis.
"These issues are absolutely essential for the wellbeing of families across our country," Markey said. "The only way to deal with this is by prevention, and ultimately treatment. Because incarceration is not the answer, and I leaned that from Peter, I learned that from Marian."
A couple years ago, Markey met with some young women getting treatment for their opioid addiction in Lowell as part of a roundtable chaired by Ryan.
"We learned a lot just by listing to them, hearing what their experiences were," Markey said. "We did it in a way, where we could listen, we could learn what their lives were like and how much they wanted and needed help. And how optimistic they were about their future because of the setting that gave them the kind of help they needed."
Woody Giessmann, the Founder and Chairman of Right Turn, a treatment center based in Watertown, said one of the keys is to reduce the stigma attached to opioid use. He said Markey has been a supporter of that effort.
"It's not just about substance use disorder, it's about co-occurring disorder and the needs of the family — the support that use people in Massachusetts know about," Giessmann said.
He noted that an Erase the Stigma event will be hosted by a group in Watertown on Sept. 13, 2020.
To show the Senator how opioids and substance use disorder impacts those in the justice system, Koutojian brought Markey into the Middlesex County Jail in Billerica. The Sheriff said that people have their Medicaid cut off when they are charged with a crime, even though they are still presumed innocent by the courts.
Markey said he wants to make sure people in the jails have a continuance of coverage so they can get treatment for their addiction.
"Eighty percent of the people in Billerica have substance abuse issues," Markey said. "And we know that these people have a 120 times higher likelihood of overdosing that those who have not just left a jail facility."
The Senator from Malden would also like to see stronger warnings when people get their opioid prescription.
"Every bottle of opioids should have a red warning cap that just says 'dangerous,'" Markey said.