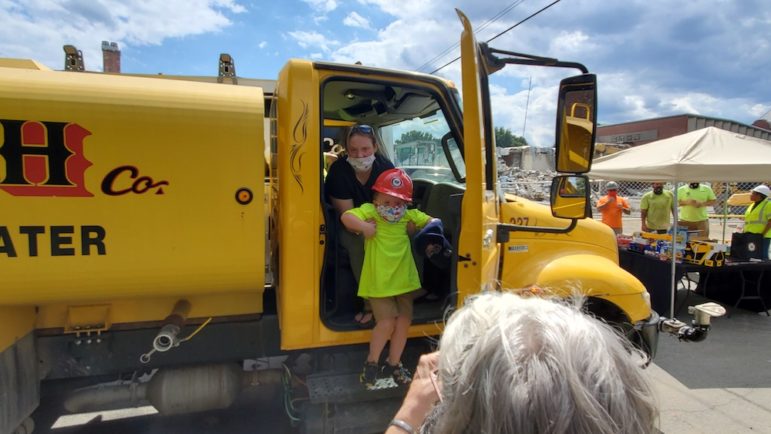 In celebration of his upcoming fourth birthday, Quin Gosselin got a dream ride on a construction vehicle, and gave the construction crew at the Hosmer Elementary School a special treat on Wednesday.
Gosselin spends a lot of time at his grandparents house on Boylston Street, and has been enthralled by the construction at the school, as workers demolish the school in preparation for the new building, his father, John Gosselin said.
Quin has been persistent in his effort to get access to the work area, even asking a police officer parked on Mt. Auburn Street if he had keys to the site, his grandmother Diane Neylon said.
"He's fascinated by the trucks," Neylon said. "He keeps stying, 'Grammy, I want to get in.' He wanted to get in to see the construction site."
To make his dream come true, Neylon helped arrange a visit and in return Quin had a "give-back birthday." He and his family brought cupcakes, snacks and drinks for the construction crew at Hosmer.
The demolition crew from W.L. French Co. had some gifts of their own for Quin, including a construct hat, and toy trucks. The highlight, however was when Kevin Raposo from W.L. French took Quin and his mother Elizabeth Neylon on a ride on a water truck.
"We went through the job site and sprayed water, so he could get up close in a safe manner," Raposo said.
Among the guests at Quin's celebration were Town Councilor Angeline Kounelis and Thomas Finnegan, project manager from Hill International.