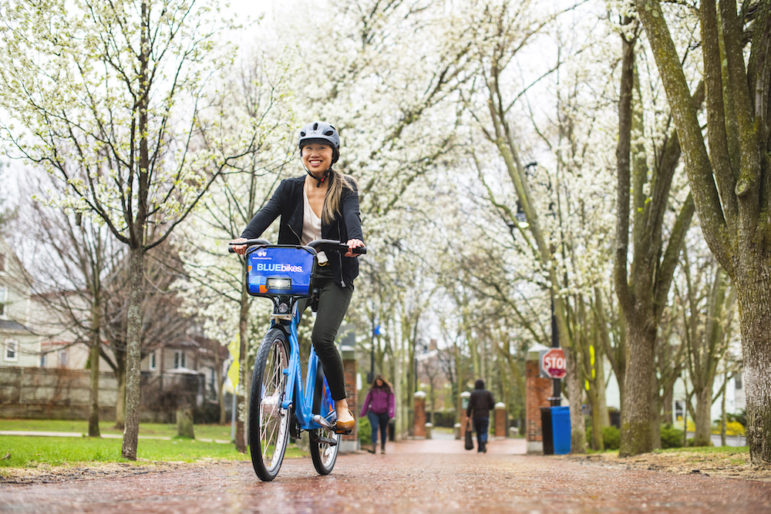 The first few of the seven Bluebike stations coming to Watertown will be installed with in the next few days.
Steve Magoon, Assistant Town Manager and Director of Community Development and Planning, welcomed Bluebike's expansion into town.
"This is an exciting opportunity to bring bike share to Watertown, and provide connections to the other communities and to the T, with a consistent program throughout the region," Magoon said. "The experience for the public will be seamless and much more functional."
Watertown Transportation Planner Laura Wiener said the first station is due to be installed in Coolidge Square on Friday, July 31.
"Two more will be installed early next week — in Watertown Square, and on North Beacon St. at North Beacon Court," Wiener said.
Arsenal Street will have three stations, and one more will be near the Watertown-Cambridge Greenway.
The Watertown Bluebike stations will be at:
Coolidge Square, in front of Coolidge Playground (Mt. Auburn St. at Arlington St.)
Nichols Avenue near Arlington St. and the Watertown-Cambridge Greenway
Arsenal Street near Arsenal Yards
Arsenal Street at Kingsbury Street, on the campus of Arsenal on the Charles
Arsenal Street between Gables and Elan residential developments
North Beacon Street at North Beacon Court
Watertown Square at the bus depot and entrance to Charles River DCR Greenway
Most of the stations will be in East Watertown, but Wiener said if the service proves to be popular, the Town will look at expanding further.
The expansion into Watertown is part of a two-year pilot funded by Lyft, which is contracted to operate Bluebikes. The town paid for the docks with the help of a MassDOT Workforce Transportation grant, matching funds from the Town, as well as contributions from the Residence Inn by Marriott, Arsenal Yards and Alexandria.
The bike rental company announced recently it will be expanding to Watertown, Newton, Arlington, Chelsea and Revere. The company, formerly known as Hubway, is already in Boston, Cambridge, Somerville, Brookline and Everett.
When combined with the stations within the existing municipalities, the
system will offer nearly 400 stations and 4,000 bikes across 10 communities in the metroBoston area, Bluebike's announcement said.
Additional stations are being installed in some communities that already had Bluebikes, including in western Cambridge, and along the Green Line Extension and Community Path corridor in Somerville.
In celebration of the expansion, Blue Cross Blue Shield of Massachusetts, the title sponsor of Bluebikes, is sponsoring a 'first ride free' program throughout the month of August to make it easier for new riders to try Bluebikes. New customers across the Bluebikes system can take advantage of this promotion for a free first ride by simply downloading the Bluebikes app (iPhone or Android), creating an account, and opening the app.