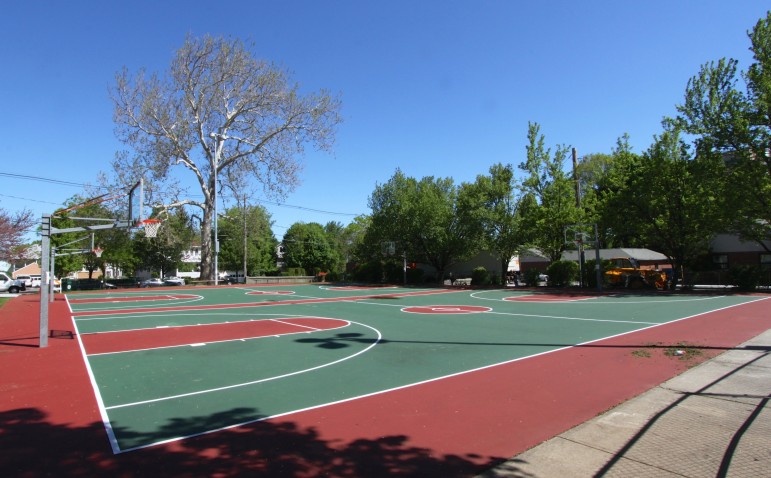 Watertown Recreation Director Peter Centola announced Saturday that the basketball rims will be removed from a town park after people were found playing basketball without face coverings.
Centola said he has been dealing with people playing basketball at Casey Park on Watertown Street for several weeks and he warned them they need to be wearing face coverings. He has even had to call police when a group refused to wear masks and continued to play.
Last week, two rims were removed (one from each of the full basketball courts) in hopes that people would shoot around on the half courts but not play games, Centola said. Recently, Centola found that a group was playing half court basketball with no face coverings, so he decided to take down the remaining two rims.
Under the state's COVID-19 regulations for youth and adult amateur sports activities basketball is considered a "Higher Risk" sport, along with football, ice hockey and lacrosse.
For the Higher Risk sports, the regulations allow for non-contact workouts, aerobic, conditioning, individual skill work, and drills, but not practices or games. And in all activities, efforts should be made to "minimize the risk of transmission of infection among participants," the regulations read.
Friday's Town Manager's Coronavirus Update said that 486 Watertown residents have tested positive for COVID-19, up 8 from Aug. 28.
Centola sent out the following announcement on Sept. 12:
Unfortunately, those who violated the basketball and face covering regulations of the state and the town did not get the message when we took down two rims at Casey yesterday morning as they were at Casey playing half-court basketball without face coverings last night. Therefore, the other two rims will be taken down at Casey by Monday.
I feel badly about this, especially for those who have been respectful and cooperative as they will miss out on the opportunity to shoot hoops at Casey.
Please consider this a warning to others, as we will certainly make sure the rules at followed at other areas of the town and will not hesitate to take similar measures to make sure our users of our recreational facilities are following the rules and regulations to help everyone stay safe and healthy. 
Please feel free to share this information or contact the Department of Recreation if you have questions, comments or concerns.