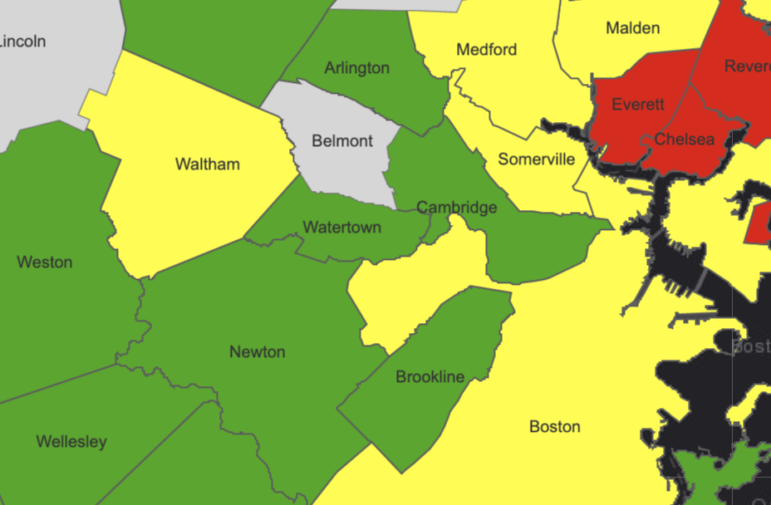 If the COVID-19 rates were they same as they are this week, Superintendent Dede Galdston told the School Committee Monday that the Watertown will start in-person hybrid classes in late October for the elementary students, late November for the middle and high school.
The Watertown Public Schools decided in August that the first day of school will be on Sept. 22 with all students learning remotely. The plan, which School officials call "Bridge to Hybrid," would transition to in-person hybrid where students attend classes in-person on alternating days.
The decision on when to move to in-person teaching will be based on the levels of the virus in and around Watertown, Galdston said, with the first check of the metrics on Oct. 22 with a return to class for the elementary schools a few days later.
"If trends on the date stay as they are now, we will move to the hybrid for elementary on Oct. 27 and secondary on Nov. 30," Galdston said.
Watertown officials will look at measures such as the number of positive cases and the percent of positive tests for Watertown and surrounding communities. Looking at the map put out by the state officials, a community shaded green means less than 4 COVID-19 cases per 100,000 people, grey (or unshaded) is less than 4 per 100,000, yellow is 4-8 per 100,000 and red is more than 8 per 100,000. As of Sept. 9, Watertown is 1.29 per 100,000, Galdston said.
"We are green, Belmont is unshaded, Waltham is yellow — most of the areas around us are currently green with some yellow," Galdston said. "If it comes on Oct. 22 that we are surrounded by red, for example, that would be an indication that we might need to think a little bit before we open."
Another measure measure is the rate of positive COVID-19 tests in a community.
"The positivity rate, if it is less than 5 percent that's a good sign, and Watertown is currently at 0.31 percent," Galdston said.
Watertown will also be offering testing for staff members, Galdston said. Through a partnership with the Broad Institute in Cambridge the tests will be administered by nurses in Watertown, the samples will be sent to be tested, and results will come back the following day.
The testing is voluntary, and Galdston said a survey found that 75 percent of staff members said they wanted to be tested, 15 percent wanted more information and 10 percent were not interested.
The schools will also provide personal protection equipment (PPE), such as masks, to students and staff. Other measures will be taken to try to reduce the chances of infection, Galdston said, including adding screens on classroom windows so they can remain open without letting in insects, and the district is purchasing 308 air purifiers for classrooms.
"It is not necessary in most of our rooms but we think it is an excellent added layer for our staff and students," Galdston said.
She added that students and parents need to also remain vigilant. Galdston reminded parents they should screen their students each day before sending their children to school. Also, the superintendent took notice of incidents in other communities where high schoolers have had big gatherings where COVID-19 has been spread, resulting in cancelling plans to have in-person learning.
"High school students, if you are listing or parents of high school students, please make sure you are exercising good judgement when you are in groups of students, your friends. Always wear a mask." Galdston said. "We have seen a spate of incidents, in Dover-Sherborn, Lincoln-Sudbury, Dedham, Windham, N.H., where some of our high school students have gathered and haven't been wearing masks and had instances of COVID-19.
"All of this depends on all of us to doing the right thing to get back into school. I just ask, think when you are with your friends, wear a mask."
A small group of students with high levels of special needs will start the school year attending school in-person, Galdston said, including some special education and English Language Learners.
Parents had the choice of the hybrid option or to go virtual until at least February, or longer if they wish, even when students in they hybrid option return to schools. Galdston said about 18 percent of students took the virtual option.