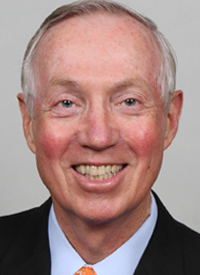 The U.S. Hockey Hall of Fame in Colorado Springs named Boston College coach Jerry York, a Watertown native and resident, to its Class of 2020.
York has the most wins in college hockey history, and has won five national championships (four at BC and one at Bowling Green). He will be entering his 27th year as the head coach at his alma mater. He first became a head coach in 1972 at age 26 at Clarkson. As a player he was first team All-America as a senior at BC.
Last year, York was inducted into the Hockey Hall of Fame in Toronto. Other honors include induction into the Boston College Varsity Club Hall of Fame (1982) and the Bowling Green State University Athletic Hall of Fame (2003); he was honored with the Lester Patrick Trophy in 2010 (awarded by the NHL and USA Hockey for contributions to hockey in the U.S.), and received the Spencer Penrose Award as the NCAA Div. I Coach of the Year in 1977. 
The other members of the Class of 2020 are players Tony Granato and Jenny Potter and coach Dean Blais.
See the announcement of the U.S. Hockey Hall of Fame Class of 2020 by clicking here.