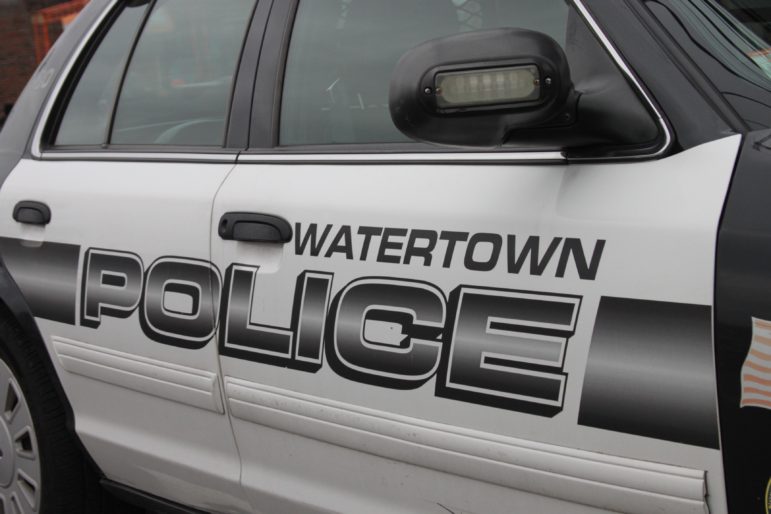 The following information was provided by the Watertown Police Department:
Arrests
Sept. 28, 6:19 a.m.: A driver reported that a man appeared to be passed out behind the wheel inside a vehicle at the traffic light at the Watertown Square intersection. The witness removed the keys from the vehicle out of concern. The driver's head was resting on the wheel and was unresponsive. Police were able to wake him after a few minutes. He had a strong odor of alcohol, and three opened cans of White Claw hard seltzer were found on the floor of the front passenger seat. The driver admitted to consuming alcohol before driving. The man took four field sobriety tests and did not pass. Officers also found a case of White Claw with seven unopened cans inside. The 28-year-old Watertown man was arrested for driving under the influence of alcohol and obstructing traffic.
Oct. 1, 4:13 a.m.: An officer who was checking on a building on Nichols Avenue on foot spotted a blue Chevy van pass by. The officer shone his flashlight and recognized the driver as someone who had a suspended driver's license. The officer got in his car and stopped the van. He confirmed the man's license was suspended and also checked the record of a female passenger. She had a warrant for her arrest. The 48-year-old man driving was summonsed to Waltham District Court for operating a motor vehicle after a suspension. The 25-year-old Boston woman was arrested on the warrant from Boston District Court for motor vehicle violations.
Oct 4, 10:54 a.m.: Police were called to CVS on Main Street and employees told them that a woman had just left the store after shoplifting. Officers saw the woman on Church Street and stopped her. Employees said the woman had placed items into a CVS bag and left without paying for them. When she was stopped she had 19 items worth a total of $230.97. Police also found five packages with different names on each, all with Brighton addresses. She could not explain why she had them. The 48-year-old Brighton woman was arrested on a charge of shoplifting under $250 and one count of receiving stolen packages. Watertown Police also alerted Boston Police in Brighton District 14 about the packages.
Incidents
Sept. 28, 8:17 a.m.: A maintenance worker at a Coolidge Avenue apartment building found open packages in the building's vestibule. When they reviewed surveillance video, building management saw a man who had entered the building at 9 p.m. on Sept. 27, opened three packages, removed the contents and left the building. The officer on scene checked the next two apartment buildings for similar activity. The management reviewed their video, and the same thing happened at one of the buildings. A man entered just after 9 p.m. took packages and left the building. Watertown Police got an image of the suspect from a video, sent it out to other police departments in the area and a detective from Brookline identified the suspect. A warrant was issued for the 28-year-old homeless man for six counts of larceny from a building.
Sept. 28, 9:57 a.m.: Police responded to Fayette Street for a car that was broken into. The owner of the 2016 VW Jetta said she parked it on Sept. 27 in her driveway at about 7 p.m. She believes she left her vehicle unlocked. When she came out on the 28th, she realized a wristlet and a black coin purse were missing. They contained $50 in cash, two debit cards and one credit card.
Sept. 28, 12:49 p.m.: A bicycle was taken from an apartment building on Pleasant Street. The owner said her bicycle was stolen from a locked storage unit in the building. She believes the bike went missing sometime around the end of July. It is a white and black Specialized bike valued at $2,000.
Sept. 28, 7:22 p.m.: Another vehicle was broken into on Fayette Street. The victim said that at about 12:30 p.m. she realized her dog's bed had been taken out of her unlocked vehicle, a2007 Hyundai. She last saw it on Sept. 27 at 9:45 p.m. The vehicle was left unlocked.
Oct. 1 11:58 a.m.: A woman said she received an email from someone who appeared to be her boss. The message asked her to buy $1,200 in gift cards for her office. The woman purchased four $200 ebay gift cards and two $200 AMEX gift cards. She sent the information on the gift cards to the person who sent the email. Later, she received additional emails requesting that she buy more gift cards. She realized it was a fraud and reported it to police.
Oct. 3, 5:30 p.m.: A husband and wife reported they got a call from someone saying they were a Comcast employee. The person said that they were experiencing satellite problems, and requested they log onto their computer so they could check for issues. Then the caller said they should sign into their Watertown Savings Bank account and told them they would be receiving a $600 refund for the inconvenience of the alleged satellite issue. The person on the phone went on to ask the couple to buy $10,000 in gift cards. They realized it was a fraud scheme and they alerted Watertown Savings, which was able to shut down their accounts to prevent any money being taken.
Oct. 3, 7:23 p.m.: A 66-year old woman had a problem with her Amazon Kindle tablet and when she searched online she found a number for a site called Kindle Help. She called and spoke to someone who said that in order to get the tablet fixed, the woman would have to purchase $2,600 in gift cards for Target, ebay and Best Buy. She bought the gift cards and sent the information to the person. It appears she is out the money. Police are investigating.