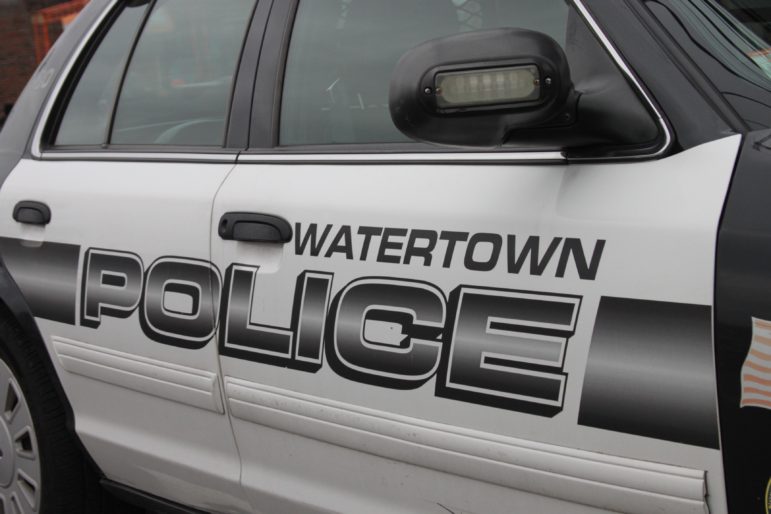 The following information was provided by the Watertown Police Department.
Arrests
Oct. 8, 7:18 a.m.: An employee at Pet Medic Urgent Care vet clinic on Main Street arrived in the parking lot for work and saw a man in another car parked in the middle of the lot who was exposed and appeared to be masturbating. The employee was caught off guard and was upset by what she saw. She called police. Officers arrived and talked to the man, who said he was urinating in a cup. He said he parked in the lot because he had an appointment for work down the street and was doing paperwork. Police discovered the man was also wanted on a warrant. The 56-year old Stoughton man was arrested on a charge of open and gross lewdness, and the warrant from Wareham District Court for negligent operation of motor vehicle, marked lanes violation, possession of a Class A drug, and driving under the influence of drugs.
Oct. 11, 11:45 p.m.: A pickup truck hit a pair of parked vehicles on Salisbury Road, and the driver was seen getting out of the truck and running toward Belmont Street. Watertown Police spoke to witnesses who described the suspect as a male wearing a black hooded sweatshirt. A very short time later, Belmont Police advised the WPD that they stopped a man who they believe was the driver of the truck. He was spotted at the rear entrance to the Belmont Cemetery. He told Belmont Police that he was just involved in an accident in Watertown and he "Messed up real bad." He said he fled the accident scene because he had been drinking alcohol. The suspect had signs of impairment, including a strong odor of alcohol on his breath, and his eyes were glassy and bloodshot. The man took one field sobriety test, and did not pass. He refused to take more. He was taken into custody and when officers searched him they found a small baggie with a white powder that police believe to be cocaine. The 25-year-old Belmont man was arrested on a charge of driving under the influence of alcohol, leaving the scene of a motor vehicle accident involving property damage, operating with a revoked registration, operating an uninsured motor vehicle, and possession of a Class B drug, suspected to be cocaine.
Incidents
Oct. 6, 12:35 p.m.: Police responded to the outside of the entrance to Home Depot for a disturbance involving two men. The pair got into an argument which got physical when the two men shoved each other. The officers broke up the fight, and separated the men. The two men knew each other and had a disagreement over whether one of them owed the other money. There were no injuries and both were advised if they would like to seek a complaints they could do so at Waltham District Court.
Oct. 6, 6:36 p.m.: A package was taken from a home on Main Street. The resident she had ordered an American Eagle 3-in-1 knife for her husband. She left her home around 1 p.m. and returned at 2 p.m. At that time, she found an envelope inside her mail box that had been ripped open at the top and the knife was missing. It is valued at $22.87.
Oct. 7, 10:59 a.m.: A Watertown woman received a call from someone who identified themselves as someone working with the "Federal Bureau." He went on to say there was a warrant for her arrest. The caller asked her to confirm the last four digits of her Social Security Number, which she provided. The person then hung up the phone hung. The woman realized it was a scam and called Police. Watertown Police advised her to contact her bank and credit agencies to notify them about the scam. Nothing was reported missing from her accounts.
Oct. 7, 4:12 p.m.: A Watertown woman reported an ID fraud. She had attempted to apply for assistance through the state Department of Transitional Assistance. The woman had recently moved to Massachusetts from California, and has been unemployed since moving. DTA told her that their computer system showed that she has been earning a weekly wage between $600 and $800 since May 2020. They told her the company for which they had record that she had been working, and she said she has never worked there. The last job she had was for a school district in California. It appears someone had been using her ID and Social Security Number. The DTA will investigate and she filed a claim with the Social Security Administration.
Oct. 7, 6:52 p.m.: A woman reported to police that a charge had been made her Citizens Bank card for $35.99 to an online company. She said she had not made the purchase and she is not sure how it happened. The bank was contacted and informed of the incident. The woman was issued a new card and the bank is investigating.
Oct. 8, 9:30 p.m.: A Watertown resident told police that she discovered someone had attempted to use her PayPal account. She searched the web for a customer service number at PayPal, and when she called the person on the other side of the phone instructed her to buy two Target gift cards, one for $400 one for $500. Then the person told her to purchase two ebay gift cards, both for $200. She bought them and provide the gift card numbers to the person over the phone. Then she realized she was a victim of a scam. Police discovered the number was from a disposable phone.
Oct. 9, 12:39 p.m.: A Watertown woman told Police she has received phone calls from someone saying there was bank account in her name that had been linked to money laundering and drug trafficking. The caller said the account had $200,000 in it. The person went on to say the Department of Homeland Security was now handling her case, and unless she paid a fee a warrant would be put out in her name. She didn't send any money when she realized it was a scam. When Police researched the number, one of the numbers the person called from went to the U.S. Coast Guard office in Washington D.C.
Oct. 11, 6:40 a.m.: A dumpster fire was reported in the area of Walnut and School streets. Police officers and firefighters responded and found a dumpster in a parking lot with smoke coming out of it. The Fire Department was able to extinguish it without injury or incident. It is unknown how the fire started.