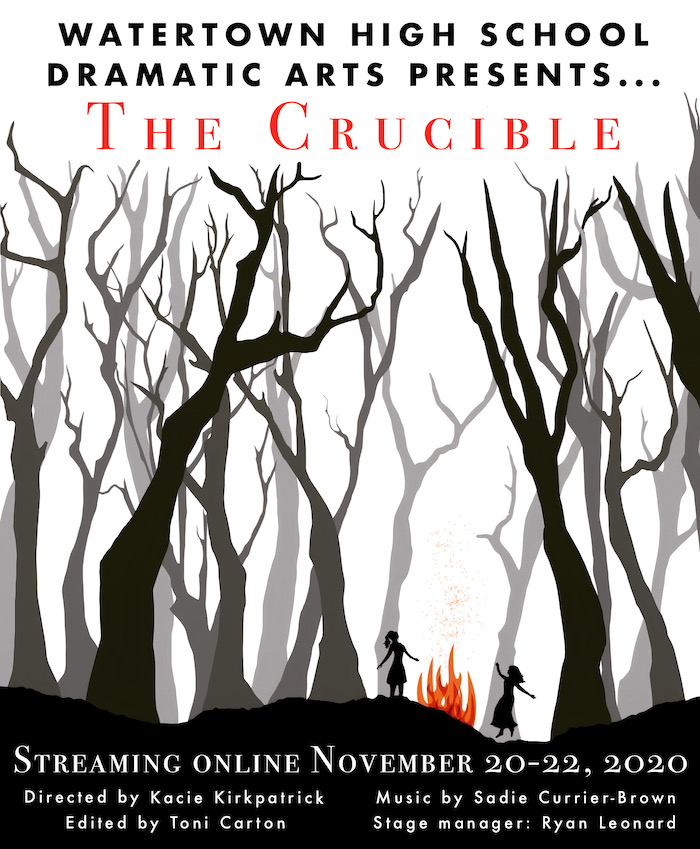 The Watertown High School Dramatic Arts Department has taken the saying, "The show must go on," to heart, and will be presenting the fall play, The Crucible, in a remote format.
The play will be recorded remotely, and will be available for people to watch online on Nov. 20-22 on the Watertown High School website.
When the school year began, all the schools in Watertown operated remotely, and performances indoors were not allowed under the Massachusetts COVID-19 regulations. WHS student Ryan Leonard, who is the stage director for The Crucible, said it wasn't clear whether there would even be a play.
"At first, it was all or nothing. We were told we would do a play in person, or not have a play at all because of the situation," Leonard said. "But (WHS Drama teacher Kacie Kirkpatrick) said let's do a middle ground."
Kirkpatrick said she saw that professional theater companies were doing remote productions and said, "My kids can totally do this, and do it really well."
"We are doing it fully remote. It is going to be filmed in person, socially distanced," Kirkpatrick said. "The rest will be recorded on Zoom, and we are putting it all together. A former student (Toni Carton) is helping us edit everything and put it all together."
Kirkpatrick had hoped to do The Crucible last year, but was unable to get the rights, so this year she reserved it early because she thought it suited her seniors well.
WHS student Lana Taffel said that the play is familiar to many of the students in the play, because they read it in English class.
"So many of the plays we have done are awesome because people don't know them, but doing something well known brings in people who know the plot and expecting a certain thing," Taffel said. "It is a good thing the show we decided to do is one that is very well known and is something we are familiar with."
The Arthur Miller play is a fictionalized version of the Salem witch trials. It contains some intense moments, which has led to some confusion for the families of some of the actors, said Sadie Currier-Brown, who is playing Betty Parish.
"I am playing character that especially screams a lot," said Currier-Brown, who recalls a few times when she was acting in another room only to have her family members "come rushing in thinking something is wrong."
The students had to put the play together from their homes, but WHS student Emma Griffith said she enjoyed the experience.
"It was good to see people again, even if through Zoom," Griffith said. "It was good to see our theater buddies."
Kirkpatrick wasn't sure if students would want to do a play remotely, but they were more than willing.
"I tell them all the time how proud I am of them. They are on Zoom all day and to add two more hours at the end of the day, I feel terrible about it," Kirkpatrick said. "They are amped up, they are prepared. It is a testament to how kids are the resilient ones out there." 
Watching the play come together, Kirkpatrick said that the experience isn't exactly watching live in a theater, but it still captures some of the same aspects.
"I got the same feeling that I was connected with them as if was sitting in the audience, which was why it was so emotional," Kirkpatrick said. "The actors were really telling the story."
The play is free to watch, but will only be online for three days.
"It will be available on the Watertown High School website (https://whs.watertown.k12.ma.us/) from Friday, Nov. 20 through Sunday the 22nd. On Sunday it disappears," Kirkpatrick said. "The way the rights houses do it, we have the rights for three performances, and they consider each day a performance."
Planning is already underway for the spring musical. By that time, the actors hope to be able to do some sort of live performance outside.
WHS got the rights to Cinderella, Kirkpatrick said, but if that is not possible due to COVID-19 restrictions they might do some sort of cabaret, where only one performer is on stage at one time.