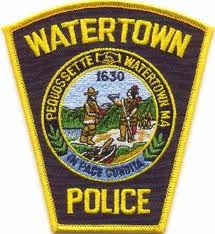 A former Watertown Police officer has sued the Watertown Police Department and the Police union for "gender discrimination and retaliation" after she was forced to leave the department. The suit also alleged that it was due in part to an intimate relationship she was having with a superior officer.
A copy of the civil suit filed in Middlesex Superior Court was obtained by the Boston Herald, which ran a story and a column on Tuesday evening. See the story here.
The suit said that former WPD detective Kathleen Donohue faced "sexually charged comments," and "dangerous rumors" about false affairs, the Herald reports.
The relationship detailed in the suit, and in a column by Howie Carr, Donohue said she had been having a five-year "sexual relationship" with then head of detectives, Lt. Michael Lawn, who is now the Police Chief.
According to the column, the suit says Lawn, "used the power of his position and isolation he knew Det. Donohue was experiencing to invite her to engage in an intimate relationship with him."
The Watertown Police Department did not provide a comment on the suit to Watertown News, and Chief Lawn did not respond to a request from Watertown News for a statement.
In the suit, Donohue said that her male colleagues created a "toxic" environment for her, the Herald reports, including after the capture of Boston Marathon Bomber Dzhokhar Tsarnaev.
Donohue was one of the first officers to respond Franklin Street where the bombing suspect was hiding in a boat. She suffered PTSD after bullets flew inches from her head during the incident. The Herald story said she was: "'further isolated' her from fellow male cops who 'attacked' her for calling out the 'poor weapons discipline' others showed that day."
The Police Department treated Donohue differently from her male colleagues, the suit alleges. According to the Herald column, other male officers who were alleged to have committed wrongdoings were not disciplined, including an officer who "forged identities in order to obtain controlled substances illegally. On information and belief, he was not emergently suspended," the suit said, according to the column.
Douglas Louison, an attorney for the Town of Watertown denied the allegations, according to the Herald.