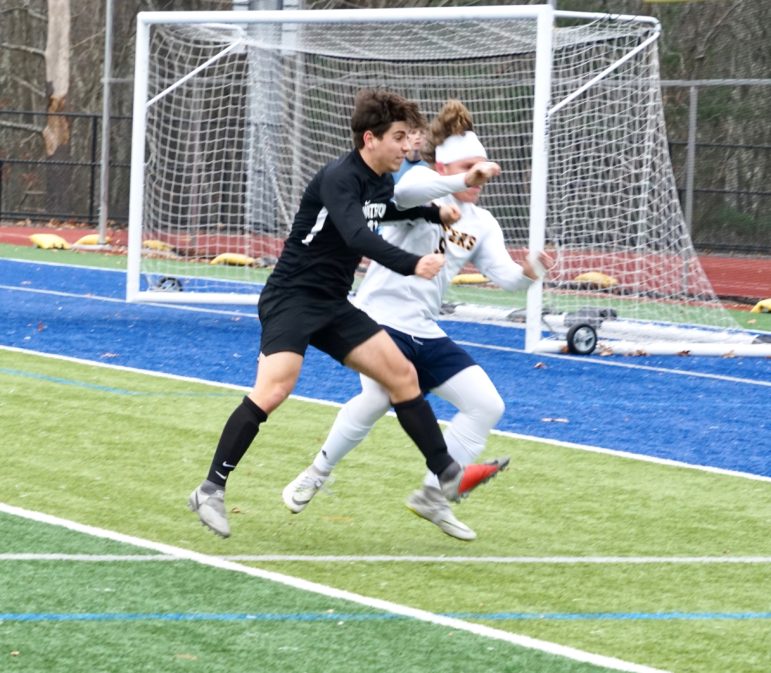 The Middlesex League boys soccer teams featured some of the top high school players in the State, and three Watertown Raiders made the All-Star list plus one also received Eastern Massachusetts honors.
Watertown seniors Nicholas DiPace, Caiden Kiana and Kenan Canca made the 2020 Middlesex League Small School All-Star team. The Raiders finished 4-3-1 in the season that was shortened due to COVID-19.
DiPace was one of a dozen Middlesex League players who also made the Eastern Mass. All Stars.
The League also had four members of the All-State team and Bobby Hutchinson of Lexington made the All-New England team.
Middlesex League Small All-Stars
Player
School
Year
Sean Theurer
Burlington
2021
Ethan Baldissera
Burlington
2022
Betoya Bundu
Burlington
2022
Tarekegn O'Neill
Melrose
2021
Thomas Bergin
Melrose
2021
Jack O'Hara
Melrose
2021
Peyton Breda
Stoneham
2022
Micheal DiMaria
Stoneham
2022
Michael DiLeo
Stoneham
2022
Logan Cosgrove
Wakefield
2021
Eric Keefe
Wakefield
2021
Michael Leary
Wakefield
2021
Aidan McGrath
Wilmington
2021
Justin Healey
Wilmington
2021
Patrick O'Mahony
Wilmington
2021
Nicholas DiPace
Watertown
2021
Caiden Kiani
Watertown
2021
Kenan Canca
Watertown
2021
Middlesex League Large All-Stars
Player
School
Year
Eric Widrick
Arlington
2022
Jan Pilja
Arlington
2021
Ryan O'Rourke
Arlington
2021
Bauerle Gustav
Belmont
2021
Will Kivalatitu
Belmont
2021
Alex Athanasiou
Belmont
2021
Bobby Hutchinson
Lexington
2021
Hyungbin Kim
Lexington
2021
Aidan Keaveny
Lexington
2021
Matt Geraghty
Reading
2022
Ryan Connolly
Reading
2022
Colin O'Sullivan
Reading
2022
Diego Diaz-Tijerina
Winchester
2021
Ben Von Halle
Winchester
2021
Jonathan DeOliveira
Winchester
2021
Jared Roque
Woburn
2021
Gabriel DaSilva
Woburn
2022
Matheus Oliveira
Woburn
2022
Eastern Massachusetts All-Stars
Player
School
Year
Eric Widrick
Arlington
2022
Bobby Hutchinson
Lexington
2021
Matt Geraghty
Reading
2022
Diego Diaz-Tijerina
Winchester
2021
Ben Von Halle
Winchester
2021
Jared Roque
Woburn
2021
Sean Theurer
Burlington
2021
Tarekegn O'Neill
Melrose
2021
Michael DiLeo
Stoneham
2022
Eric Keefe
Wakefield
2021
Aidan McGrath
Wilmington
2021
Nicholas DiPace
Watertown
2021
All-State Team
Player
School
Year
Bobby Hutchinson
Lexington
2021
Diego Diaz-Tijerina
Winchester
2021
Tarekegn O'Neill
Melrose
2021
Eric Widrick
Arlington
2022
All-New England Team
Player
School
Year
Bobby Hutchinson
Lexington
2021