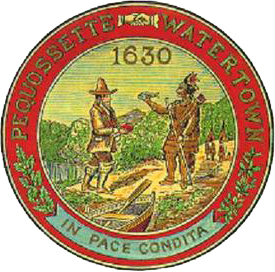 Looking for ways to improve the way Watertown's municipal government works, the Charter Review Committee looked at other cities and towns for new ideas. They also debated mayor vs. town manager, and ways to communicate with residents.
Committee members looked for ways to address some of their biggest issues with the way Watertown's government operates, including transparency, communication with residents and accountability. Specifically, some complained that it is unclear how residents can report a problem and get it addressed.
Town Council President Mark Sideris said that things are changing more rapidly now today than when the charter was first established in 1980. He suggested that perhaps the Charter Review should take place every five years, instead of every 10 as called for in Watertown's Charter.
Transparency
Resident member Marcia Ciro said it is difficult to understand which decisions are made by the Town administration and which are made by the Council.
"A lot of the problems are with transparency — certain things are done in public and certain things are done behind closed doors," Ciro said.
In her dealings with the Town government, resident member Anne Fitzpatrick said she has felt like has gotten the run around when she has been frustrated by not getting a response from someone working for the Town.
"The Councilor will say they report to (Town Manager) Mike (Driscoll), they don't report to us," Fitzpatrick said. "As a resident it has been very frustrating and I have been stymied trying to figure out who is the decision maker, who really has the power here."
Councilor Angeline Kounelis said she sometimes feels frustrated when trying to respond to residents' questions about a project or decision because she was not informed about it beforehand. Generally, the information is sent to councilors as "miscellaneous communications" but she has found that information is not always timely and sometimes not accurate.
Councilor Ken Woodland said he has not had a problem getting responses to requests to or questions made to the Town Administration. He said he has always gotten information in time for Council meetings and has never felt fully prepared to discuss and vote on an item on the agenda.
Mayor vs. Strong Manager
One of the biggest questions facing the Charter Review Committee is whether to make a major change in Watertown's form of government. Currently, the Town has what is known as a Strong Manager and Council government where the Town Manager — the chief executive — is hired by the Town Council, the elected legislative branch. Other cities use this form, such as Cambridge.
Some have suggested going a strong, elected mayor with an elected council, as is seen in bigger cities like Boston, Newton, Waltham, Somerville, and starting recently, Framingham. Other forms of governments include representative town meeting (which Watertown had before becoming a city), and open town meeting where all residents can attend and vote on items.
Having an elected mayor could make the government more responsive to residents, some on the Committee argued. Councilor Tony Palomba said that he believes mayors must be responsive to the community and communicate with them to be reelected.
"Transparency — you come to expect from a mayor that things will be done publicly," Palomba said. "When they are not, then we can hold people accountable for that. I don't get the same feeling that we can hold people accountable if someone feels like something is not getting done in transparent way, there is no way to say, 'Hey, Town Manager you are not being open.'"
Council Vice President Vincent Piccirilli said with mayors some things would not be as transparent as they are now. The budget, he said, is a prime example. In Watertown, the budget policy guidelines (the priorities) are made by the Council in public hearings where residents can ask questions and comment. The Town Manager then builds a budget using the guidelines. With a mayor, Piccirilli said, the budget is made behind closed doors and the Council has little ability to make changes to the mayor's proposed budget.
"In Boston, Waltham and Newton, cities with a mayor, that's how it works," Piccirilli said. "The mayor sets policy direction as well as executing it. It's no mystery, look at cities with a mayor, the mayor tends to be very powerful and be in office for a long time because they can control everything."
Some argued that the Committee should not be thinking about how the government works with the current personnel, because they will be changing. Councilor Caroline Bays said she is trying to stay neutral about what form of government she'd like to see.
"There is no perfect solution. One thing we need to realize, there are advantages and disadvantages of every form of government," Bays said. "As we are thinking about this, we really want to be thinking about it not as who we are now, but who we will be 10 years from now. If take some of the personalities out of it, it make it little easier to speak about it, and we are not insulting anyone."
Other city and town charters go further than Watertown's in spelling out how the roles of the Town Council and the Town Manager, said Michael Ward of the Collins Center at UMass Boston, which is helping Watertown with its charter review.
"I note that the Watertown Charter does not have as strong language about this notion of the Council setting policy and the Manager implementing it. It is in there, but is not as explicit," Ward said.
Kounelis said she believes the Council should have more ability to influence decisions made by the Town Manager.
"Personally, I'd like to see some controls put into place so that the Town Council has some additional powers and does have some override," Kounelis said.
Another issue brought up by more than one person is the Towns appointed boards and committees, including the Planning and Zoning boards. Some questioned the independence of these committees because the members are nominated by the Town Manager and approved by the Council.
Councilor Lisa Feltner said she would like to have the Charter Review Committee examine that, because she believes it the oversight is "circular" with the boards being named by the same person that oversees them. She also wanted to look at the structure of the Council
"I would like to talk about the make up, should there be more district Councilors? How does that job vary? What are the expectations?" Feltner said. "That has changed even since I have been on the Council, what people think we should do or shouldn't do."
Fitzpatrick said that she believes that the role of a Town Councilor is more than a part-time job, and suggested that they be compensated with a full-time salary. Currently they are paid $7,500 a year.
Ciro saw that in Bridgewater, the charter allows the Town Council to hire assistants and experts to help them conduct "the business of the Council."
Councilor John Gannon has worked as an in-house City or Town Attorney in Watertown and Somerville, and has also seen how contracted town attorneys work. He said the Council might benefit from having more access to an attorney or an expert in municipal government to help them with questions or to draft ordinances.
"Any issue they could do research on what towns and cities do nationwide and report back at next Council meeting," Gannon said. "We could have rapid response and a rapid vote to uphold or not uphold. We don't have that in Watertown. We have to go to the Town Manager, ironically, because the Town Attorney works for the Town Manager. There is no direct resource that we, as the Town Council, can go to."
Communicating with Residents
The difficulty of finding out what is going on in Watertown's government is another frequent complaint among residents. Members of the Committee said they would like the Town to take a more active role in communications.
When the Charter was made in 1980, there were to newspapers dedicated to covering Watertown, but now there is no one source, people argued, and many ways that people get information including online, cable access and social media.
Piccirilli said that information about what's going on in Watertown has improved since he was first elected in 2008. At that point, he said, the only way to get information on a Planning Board case or to see the reports given to the Town Council was to go to Town Hall and look at paper copies. Now that information is linked to the agendas on the Town's website.
Some communities have a person dedicated to interacting with the community, Ward said.
"For example, Amherst and Framingham have these citizen participation officers or community engagement officers," Ward said. "It is more about communicating out with the public."
Ward said he has also seen a lot of cities that have 311 number for people to call with questions or problems.
"It is one call to city hall. People are trained to respond to questions from every department," Ward said. "It has not reached Watertown-sized communities because of the cost, but I anticipate over time, as the cost comes down, there will be more places that are Watertown's size that do it."
Councilor John Gannon said he saw how the 311 number worked in Somerville, and he said it was successful.
"We can work with existing tools and see what other cities and towns are doing regardless of whatever form of government that comes out," Gannon said. "It is going to be an intense resource commitment the Town is going to have to decide to make."
Resident member William Oates used to work for the City of Boston, and saw how a 311 can work and he said it could take some of the weight off of Councilors.
"With a part-time council if you put all the constituent questions in system, instead of council spending time tracking them down, that gives the Town Council more time to look at data, look at what's going on across the whole Town and see how the administration is responding to the different types of requests," Oates said. "It does tie into the charter conversation because of the roles and responsibilities of the part-time legislative body and the full-time administration."
Resident member Leo Martin said he looked at charters in other communities and he noted that Bridgewater has a requirement for the Town Council president and the Town Manager to give a twice-a-year update on the state of the town.
"It is open to the public and they can ask any question they want," Martin said.
New Subcommittee & Extending the Timeline
A Communication Subcommittee was created, and will be made up of community members MarciaCiro (who will be chair), Leo Martin, and Anne Fitzpatrick, along with Town Councilor John Gannon. The group will look at ways to publicize the Charter Review, and get input from residents. Ciro asked if they would have a budget, and Sideris said they could come up with a proposal which would then go to the full Charter Review Committee and then the Town Council to approve.
Under the Charter, the review process happens every 10 years, and is supposed to be completed in a year. The Committee voted to ask the Town Council to extend their time working on the review until June 30, 2021 with the option of requesting another extension, if needed.
The next meeting of the Charter Review Committee will be on Dec. 15 at 6 p.m.