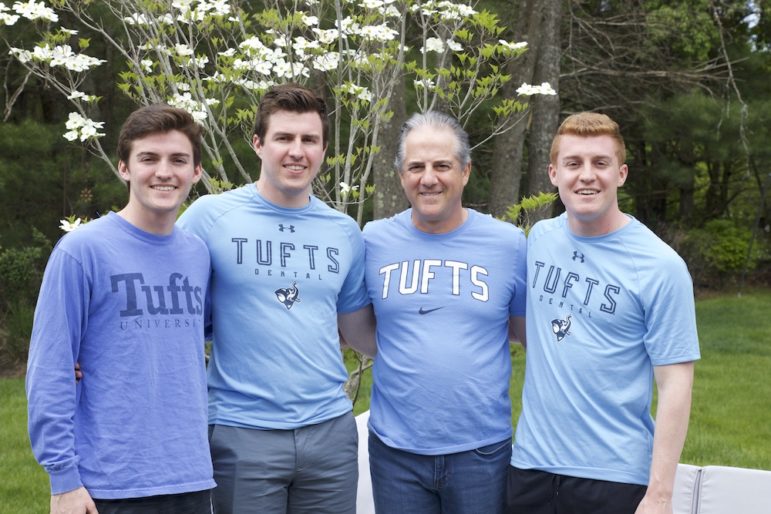 A Watertown dentist's office is now a family affair, after the offspring of the founder joined the practice.
Dan D'Amico started D'Amico Dental Care in 1993, after working for a father and son dental practice in Revere. D'Amico moved to the present location on Main Street two years later. He had worked solo in the practice until his son Chris joined him recently.
"I always wanted to start a practice, and Watertown has been a great location," said Dan, who was familiar with the town and the neighborhood, having grown up a couple blocks away on Bancroft Street. "It has really been interesting seeing family friends, teachers, former teachers. And now it's weird, where Chris will be treating a teacher I had in high school or someone I grew up with."
While most of Dan's longtime patients continue to see him, Chris takes on most of the new patients.
Soon there will be a third D'Amico joining the practice — Dan's second son, Daniel. Currently, he is in his first year of dental school at Tufts University, from which both his father and brother graduated.  
"The third son (Andrew) did not drink the Kool-Aid," Dan said, but said that Andrew may may go onto medical school after attending Tufts as an undergrad.
The D'Amicos lived in Watertown until Chris was 5, and then the family moved to Wayland. They still came back to town, Chris said.
"We would spend fare amount of time here, spend a lot of time in summers moving boxes, things like that," Chris said. "I remember moving a giant file cabinet one summer."
After graduating from Trinity College in Hartford, Chris attended Tufts Dental School, and lived in Watertown.
"Basically, Tufts is in (Boston's) Chinatown. It's a fully functional dental clinic. The last two years you see patients there, and the last year you also do an externship where you spend time in a community health center. I did mine in Dorchester," Chris said. "I lived above the dental office in Watertown, and would commute."
This year, Daniel is attending dental school remotely, but he will move into the apartment over the practice when his brother moves out. Daniel said he has known for several years that he wanted to get into the same business as his father. Back in high school, he could see his brother going into dentistry, and of course he had his father as an example.
"I really like science classes and I like the structure. I have seen it through my Dad at home," Daniel said. "I feel like had an insight into what dentistry is about. The more I looked into it the more I decided it was something I wanted to do."
Dan was the first D'Amico to become a dentist. His father moved to the United States when he was in his 20s, living first in the North End, before settling in Watertown.
When he was at Boston College, Dan flipped back and forth between medicine and dentistry, and he decided to become a dentist because of the freedom it offered.
"I like to be able to control the future more early on," Dan said. "Look at it, dentistry now, even on the technology side, there are not many private medical practices. It is more corporate."
Dan said he has tried use the latest technology at D'Amico Dental Care, including a device that creates implants in minutes. The D'Amico spend a lot of time learning about the new technology and applications.
"It is changing a lot right now. We bought a 3D printer," Dan said. "The print speed was 3 hours, four hours, now the one we bought takes 30 minutes."