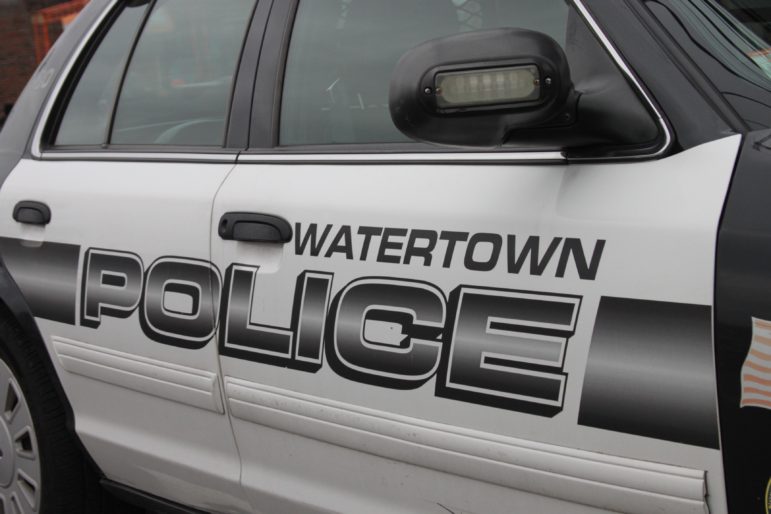 The following information was provided by the Watertown Police Department.
Arrest
Dec. 5, 4:04 p.m.: Police received a report of a man who attacked a worker at the Watertown Towing lot on North Beacon Street. The employee arrived at work and saw a blue Dodge parked in the lot which he did not recognize. A short time later he saw someone coming from nearby Arsenal Wine & Spirits and get into the vehicle. The employee tried to tell the driver that it was a private lot and he could not park there. The conversation got heated enough that the employee tried to take a photo of the car with his cell phone, at which point the driver attempted to grab the phone from his hand. In the process he bent the employee's fingers back. The employee called 911 and by the time officers arrive the vehicle had left the lot. While leaving the vehicle struck a fence post and damaged it. Police stopped it on North Beacon near Greenough Boulevard, and when they spoke to the driver they detected an odor of alcohol on his breath. Officers found the man was not licensed to drive. They also found 16 empty White Claw cans in the passenger compartment and two unopened ones. Field sobriety tests were taken by the man, unsuccessfully. The 28-year-old Brighton man was arrested on charges of driving under the influence of alcohol, leaving the scene of an accident with property damage, and unlicensed operation of a motor vehicle.
Incidents
Watertown Police received 26 reports of unemployment fraud from Nov. 30 to Dec. 6.
Nov. 30, 5:22 a.m.: A resident of Elan Union Market on Arsenal Street called police after a man tried to enter her apartment at night. She had been sleeping in the living room at about 3:30 a.m. when she woke up and saw a man standing in the doorway. She yelled at him to "get the hell out of here," and the man left. The man never got past the threshold, and is described as an Asian male wearing a white T-shirt and dark pants. There are no signs of forced entry and the door may have been left unlocked.
Dec. 1, 9:38 a.m.: A Watertown woman had problems with her computer so she went online to find someone to fix it. She got in contact with someone who asked for her bank and credit card information. The person transferred $557 of her money to a Western Union account without her permission. She realized it was a scam and contacted her bank and credit card providers, and then called police.
Dec. 1, 10:25 a.m.: A Watertown man came into the police station to report unauthorized purchases on his credit card. While checking his statement, the man noticed three unauthorized purchases for a total of $400. He is not sure where they were made, and he contacted his credit card company. 
Dec. 1, 4:15 p.m.: A man parked lot for Dyers Liquors off Mt. Auburn Street and when he returned a gold Jeep Cherokee was blocking his car. He asked the driver of the Jeep to move. The driver yelled back at him, "I'll (f-ing) shank you!" and displayed a knife in the window. The Jeep then left the area, heading north on Spring Street. The man flagged down police at Spring and Summer streets to report what happened. The suspect is described as a white man in his 50s. Police searched the area but could not locate the suspect.
Dec. 2, 4:33 p.m.: A Summer Street resident reported a package that had been confirmed delivered was missing when he went to retrieve it. It contained a light-up penguin valued at $38.24. The notification said it was delivered at 2:36 p.m. and it was gone by 3:15 p.m.
Dec. 3, 1:49 p.m.: A woman came into Stop & Shop at 171 Watertown St. carrying folded up brown paper bags. She then filled the bags with groceries and tried to leave without paying for them. She was stopped with a total of $191.76 in merchandise. The 59-year-old Cambridge woman was summonsed to Waltham District Court for shoplifting by asportation.
Dec. 4, 10:15 a.m.: A man known to Boston-area Home Depots for prior shoplifting incidents was spotted in the Watertown store. He was seen taking two items off the shelf and leaving without paying. They were a Makita impact driver kit valued at $199 and a Makita drill driver kit valued at $129. The man left in a vehicle, and police received a description and stopped it at Arsenal Street at Greenough Boulevard. The 58-year-old Roxbury man was summonsed for shoplifting over $250.
Dec 4, 12:57 p.m.: A Spruce Street resident ordered an Apple MacBook which was scheduled for delivery on Nov. 25, but he never received the package. He checked with UPS, and found out that someone had signed for the package at his address. The person signed "HEM" but the resident said he never signed for anything. The computer is worth $2,293. Police are investigating.
Dec. 4, 8:16 p.m.: A motorized foot scooter went missing from Home Depot. An employee was late for work and parked the scooter in the garden section of the store. He did not have time to lock it up because he had to start work. When he went back about half an hour later and the scooter was gone. It is valued at $260, and police are investigating.
Dec. 6, 10:06 a.m.: Two customers got into an argument inside Target over wearing a face mask. One man, a 55-year-old from Boston, said that he was wearing a mask, only covering his chin. The other man, a 56-year-old from Arlington, told him to pull up his mask., and while doing the man poked him with his finger. The man who was poked got angry and slapped the other man in the face. Police reviewed security video which showed what had been described to them. Police advised both men to leave the store, and that they could seek complaints at Waltham District Court if they wished.
Dec. 6, 3:59 p.m.: A French Street resident reported a series of missing deliveries. The thefts took place in September when nine packages from Sam's Club had been left on his porch, but were gone when he went to get them. FedEx confirmed delivery each time. He estimates the items were worth a total of about $1,700.