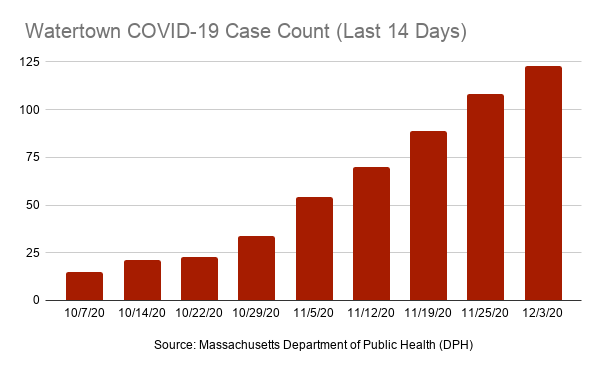 The number of active cases of COVID-19 in Watertown has increased more than eight-fold over the past two months, with the total numbers of cases during the pandemic increasing by 60 percent during that time.
Similar to the statewide trend in Massachusetts, Watertown has seen a steady increase of COVID-19 cases. Along with the increases in cases, Watertown has had four more COVID-19 related deaths over the past few weeks, bringing the total number to 28, according to the Town Manager's Dec. 11, 2020 Coronavirus Update.
The week prior, the Town reported the first two COVID-19 related deaths in Watertown since the Aug. 7 Coronavirus update (two fatalities were reported on Dec. 11). The Town does not release information about the cases, including age.
The number of total cases reported in Watertown have risen from 462 on Oct. 7 to 765 on Dec. 3, according to numbers reported by the Massachusetts Department of Public Health (DPH).
The number of cases reported in Watertown over a 14 day period prior to the date went from 15 on Oct. 7 to 123 on Dec. 3. Over the same time period, the percent of positive tests rose from 0.55 percent to 2.81 percent, according to DPH figures.
Watertown, MA COVID-19 Trends 12-13-20 (1) by Charlie Breitrose on Scribd
As of the Dec. 3 DPH report, Watertown remains in the "yellow" category in the DPH's COVID-19 reporting system, which for a town of its size is 10 or fewer cases per 100,000 residents, or a positive testing rate of 5 percent or less. Both look at the numbers over the prior 14 days. Watertown exceeds the mark for the number of cases per 100,000 residents, with 26.6, but is below the testing rate criteria with a 2.81 percent positive rest rate.
The Watertown Public Schools track the number of students and staff who have tested positive for the virus. According to the School officials, as of Nov. 30, there were two active cases of students and/or staff who tested positive and were learning or working in-person. This is down from five in the Nov. 25 Watertown Public Schools COVID-19 Metrics Dashboard. The updates can be seen here.
A total of 10 Watertown municipal employees who have tested positive for COVID-19, according to the Dec. 4 Town Manager's Report. The number was not updated in the Dec. 11 report.