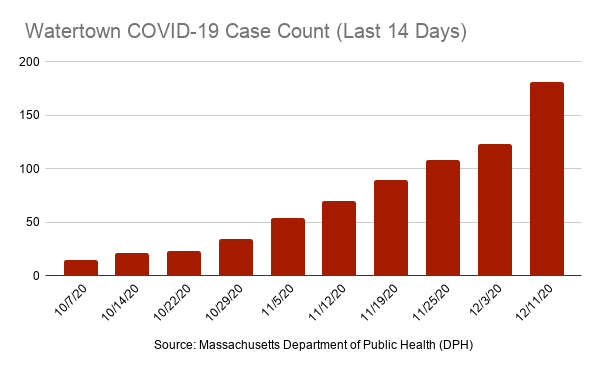 A sharp increase in COVID-19 cases seen in recent weeks in Watertown was due in part to people getting together for Thanksgiving, said Watertown Health Director Larry Ramdin.
More than 100 new cases of COVID-19 were reported in Watertown by the state Department of Public Health in the most recent weekly report, and the percentage of positive tests also grew.
At the Dec. 16 Watertown Board of Health meeting, Ramdin said that most of the new infections were within family units, and some were sports related.
"Many of it we are ascribing to people returning home from regions where there were a high number of cases. Also, family gatherings around Thanksgiving — we have seen significant impacts (from) that," Ramdin said. "Despite our advice, people choose to do what they want to do and consequences be damed. I think there is some light under the tunnel with the Pfizer vaccine being approved."
MassDPH reported on Dec. 10 (released on Dec. 17) that Watertown has a total of 889 total cases, and the number of cases reported over the past 14 days is 181 — up from 123 the in the previous week's report. The Town reported no new COVID-19 deaths. The total number of residents lost to the virus is 28.
The positive test rate over the prior two weeks in Watertown rose from 2.81 percent on Dec. 3 to 3.66 percent on Dec. 10. The total number of tests administered for the Dec. 10 report was 5,797.
Watertown remains in the "yellow" category in the DPH's COVID-19 reporting system, which for a town of its size is 10 or fewer cases per 100,000 residents, or a positive testing rate of 5 percent or less. Both look at the numbers over the prior 14 days.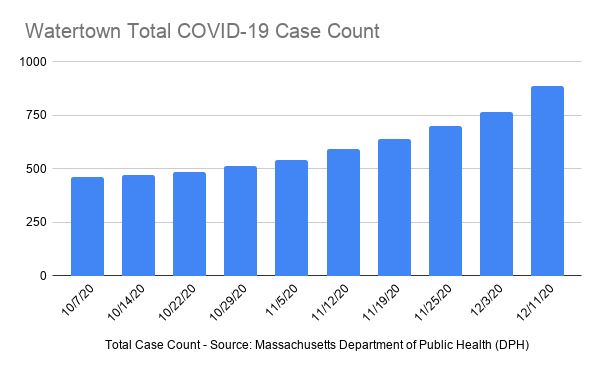 The Watertown Town Manager's COVID-19 Weekly Update on Dec. 11 reported that 14 municipal employees had tested positive for the virus since the start of the pandemic, up from 10 two weeks ago. The Watertown Public Schools has not updated its COVID-19 Metrics Dashboard since Dec. 4.
Ramdin told the Board of Health that police and firefighters will be among the first to get the vaccine. Another early group to get the vaccine, he said, are town employees who have high levels of interaction with the public, but not all people working for the town will get the vaccine early.
Who exactly will be administering the vaccine to town employees, Ramdin said he is not sure and is waiting for guidance from the state.
Watertown, MA COVID-19 Trends – Sheet1 by Charlie Breitrose on Scribd