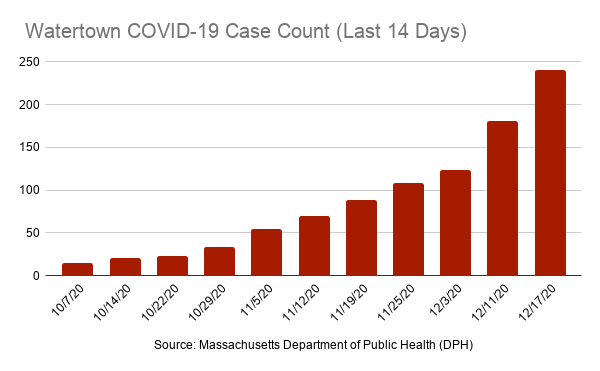 Watertown's COVID-19 cases rose again in the most recent report from the Mass. Department of Public Health, adding more than 100 new cases to the total and moving the Town past the 1,000 mark.
According to the Dec. 17 report, which the DPH released on Dec. 27, Watertown has had a total of 1,023 COVID-19 cases during the pandemic, up 134 from the previous week. Over the previous 14 days, there have been 241 cases reported, up from 181 in the previous week's report.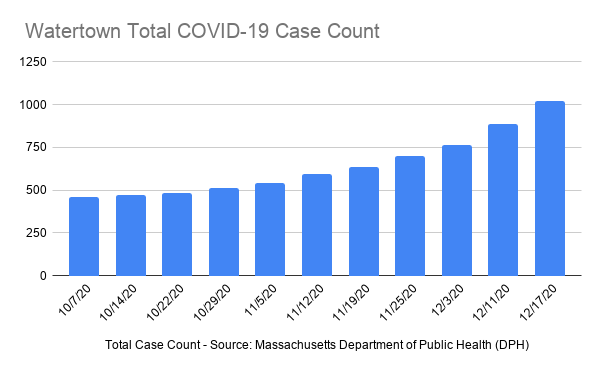 The percent of positive tests in Watertown also rose. In this week's report, the positive rate was 4.35 percent. In previous report the rate was 3.66 percent. If the rate climbs above 5 percent, and the cases per 100,000 residents remains above 10 (Watertown is at 52.1), then Watertown will move into the red group, or high-risk. Watertown has not been higher that "yellow," or moderate risk, since the state created the COVID-19 community reporting system.
While the cases have risen, the Town of Watertown reported no new COVID-19 deaths in the Dec. 24 Town Manager's Coronavirus Update. Watertown has lost 28 people to the virus. The Town reported that 15 employees have tested positive for the virus.
Watertown, MA COVID-19 Trends 12-27-20 by Charlie Breitrose on Scribd