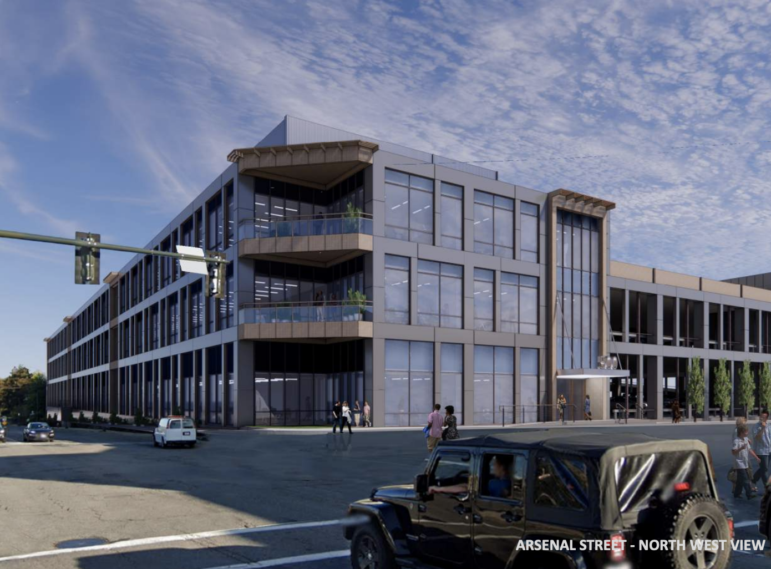 The developers of the building where Miller's Ale House was located have scheduled two community meetings to go over a proposal for a new building, which calls for creating space for life science companies.
The proposal calls for adding a third floor and a penthouse on top of the existing structure at 617 Arsenal St., near the intersection with Greenough Boulevard. The additions would more than double the square footage to 155,299 sq. ft.
See illustrations and more details of the project by clicking here.
Boylston Properties sent out the following information:
Please join Boylston Properties for a review and discussion on Phase B of the Arsenal Yards master plan. The purpose of these meetings will be to present and discuss the proposed layout and design of One Arsenal Marketplace, the existing office building and parking garage located at 617 Arsenal Street. The building currently includes occupied office space and the now closed Millers Ale House. Once renovated, the building will include office space, new and renovated life science space, reconfigured above and below grade parking with new parking ramps and revised loading access. Discussion will include the massing of the building and changes to the façade. To register to speak at the meeting or to submit questions or comments in advance, please email: andrew@boylprop.com
In light of the COVID pandemic, the meeting will be conducted virtually via Zoom. Just prior to the start of the meeting, please access the link below to join via computer or mobile device. You may be instructed to download the Zoom application. The meeting will also be aired on Watertown Local Access TV.
Meeting 1
Monday, January 11, 2021, 6:30 PM to 8:00 PM
Virtual, via Zoom meeting
Zoom link:
http://bit.ly/one-arsenal-marketplace-meeting1
(note: all lowercase)
Telephone Dial-in: (312) 626-6799
Webinar ID: 940 9119 3043
Passcode: 031016
Meeting 2
Thursday, January 21, 2021, 6:30 PM to 8:00 PM
Virtual, via Zoom meeting
http://bit.ly/one-arsenal-marketplace-meeting2
(note: all lowercase)
Telephone Dial-in: (312) 626-6799
Webinar ID: 995 5862 9017
Passcode: 916154
First-time Zoom help: https://support.zoom.us/hc/en-us/articles/360034967471-Quick-start-guide-
for-new-users