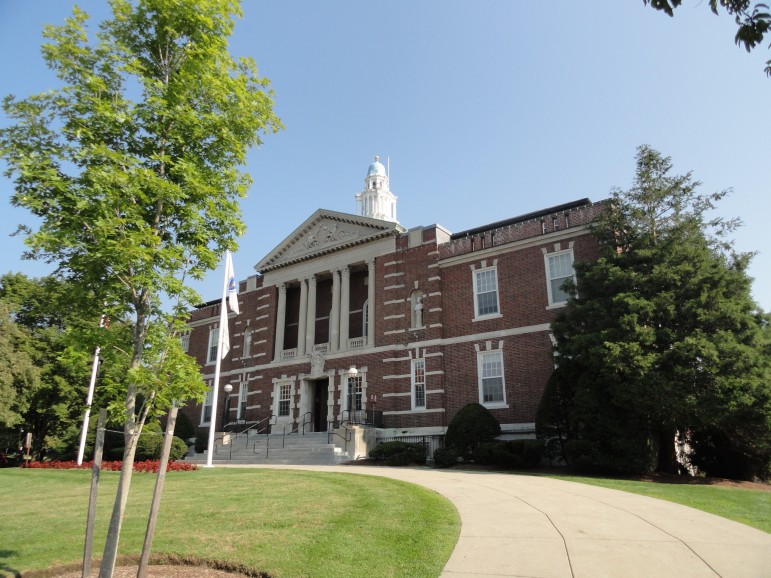 The group looking at whether to make changes to how Watertown's government works heard from chief executives from three communities: two mayors and one town manager.
At the Jan. 5 Charter Review Committee meeting, the members were joined by three panelists: Salem Mayor Kim Driscoll, Woburn Mayor Scott Galvin, and Jamie Hellen, Town Administrator in Franklin, which has a similar set up to Watertown with a "strong manager." Each spoke about the strengths and weaknesses of their governments.
Hellen said that one of the strengths of Franklin's council/manager form of government is that he as an appointed executive can take the heat off the elected council for some of the more contentious decisions.
"The Council is really the eyes and ears of the community. They see the big picture vision and they count on us as a staff to execute that vision from the policy standpoint," Hellen said. "Sometimes we don't agree. That's OK, it's part of the system. The public gets to see some of the less popular decisions made sometimes come out of me."
He described Franklin's Charter as creating a "culture of collaboration," noting that it is written that the Council's goals are his goals, and his goals are the Council's goals. Also, its charter requires the Council to provide funding required to achieve the goals.
Galvin called the strong mayor government, where the chief executive is elected, as one of the purist forms of democracy. The mayor is held accountable at the ballot box every two years.
In Woburn, while the mayor does have a lot of power, there are checks and balances, he said. Galvin oversees day-to-day operation of government, negotiates contracts and appoints most department heads and board members.
"When I first became mayor, you come and think it's a strong form of government and figure the mayor can do whatever he wants to do. But if you don't have the City Council working with you it can become very difficult," Galvin said. "The first couple years were difficult but over time you learn to collaborate." 
Driscoll said in Salem, one of the checks on her power is that she cannot spend a penny without the Council's approval. That also applies to bonding money or passing an ordinance.
She has been part of both types of governments, strong mayor and strong manager. Before she was a mayor, Driscoll worked in city administration in Chelsea.
"I am a huge fan of city management. If I could be the city manager of Salem I wish I could be, because I think it is a Cadillac version of how to run local government," Driscoll said.
Sometimes, however, she said there are times that a strong manager government can be less decisive and some issues may not move as quickly.
"Because it is a more deliberative process involving more folks, it can also lead to inaction," she said. "There can be a time when city or town mangers find themselves in a situation where there isn't a consensus — and it can be hard to build consensus — and people feel comfortable not really advancing any agenda. That doesn't really happen with a mayoral form of government. Maybe that's the structure of people getting elected, wanting to drive whatever their agenda is and move forward with a position."
Interacting with Residents
The Charter Review Committee asked about how the panelists about how they communicate with residents, and how people can get their issues resolved.
Getting pulse of the community is key for a mayor, Galvin said
"You are accountable to the public. If you are not doing the job, that's it. They will put you out," Galvin said. "You have to be close to your constituents, close to the ground. Decisions are definitely formed by public opinion. But as the mayor you have to be a strong leader and make decisions."
In Salem, Driscoll said that there are plenty of groups in town active in local government.
"I'm fortunate to live in a community that folks are pretty engaged regularly," Driscoll said. "There are lot's of neighborhood associations, active engagement if projects are happening."
Each year, Salem does a resident survey to ask people about how the city is doing in various parts of government and to get feedback on projects. Driscoll said she compares the results over the years. A Neighborhood Improvement Advisory Council meets monthly and Driscoll sends her chief of staff to each meeting. Salem has also encouraged neighborhoods to hold cocktail parties or barbecues where residents can give input about how the city is doing.
Hellen said in Franklin, the way the government is organized, all the department heads respond to either himself, as the Town Administrator, or the Superintendent for school issue. That makes it simple for residents and employees to know who to turn to when they have an issue. He added that he makes himself readily available to residents.
"People have no trouble finding me. My cell phone (number) is out there, my email is accessible. I am very proud of my responsiveness, as well as the staff," Hellen said. "I have never had a complaint in over five years of someone not getting back to them."
He also tries to go to events around town, and hold Senior Center office hours with the State Rep. and Councilors in a cafe during non-pandemic times, and now online.
As far as getting information out to residents, all three panelists said most of that is done through the city website or social media. Franklin hired a marketing director, whose salary is split between the municipal and school budgets, Hellen said. He also has a biweekly radio show hosted by the local cable station and put up on Spotify, which Hellen said has a healthy listenership.
In Salem, the Driscoll's chief of staff is responsible for posting things on the website and on social media. The city also has a biweekly newsletter. Also, there are neighborhood ambassadors who the city works with to get information out to residents of that area.
Galvin said Woburn puts a lot of information on the city website. He will also occasionally use a local public relations firm on some projects.
The discussion covered other topics. It can be viewed on Watertown Cable's website (the panel discussion begins at the 22 minute mark). Click here to view the video.
Panel Makeup
Michael Ward of the Collins Institute at UMass Boston put together the panel. Watertown hired the group to help oversee the Charter Review process. He said the three panelists were picked because they were from communities with similar populations, budgets and/or demographics as Watertown.
Residents asked why the panel did not include representatives from other cities in the area, such as Cambridge and Somerville. Ward said the governments of both of those communities are quite different from Watertown.
Councilor Angeline Kounelis cited some of the differences in budget and councilor pay. Watertown has a budget of $154 million and councilors are compensated $7,500 a year. In Cambridge, the budget is $715 million, and the councilors are paid $85,844. Somerville's budget is $262 million, and the council salary is $39,999. They also have a clerk of the committee who is compensated $79,000 a year and a council clerk who is paid $13,500. Watertown has a part-time Town Council Clerk who is paid $24.42 an hour.
At the next meeting, on Jan. 19 at 6 p.m., members of the legislative branch — the council — will speak to the Charter Review Committee.
For more information about the Watertown Charter Review, and links to documents from previous meetings, click here: https://www.watertown-ma.gov/596/Charter-Review-Commission.