After moving into the state's "Red," or high-risk of COVID-19 transmission, group for a week, Watertown went back into the "Yellow," or moderate-risk group.
The latest Mass. Department of Public Health report (released on Jan. 15), showed that the Town's positive test rate dropped to 4.91 percent. The previous report had Watertown at 5.14 percent, and any positivity rate over 5 percent for a town of Watertown's size is one of the thresholds to put it in the Red.
The other measure is cases per 100,000 residents. Watertown's rate is 63.8 per 100,000, up from 55.8 the previous week. The threshold between yellow and red is 10 per 100,000. To be put in Red, the Town needs to have both the cases per 100,000 and positivity rate above the marks.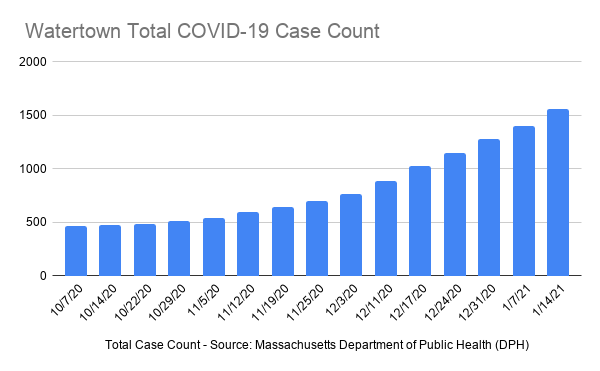 Watertown has 1,563 total COVID-19 cases, according to the DPH's numbers, which is 161 more than the previous week. The number of cases over the previous 14 days, rose slightly from 258 to 263.
The Town had 338 positive tests from 6,884 tests over the previous 14 days, according to the DPH report. The positivity rate dropped after rising the prior week.
Watertown, MA COVID-19 Trends – Watertown Data by Charlie Breitrose on Scribd
Five more Watertown Town employees have tested positive this week, according to the Town Manager's COVID-19 Update. That brings the total to 25.
Those looking to get a COVID-19 test can sign up for free ones offered by the Town of Watertown on the following days. Click here to sign up for an appointment.
Tuesday, January 19 from 1:00 PM to 7:00 PM
Wednesday, January 20 from 8:00 AM to 2:00 PM
Tuesday, January 26 from 1:00 PM to 7:00 PM
Wednesday, January 27 from 8:00 AM to 2:00 PM
Tuesday, February 2 from 1:00 PM to 7:00 PM
Wednesday, February 3 from 8:00 AM to 2:00 PM
Tuesday, February 9 from 1:00 PM to 7:00 PM
Wednesday, February 10 from 8:00 AM to 2:00 PM