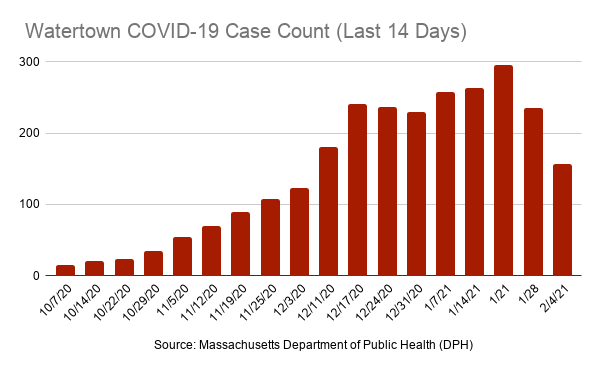 The number of COVID-19 cases continued to drop, and the number of recent cases dropped to its lowest point since the beginning of December.
According to the latest Mass. Department of Public Health report, Watertown has had 157 cases over the prior 14 days. The number dropped by 78 from the previous week's report. The last time the Town had fewer cases over the previous 2 weeks was the Dec. 3 report, when there were 123. The total number of positive cases over the pandemic is 1,844.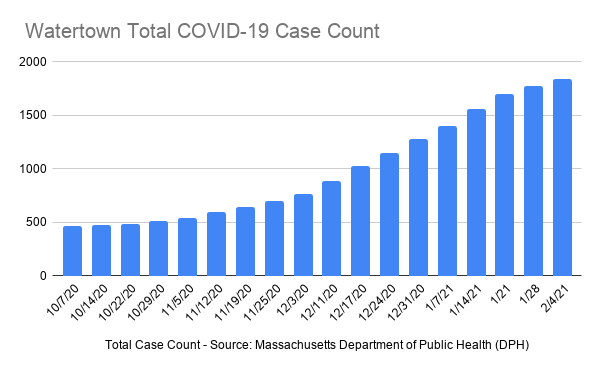 Watertown, like Massachusetts as a whole, saw an increase in cases following Thanksgiving and Christmas. The highest report of cases in a two week period was just two weeks ago when MassDPH reported on Jan. 21 that the Town had 295 cases in the prior two weeks.
The COVID-19 vaccine has started rolling out to the general public, starting with residents age 75 and older. The Town organized the first vaccine clinic for residents 75+ and older today (Feb. 10).
The vaccine may also available to those who qualify at designated locations. The state's vaccine locator webpage can be found by clicking here. More information about COVID-19 can be found on the Town's website (click here) or on the MassDPH site (click here).
Watertown, MA COVID-19 Trends – Watertown Data (2) by Charlie Breitrose on Scribd