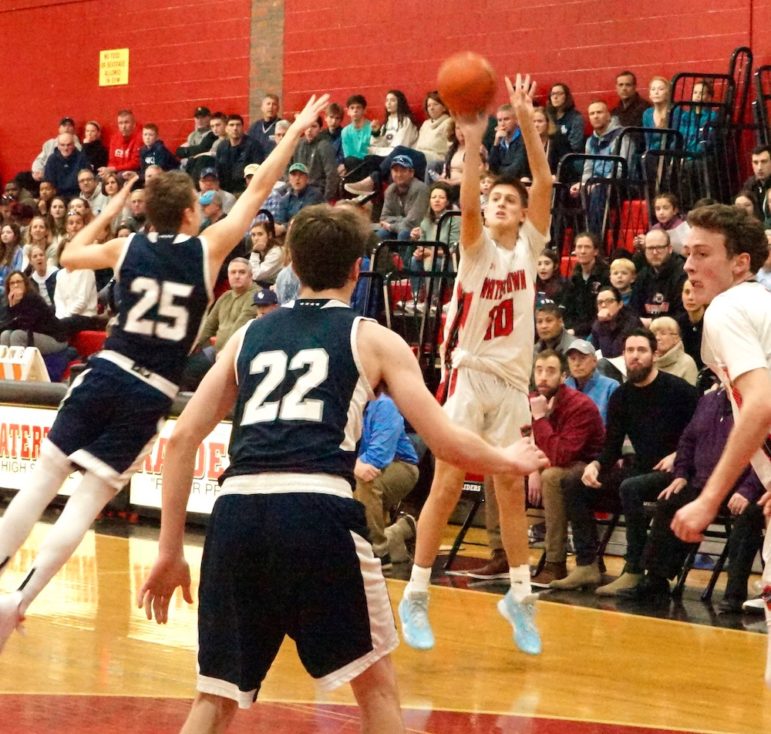 While the MIAA will not be having winter state tournaments due to the pandemic, Watertown High School has three teams playing postseason games on Wednesday.
The Raiders had a successful winter, with two teams winning the Middlesex League Freedom Division — boys basketball and girls hockey — and a third having a winning season.
This week, three teams will be playing Middlesex League foes in a special tournament, said WHS Athletic Director Ryan Murphy.
"We knew we couldn't have a State Tournament, but wanted to have some kind of year ending, season ending experience for the kids," Murphy said. "We decided to do this."
In basketball and hockey the top eight teams qualify for the Middlesex League tournament, and the others will play a one game consolation game, Murphy said.
The Raiders have a full schedule on Wednesday.
The boys basketball team is the second seed in the single-elimination tournament, with the first round game against Lexington at 12:30 p.m. at Watertown High School. The girls basketball team is the sixth seed and will be taking on Belmont at 2:30 p.m. at WHS.
The boys hockey team did not make the top eight, but will play Lexington at John Ryan Arena in Watertown at 2 p.m. in a consolation game.
The girls hockey team, however, will not be able to take part in the tournament because the players are currently quarantining due to COVID-19 concerns, Murphy said.
"They had a great year. It is bad luck at it came at the end the year, and they are not going to be in the playoffs," Murphy said.
Fans cannot attend the games, but Watertown Cable will be live streaming them its website, wcatv.org, and they will be broadcast them on cable.
Fall 2 Season
COVID-19 has made for a strange year for high school sports. Massachusetts high school sports will play a Fall 2 season beginning after the winter season. This includes football, indoor track, volleyball and cheerleading.
Games will begin in March, and the Raiders football team will play five games against the Middlesex League Freedom Division teams. There is a possibility of a sixth game, Murphy said.
"If everything goes smoothly we might try to play Belmont in week 6," Murphy said.
Other sports may have a league postseason competition for Fall 2, Murphy said.
The indoor track team will likely be competing outdoors, Murphy said, because two of the main venues for indoor track are currently closed to high school teams — the Reggie Lewis Track and Boston University's track.
Watertown will likely have a few meets at the Victory Field track when the snow melts, Murphy said.
Outdoor track will take place in the spring season, which runs from late April to early July. Murphy said he hopes that by then the pandemic will be controlled to the point that the state has state tournaments.