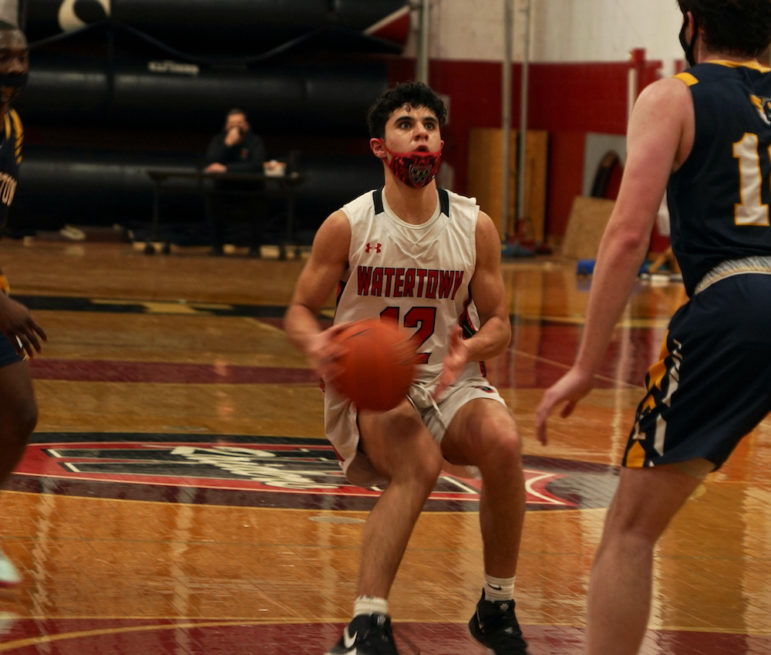 Gabe Spinelli's 39 points led Watertown's dominating 75-57 win over Lexington in the first round Middlesex League boys basketball tournament game, Wednesday at WHS.
The Raiders claimed the second seed in the special tournament organized by the league after the MIAA decided not to hold winter sports tournaments due to COVID-19.
After the game, Watertown Head Coach Steve Harrington said he would love to be coaching the team in the State Tournament, but was happy with how his team played in the league tourney.
Lexington, the seventh seed, kept the game tight in the first half. Harrington said he was happy with how his team took control in the second quarter and go into halftime with a 43-31 lead.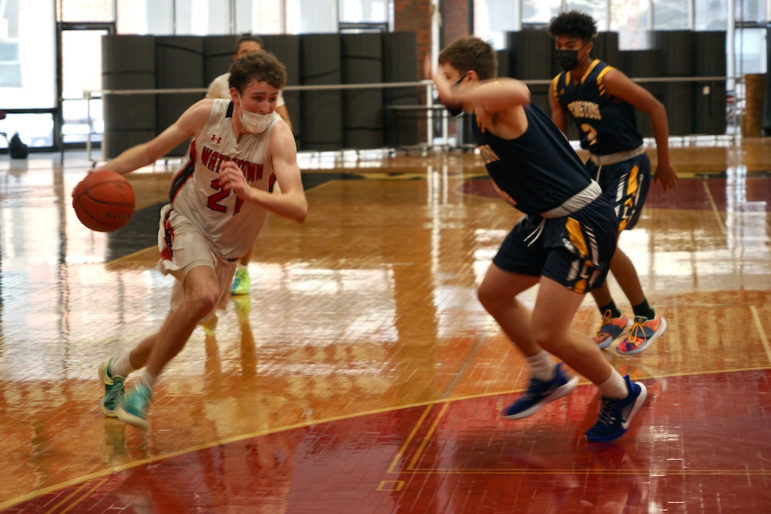 The Raiders looked to Spinelli for their offensive. The senior scored 15 in the first quarter, and added 11 more to end the first half with 26 points. After being held to a lone bucket in the third, he scored 11 in the fourth quarter. He hit four three pointers.
Harrington also liked the play of senior Matt Oliveira, who scored 16 points, including a three pointer in each quarter. Junior Adam Patterson also scored in double figures, with 10.
The Raiders advanced to the semifinals, which will be played Thursday at 5 p.m. in Watertown against the winner of Arlington and Wakefield. Watertown improved to 10-1 on the season.
Girls Basketball
The Raiders battled rival Belmont in the Middlesex League girls basketball tournament, Wednesday, but lost 43-42 at the WHS Gym.
The Raiders, the number six seed, fought back to tie the game 31 all at the end of the third quarter after trailing by seven at halftime. Belmont, the third seed, took the lead in the fourth, but Watertown cut the Marauders' lead to one with a three pointer with 30 seconds left.
The Raiders missed two three-point attempts that would have tied the game in the dying moments, and scored a two pointer just before the buzzer. Watertown finished the season with a 6-5 record.
Boys Hockey
The Raiders defeated Lexington on Wednesday, 5-3, at John Ryan Arena in Watertown. Nick DiPace scored the winning goal on a penalty shot, and the Raiders added an empty net goal.